The Welcome Mat of the Writing World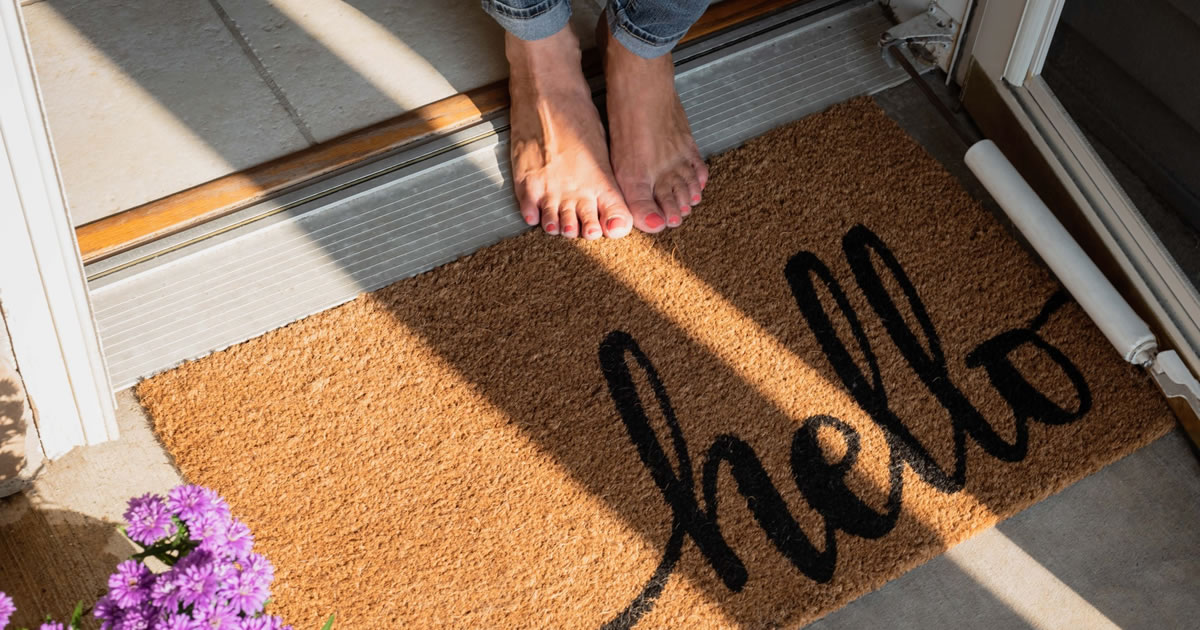 Have you ever shouted from the rooftops that you want to write for a living?
Or told your neighbors or coworkers?
Or at least your closest friends?
For most of us, the answer is "No way!" to those first two questions, and often "Nope" to the third.
I veered toward the secret approach to becoming a writer, at first at least. Only my husband knew, largely in part to explain why I was getting up an hour earlier each morning to pore over a mysterious binder that had arrived by mail (now programs like The Accelerated Program for Six-Figure Copywriting are online, but back in the day … !).
I soon leaked the secret to my parents and boss, mostly because I was about to quit my job. I'd been carpooling with my mom to work, since her office was close to mine. And there was no avoiding giving notice to my boss since I soon planned to stop showing up.
Beyond that, I guarded my secret protectively. I wasn't ready to put myself out there yet. Part of me was waiting to publish something fantastic online that I could point people to and say, "See? This is the awesome thing I do now."
But my learning curve was slow that first year.
I eventually told a few close friends …
At a time when I wasn't the best at articulating what copywriting even was, a friend had somehow understood my purpose well enough to talk me up to an acquaintance of hers who needed a website written.
It was an eye-opening moment for me. I'd only bashfully shared my writing goals with my friend, and the result was a 500% increase in income.
I was only 26 at the time, still quite new and untrusting of the business world since I'd spent all my previous years in school or traveling.
But it wasn't a fluke …
Because years of working in this paid writing industry have taught me that your best advocates are often the people you know.
That's certainly the case with Wendy Ripmeester, whose heartwarming interview is in our November issue of Barefoot Writer Magazine.
When she knew it was time for a change from her stress-filled world, she took a step back, examined her options, and discovered paid writing.
But that's where her story differs from mine …
Wendy shared news of her transition, candidly and publicly, and it opened doors all over the place.
Now she has one of the coolest hybrid-writing lives I've read about to date.
Building a writing business is like going to the bakery for a pie.
You tell the baker what you want, she quotes you a fee and timeline, and eventually the coveted dish is handed over.
Often, there's a smile involved in the transaction. A "thank you." Possibly even more orders for pie following that first one.
And both sides are happy.
We should think of our writing work in the same way. When clients hire you as a writer, or even when they begin to discuss a potential project, it's simply the beginning of a transaction.
If you think of it more as a judgment over who you are as a person and whether you have what it takes, you'll stunt your progress and income.
Writing is a measurable service that can be ordered and delivered, and in no case is your level of genius or worthiness ever on the line.
Certainly, there are elements that go into good writing that can make it stronger than similar projects, much like secret ingredients often go into tantalizing baked goods.
But at the end of the day, every secret ingredient is just something that was tested and honed over time. It's measurable. It can be revealed to others who want to learn and replicate similar success.
That's why the Barefoot Writer Magazine is continually so eye-opening. Writers who make great money and live exciting lives constantly share the "secrets" that make their writing transactions possible.
In this month's November issue, Wendy Ripmeester details out exactly how she told her network about writing and why that led her to her dream position.
Robert Skrob, our Featured Interviewee, shares what he says to clients to justify his $20,000 per month fee. Yes, per month. And in his interview, he justifies that transaction with logic and proof.
If you're already a Barefoot Writer Club member, click here now to read your November issue of Barefoot Writer and discover the secrets behind Wendy's and Robert's transactions, plus a host of other relevant and exciting writing tips.
Or, if you're ready to join the Barefoot Writer Club, click here.
Either way, go tell someone today about the writing services you offer. It can be anyone. You can even practice first on your dog or cat (a tip from Robert Skrob, mind you).
But tell someone, and then keep telling people, and watch as the world of paid writing opens for you, wider and more welcoming than you may have thought possible.
Do you have any questions about getting started as a writer? Share them in the comments so we can guide you.

The Professional Writers' Alliance
At last, a professional organization that caters to the needs of direct-response industry writers. Find out how membership can change the course of your career. Learn More »

Published: November 15, 2019