December: Celebrating our 100th issue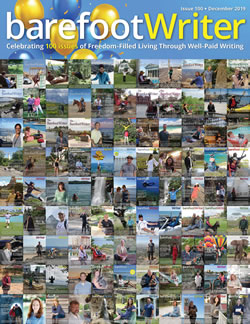 We've hit a milestone here at Barefoot Writer!
And that means big things for you, our reader …
I'm getting a little choked up about it, to be honest.
Today marks the publication of our 100th issue.
That means that 100 times since 2011, we've brought you honest profiles about up-and-coming writers (like Karen McCauley, who used writing to escape the rush of her corporate life, and Keith Trimels, whose writer's life makes it possible for him to live on a sailboat in Mexico).
We've brought you riveting success stories about writers who took their careers and income to the next level (like Henry Bingaman on his way to his first million-dollar year as a copywriter at age 33).
We've introduced you to the Pomodoro Technique, to mindful writing, to the science of Kaizen, to the Hemingway editor …
Plus hundreds of pages with tips on how to write better, think smarter, connect faster, and get more out of your writer's life than you ever thought possible …
We've awarded thousands of dollars in prize money to essay challenge finalists …
We've paid thousands upon thousands in fees to our talented pool of writers …
And we've had the pleasure of getting to know many of you along the way.
Want to know the best part of all of this?
We're not done yet — not by a long shot!
This milestone, for us, is both a celebration of all the writers who've been part of Barefoot Writer over the past 100 issues … and a toast to all the writers yet to come.
So we have big things planned for you over the next year … Think contests, connection, and a stronger, more active community than ever!
In the meantime, our December issue contains some helpful shortcuts if you're looking to grow your writing income in the next year.
I'm often asked the same questions by new writers. That's why I've curated our 100th issue to include some of our best content that directly answers those questions. So if you're wondering
How do I get published? → see page 31.

How do I make my writing stronger without taking forever to do it? → see page 18.

What exactly is AWAI, and what can they do for me? → see page 22.

What if I was never that good at writing in school, but I really want to write for a living? → see page 29.

What's the quickest, easiest way to achieve my writing goals? → see page 34.
With that, I cheerfully invite you to click here now to read the 100th issue of Barefoot Writer.
Have you redeemed your special invitation to join The Barefoot Writer Club? Because the clock is ticking … and I can pretty much guarantee it'll be the best decision you've ever made for your writing career.
Here's why …
The Barefoot Writer Club offers you a community of support like no other. Because the reality is, plenty of folks out there want to make a living writing.
But too many see the writing world as a place of competition and rivalry.
Yet it's NOT.
We know from experience — after watching hundreds of writers launch successful, paid writing careers — that the recipe for success is knowledge plus support.
Without support from people who understand your goals and your drive to write, it's too easy to fail.
As a member of The Barefoot Writer's Club, that kind of thing doesn't happen. You'll be part of a genuinely supportive group of people who give free advice and critiques, who applaud your successes and help you move past your hurdles.
You'll also get our value-packed writing opportunity reports, including The $500 Email Secret, Get Paid to Surf the Web, The Secret of the 1-Hour Work Week, and The Lazy Writer's Path to a Six-Figure Income.
Each bonus has been specifically designed to give Club Members the best information possible for getting a successful writer's life up and moving at lightning speed.
This is how writing dreams become reality … click here to learn more.
Published: December 6, 2019