10 Strategies to Help You Hit Your Goals This Year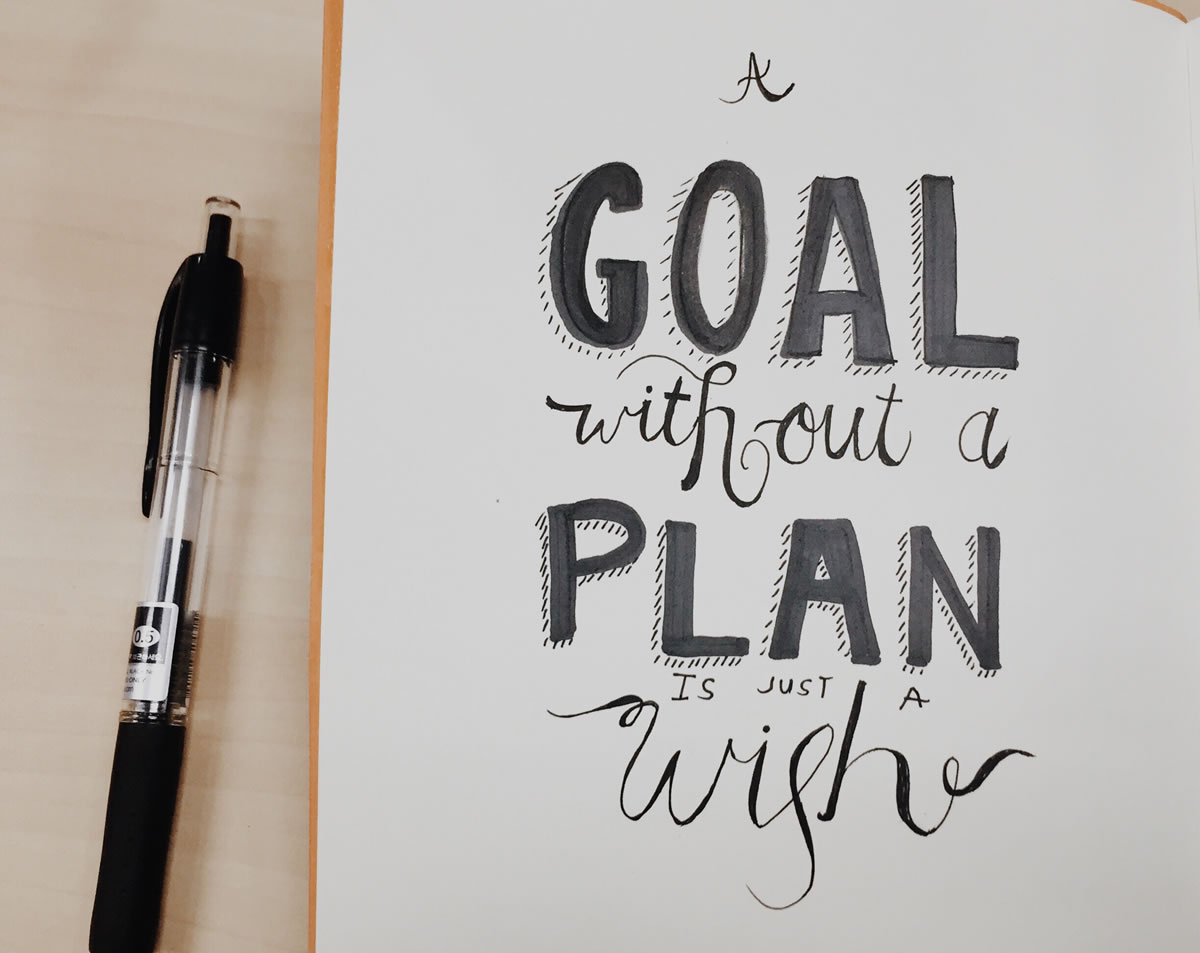 Do you have a New Year's goal-setting tradition?
Of course, you can set goals any time of year, revisit them, and adjust them whenever you choose. But there's just something exciting about deciding at the beginning of the year, what you plan to accomplish by the end.
Motivation comes easier with the idea of a fresh start in front of you.
When it comes to New Year's goals, some people make all their plans during December. Some dedicate New Year's Day to defining their goals for the year. And still others nail down the details throughout January.
The point is, there's no right or wrong time to set and pursue goals. And there isn't a one-size-fits-all plan for achieving your dreams, either.
You have to decide what works best for you.
With that in mind, I've got some goal-setting strategies you can use to move yourself in the direction you want to go … to get to your destination faster … and to have more fun doing it.
Now, I don't recommend you adopt every one of these strategies at once — that would be overwhelming.
But pick two or three, try them out, and see if they work to make 2020 a year to remember.
Strategy #1: Make Sure You Set the Right Goal
It's easy to get swept up in other people's dreams.
Maybe you read an article about someone who is launching a new business. Or a writer who is having amazing success working in the financial industry.
Maybe you heard about someone's six-figure goal or their plan to create a fancy new app.
So you set a goal to launch a business … or break into the financial industry … or earn six-figures … or develop an app for the app store.
But your heart isn't in it. Because these are someone else's goals.
Set a goal that gets you excited. Think very clearly (write down) why the goal is important to you and how your life will change if you complete it.
When you set the right goal, it's much easier to wake up each day excited about the things you'll do to move forward.
Strategy #2: You've Got to Make Time
Imagine you have a meeting with the Marketing Director of your dream client. They reached out to you. They want your specific service. And it's a big project they want to hire you for. The kind that will have lots of other Marketing Directors lining up to hire you for future projects.
Would you be on time to that meeting?
You bet you would!
So … Be your own dream client.
No client has more power to change your career for the better than you. So once you set your goals for the year, also set time each and every week to work on them. Put this in your calendar as a meeting with your #1 client. And then show up on time and ready to work.
Strategy #3: Do One Meaningful Thing a Day
Whatever your goal is, you likely know — right off the top of your head — two or three meaningful actions you could take to make progress.
If your goal is to land more clients, you could send out a well-crafted warm email or ask an existing client for a referral or write a blog post that's targeted to your industry.
Each day, every day (even weekends), do one meaningful thing to move you closer to achieving your goal.
Strategy #4: What's in Your Control?
Here are two different approaches to the same goal:
I will land three new clients this year.
I will send out five warm emails each day.
Both goals are fine, but the second goal is one that is completely within your control. Sometimes, instead of focusing on the outcome, you'll enjoy more success and stick-to-it-iveness if you focus on the process.
Strategy #5: Anticipate Your Obstacles
Life has a way of getting … well, in the way. Especially when it comes to making big changes.
If you have a goal to eat less sugar in the New Year, anticipate the moments when that goal will be hardest to stick to.
Will it be when you go grocery shopping, and can't seem to help but buy a box of cookies? (I'm speaking from experience here.) If you anticipate that obstacle, you can make a plan to avoid the cookie aisle. Or you can steel yourself before entering the store.
If you have a goal to launch a Money-Making Website, but you aren't sure how to set up a website, that might be an obstacle. You can decide whether you want to hire someone to do it or learn to do it yourself. Then you can either budget money for the first solution or time and training for the second.
When you anticipate the most likely stumbling blocks on your way to success, you can plan for them now. Then when they come up, you'll know exactly what to do.
Strategy #6: Move Out of Your Comfort Zone
If you want to do something big this year, then consider setting a goal that will force you to stretch a little bit.
For example, one of the fastest ways to land good, high-quality clients is to begin doing public speaking. If the idea of public speaking is uncomfortable — or outright scary — make the decision to go for it anyway.
You'll give your courage a workout, you'll try new things, and you might just find you reach that big goal faster than you thought possible.
Strategy #7: Set Triggers for Daily Habits
In many cases, achieving a goal involves doing the same thing consistently over time. Writing so many words a day … posting to social media every day … writing a blog post each week … sending so many warm emails each week … attending so many networking events in a month …
If there's a daily habit that will help spur you on toward success, think about a trigger for taking that action.
A trigger is something you already do every day out of habit. For example, some of my potential triggers include making coffee in the morning, stretching after breakfast, and having lunch at noon. I do these things every day like clockwork.
So, if I had a daily habit I wanted to add in — one that would help me get to my goal — I could piggyback it on one of these daily activities.
First thing after lunch, I will make five new connections on LinkedIn.
Or …
Right after I stretch, I will spend 30 minutes working on my next blog post.
By tying your new habit to an existing, established habit, you greatly increase your chances of succeeding.
Strategy #8: Do a Monthly Challenge
If you want to have a little more fun working on your goal, try setting a monthly challenge.
If your goal is to land three new clients during the year, then you could do a different client-getting challenge each month.
For January, you could send out a warm email every day … even on the weekends …
For February, you could hold a Twitter chat every day …
For March, you could ask for a referral every day …
If your goal is to improve your writing skills, you could do writing-focused challenges like writing 100 headlines each day … or doing a one-minute quick write each day … or writing a product description each day.
As an added bonus, you could share what you're doing and your progress through social media and your blog. Just the act of undertaking the challenge could bring in a lot of new traffic and potentially new business.
Strategy #9: Set Up a Reward System
No matter how you're going about achieving your goals, it's a good idea to give yourself a little reward whenever you hit a major milestone.
If, for example, one of your goals is to make 100 new contacts every month, then when you hit that mark during the month, do something to celebrate. Something that you enjoy and don't do as a matter of routine. Maybe go out for ice cream. Or head to the spa for a little pampering.
And when you achieve a big goal, do something big for yourself. Like buy that new coat you've been eyeing or go for a weekend getaway.
When you have something to look forward to for a job well-done, it doesn't necessarily act as the incentive, but it reminds you that you're deserving of a little extra for the work you put in … and that just makes the process more fun.
Strategy #10: Address Your Limiting Beliefs
Most of us have beliefs that hold us back from succeeding as big as we could. The problem with these limiting beliefs is that they can be kind of sneaky and hidden. Hard to recognize.
Here's how you flush them out. Think about the most common things you do to sabotage yourself.
Are you late to meetings or do you miss deadlines?
Do you bite off more than you can chew?
Do you undercharge for your services?
Those are just three common self-sabotaging techniques that can be driven by a limiting belief.
Being late and missing deadlines can point to a belief that you don't deserve success.
Taking on more than you can handle can indicate a limiting belief about hard work.
Undercharging for your services might be tied to a limiting belief about money.
When you realize that you have a limiting belief, you can begin to counter it. This takes time and practice but is well worth the effort.
Whatever goals you set for this year, and however you choose to approach them, I hope you'll pick and choose from these 10 strategies to help you enjoy more success — and less stress — the whole year through.
Which strategies will you adopt to help you get closer to your goals? Share with us in the comments.

Wealthy Web Writer: The Writer's Roadmap to Making Money Online
With millions of websites and counting, the need for qualified web writers has never been higher. Get access to a growing resource designed to help web writers succeed. Learn More »

Published: January 1, 2020