January Issue: Your "Writer-Athlete-Brain"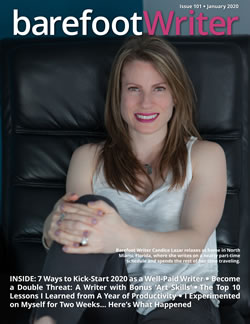 Have you ever watched someone make something look so easy, you're convinced you could do it too?
Happens to me all the time. It's why I once thought I'd make a terrific point guard … despite having never played basketball. (I'd just watched a WNBA championship game.)
The funny thing is, I'm not a sports person. But when I see someone make a sport look so easy … so fun … so effortless …
Then I'm all in, arrogantly convinced I can do what they do.
And that's how you know you're watching a true professional.
But here's the good news if you're a wannabe athlete like me …
Writers are athletes, too, playing a different kind of game. Our competitive strength lies in our brains.
Anyone can write, sure. Anyone can also toss a basketball at a net.
Does that mean they'll score?
Nope.
Because you can't discount the years true athletes put into training to get good at something.
Listen, if you want to make a long-term career out of writing, you can jump right in and make small wins …
But you've got to consistently train over time to hone your skills and master this craft.
And, most importantly, write on a regular basis.
This is why I interviewed productivity expert Chris Bailey for our January 2020 issue. Chris explains how to make the most of your time while excelling at the thing you most want to accomplish.
Plus, this January kicks off a series of new interactions in our Barefoot Writer Club Members Only Facebook group, including video Q&As with me, more contests, and "flash specs" (i.e., more chances for you to get published).
Happy New Year, all. Let's make it the best year yet!
Click here now to read your January issue of Barefoot Writer.
Not sure which direction to take your writing in the new year? See page 22 for seven ways to kick-start 2020 as a well-paid writer.
You know, while we're on the subject of choosing a writing direction …
The beginning of the year is hands-down one of the best times to make a fresh start and really tackle any writing goals you may have.
So, I'd like to extend a special invitation today for you to join The Barefoot Writer Club.
You'll go beyond simply reading and wondering about what life would be like as a paid writer …
To being part of a world where you can quickly connect with hiring clients.
Not to mention reach out to high-earning writers for support and advice.
In short, you'll be welcomed into a very special group of people who can help you learn what it takes to earn a six-figure income as a writer, while enjoying the kind of lifestyle most people only dream about.
Plus, you'll have access to our last one hundred issues of Barefoot Writer, filled with unique tips to guide you through every project you land.
Give yourself permission to ask for what you really want this year and take the quickest route to life as a paid writer: Join The Barefoot Writer Club today.
Published: January 3, 2020