Congratulations to Shirley Ann Chua!

On Thursday, January 23, 2020, we announced the winner of our $2,000 Site Content Audit Report Challenge as part of our program, Content Audit Profits, where participants could become an AWAI Verified™ Site Content Audit Specialist.
Participants in the live 8-session program learned a step-by-step method for evaluating websites and pinpointing areas for improvement, using a 21-Point "best practices" checklist and other tools. This program was taught by Pam Foster, a pioneer in auditing website content for companies — looking specifically at how content (instant impact, messages and flow) performs to bring in search traffic, leads, and sales, while standing out from the competition.
Class members were given the challenge of turning in a complete, 10-page Site Content Audit Report for www.DirectResponseJobs.com, an AWAI jobs board. Using the 21-point checklist, client intake call, report template, sample reports, online searches, and other research, members could turn in a polished report and possibly earn $2,000 as the grand prize.* They also took a test to demonstrate their understanding of the lessons.
Many of the class members turned in exceptional Site Content Audit reports, but one clearly stood apart from the rest.
It was packed with an amazing amount of helpful information, presented through notated screen shots and itemized recommendations that were smart, clear, actionable, and even inspiring.
And now, here's the name of the member who will be working with Pam Foster to update the DirectResponseJobs.com website:
👏 Shirley Ann Chua! 👏
Pam explained why Shirley's report was particularly strong:
"Shirley went to town showing us missed opportunities and gaps to solve throughout the website. Her visual "show and tell" approach was exciting to see — it's just what clients would love to see. But beyond that, she gave us recommendations that were truly inspiring; ideas to make a wow impression on our site visitors."
We revealed the news to Shirley via video chat (her reaction is pictured here), and here's what she said:
"Thank you so much for bringing me great news! I'm happy that you like my report, and grateful that you shared with us your proprietary audit process. It's not only so practical and readily actionable, but also fun to work on."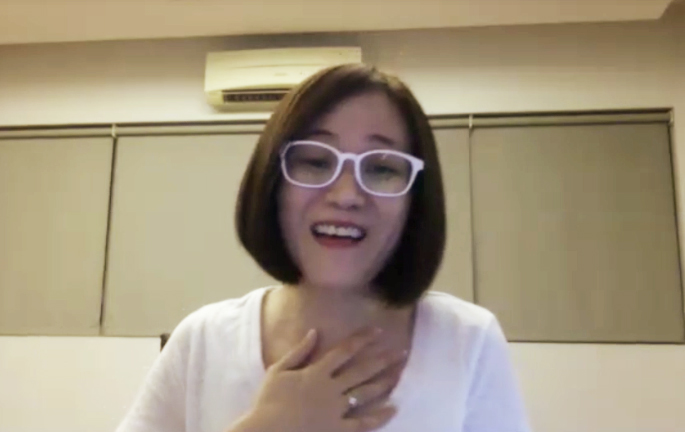 Congratulations to Shirley, and to all who submitted an entry!
*This challenge went out to Content Audit Profits members only, led by Pam Foster.
Published: January 31, 2020