February Issue: The Answer to Everything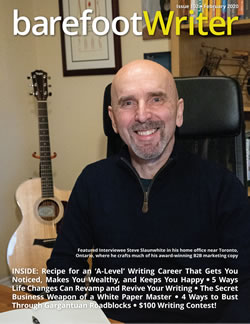 People who earn major awards, gold medals, or career recognition all have one thing in common: a support network.
Because no matter how talented or driven you are, or how enthusiastic you are about launching your writer's life … you'll get there faster if you can tap different avenues of support along the way. And if you run into the occasional hurdle, your support network can help you leap over it.
That's exactly why I'd like to extend a special invitation today for you to join the Barefoot Writer Club.
You'll become part of a world where you can quickly connect with hiring clients or reach out to high-earning writers for support and advice. In short, you'll be welcomed into a very special group of people who can show you what it takes to earn a healthy income as a writer while enjoying the kind of lifestyle most people only dream about.
Plus, you'll get access to hundreds of pages of bonus resources that show you profitable opportunities in writing, like The $500 Email Secret and The Lazy Writer's Path to a Six-Figure Income.
Take the quickest route to life as a paid writer: Join the Barefoot Writer Club today.
After you've secured your spot as the newest member of the Barefoot Writer Club, click here to read your February issue of Barefoot Writer.
In it, we share proven ways to land support and launch big — but doable — writing goals.
Plus, enjoy our exclusive interview with Steve Slaunwhite, author and expert on B2B writing.

The Barefoot Writer
Discover a lucrative style of writing that will give you as much freedom as you can have while earning a great income at the same time. Learn More »

Published: February 7, 2020