When to Quit … and When to Fight Like Hell for What You Want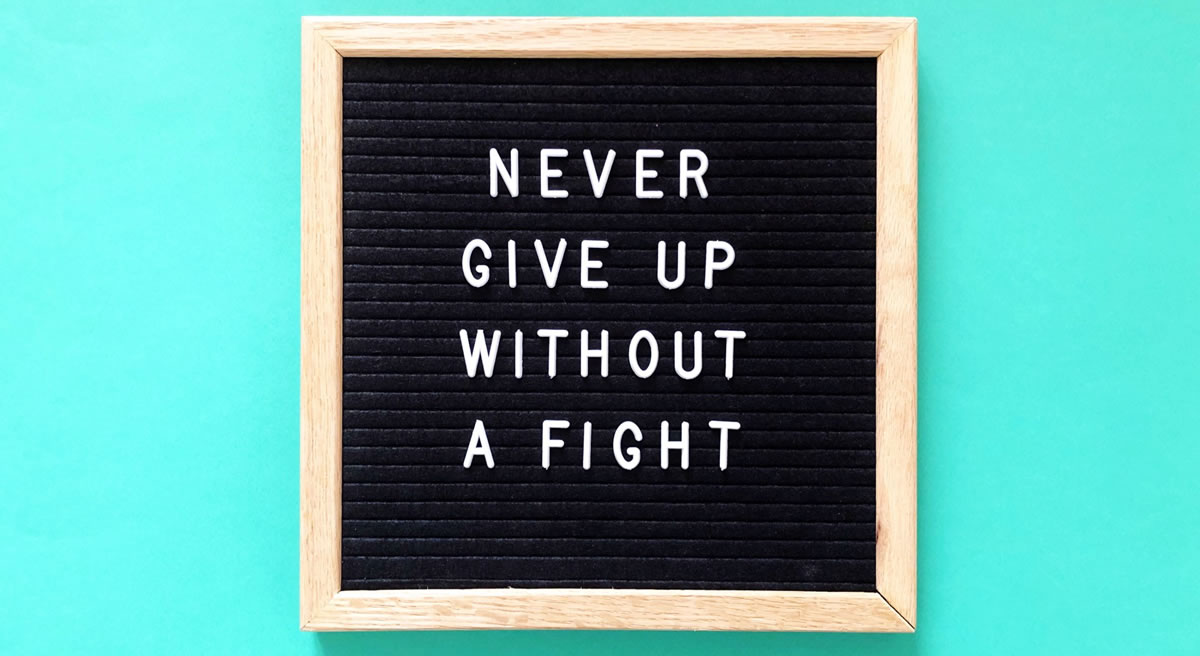 When I set out to write this article, the idea was to talk about how to avoid quitting.
But I couldn't do it, for one simple reason.
Sometimes, it's not just okay to quit, but necessary.
Now, I'm not talking about quitting bad habits like smoking or gambling — by all means quit, the sooner the better.
What I'm talking about is quitting to help you move forward.
I know that sounds confusing, so stick with me and take the advice of marketing genius Seth Godin …
"Winners quit all the time. They just know when to quit the right stuff at the right time."
Seth Godin, The Dip
We all know of examples in which quitting can be a good thing …
Quitting your job to take a better one, quitting a failed relationship for the benefit of everyone involved, even quitting an educational path because you realize it's just not right for you.
But the next time you're thinking of quitting anything (other than a bad habit), I want you to follow these five steps:
#1: Recognize when you've lost momentum and why
When you're doubting the path you're on, the worst thing you can do is simply quit without taking time to understand why.
Instead, take a few minutes and dig a little deeper. As a guide, here are a few questions to consider:
Did you reach a point where things got harder or you don't understand something? Then understand this … getting stuck is normal and you're never too old to ask for help.
Are you proud of the progress you've been making and where it could lead you? If your success is something you can't wait to share with those closest to you, then find a way to stay on the path. If not, then you really need to reevaluate why you're doing this in the first place.
Are you spending an appropriate amount of time on your pursuit? Spend too little and it's understandable why you're not making progress. Spend too much, at the expense of your family, your health, or your other interests, and you'll start to resent the journey. Make sure you reassess your priorities before you quit.
Is it still something you want to do? Is this something you wake up every day trying to find time for or is it something you dread? The answer to this question more than any other will probably tell you whether you should quit or not.
#2: Set flexible and realistic benchmarks
The primary reason we quit is usually pretty straightforward — we haven't achieved success yet.
But make sure you've actually set realistic goals in the first place.
First, if you're measuring yourself against someone else's progress or achievements … stop it! It's your path — you define it, you are responsible for achieving it.
Second, set small milestones along the way so you can build a history of success rather than failure. Success and failure … they both feed on each other, so make sure you make it as easy as possible to succeed along the way.
And three, be adaptable. Accept that life doesn't always go the way you want it to. Maybe you set yourself a goal of finishing a program in 90 days or getting your website up by Bootcamp or getting your first client by now.
Didn't hit your goals? That's fine … the truth is most of us don't.
Success isn't measured by how many goals you hit but by how you respond when you don't.
#3: Focus on the long-term
There will always be short-term issues to deal with.
And sometimes they are legitimate — I don't want to minimize anyone's personal issues or challenges.
I dealt with health issues in my journey as well as overwhelm, fear, and lack of confidence along the way.
While small milestones will help you build a path of success, having a long-term vision helps you remember what you're fighting for in the first place.
Sometimes you need to lift yourself up and view the world from 10,000 feet so you can remind yourself just how small some of the short-term struggles are.
I challenge you to make a note in your journal or next to your computer of your long-term vision so you always have an anchor to keep you from drifting too far away.
#4: Be confident in your decision
When you quit something spontaneously, you're often going to regret it later. At a minimum, you're going to wonder "What if?"
So take the time to make an informed and well thought out decision.
And once you've reached that decision, be sure you understand the consequences and be confident in it. No regrets.
#5: When you decide not to quit … here's what to do next
Realistically, there will be times you go through steps 1 through 4 and confirm that your first instinct to quit was the right one.
But more often than not, you're going to realize the desire to quit was really an escape plan for you to avoid dealing with other emotions …
Fear of failure …
The stress of trying to learn new things or overcome obstacles …
A lack of confidence that you can do what you've set out to do.
There are so many reasons to want to quit and it's sometimes too easy to give in to that desire.
But when you've stepped back and realized what you're trying to achieve is something worth fighting for, then it's time to reach out for help.
Reach out to your peer network for support or advice … and if you don't have one, create one! There are more people than you realize struggling with the same doubts and problems.
Find a personal mentor or coach who can help keep you accountable and give you a kick when you need it.
Review the roadmaps here to see what steps you can take next to keep moving forward.
Celebrate your wins with your peers. If you're part of a Facebook group, that's a great spot to do it. If not, share it with your close friends or family who are there to support you.
Just remember, if you go through the steps above and you decide your dream of becoming a writer is still as strong as ever, but something isn't working …
Then it's not time to quit. It's time to fight like hell for what you want.
Good luck.
Do you have any questions about making progress on your copywriting journey? Please share in the comments so we can help.

The Professional Writers' Alliance
At last, a professional organization that caters to the needs of direct-response industry writers. Find out how membership can change the course of your career. Learn More »

Published: February 21, 2020