7 Short Copy Projects to Kick-Start Your Writer's Life … Even When You Have a Day Job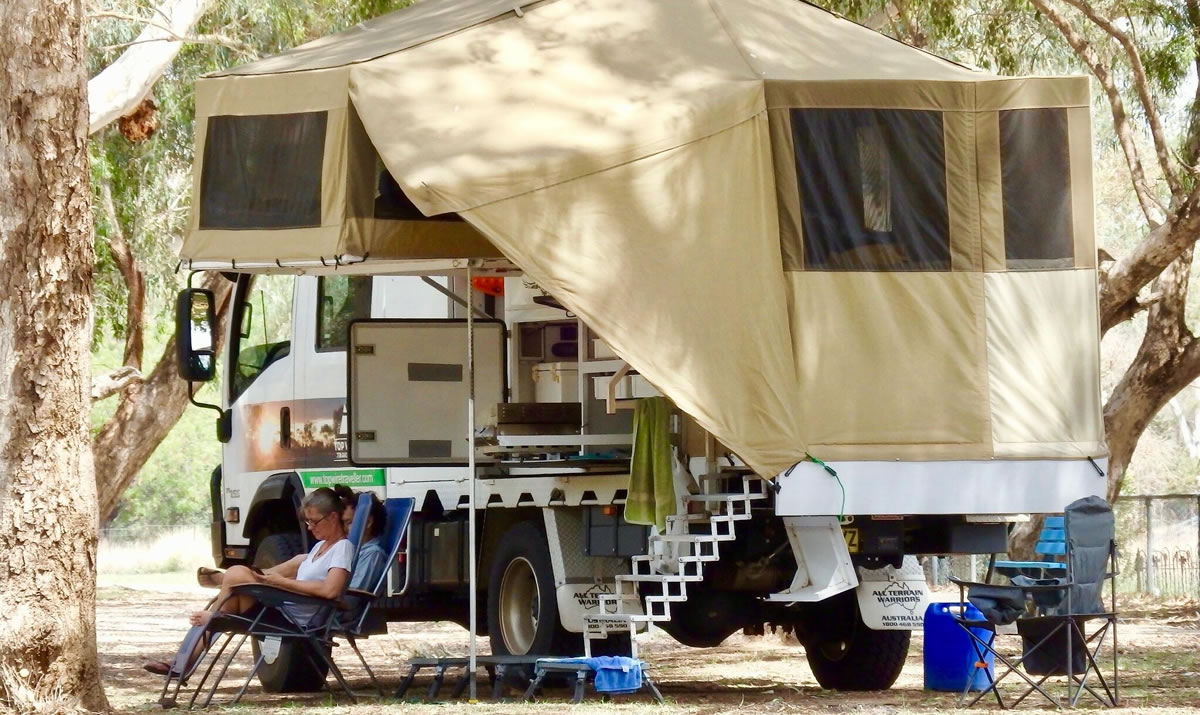 Web writer Andrew Murray and wife Peta "off the grid" in the Australian Outback
So, you want to start your new copywriting career and you still have a day job …
Which is challenging, because you can't take clients' calls or emails while you're at work. And you certainly can't drop everything to help a client out.
Or perhaps you've got other daily commitments that need your focus during 9-to-5 business hours …
Yet you really want to build your dream writer's life …
But for now, you've got bills to pay.
So how do you get started on the side, while you still have another job or other commitments that keep you from being available 24/7 for clients?
I know a little about this conflict … My wife Peta and I are on the road year round, traveling Australia. And some areas are so remote, we definitely have times we're "off the grid" with no internet access. So over the past two years, I've learned some projects simply don't fit with the traveling lifestyle.
What to do?
Be selective. Choose the "right" projects to suit your busy lifestyle.
Copywriting Projects Fall Into Two Broad Groups
The first is where you have to "show up" every day. I'm talking about time-sensitive projects like managing a client's social media networks. You might have to check their Facebook page or Twitter feed several times per day and respond to any negative feedback before it gets out of control.
Or you might land a gig writing for an online news feed. You need to "be there," available when a big news story happens.
Are these realistic when you still have a day job? Unlikely.
There's another group though.
These are projects you can fit in before work, after work, or on weekends. They're ideal for when you're starting out.
You see, they aren't time-sensitive.
Simply do them when you have spare time. Yes, they still have deadlines. However, the deadlines are often weeks in advance.
Even better, each project is short. Perfect for when you're juggling a day job or other commitments! Plus, they're a great way to learn the craft of copywriting.
What are these projects?
Here's a list of seven short copy projects for when you still have a day job. And you'll notice the fees are pretty attractive too.
Choose one (or more) of these short copy projects and you'll be off to a good start!
1. Blog Posts ($200-$500)
Companies are always looking for new content or a fresh angle on a topic. As a blog writer, you'll be in demand. Blog posts are short, typically 300–1,200 words.
These are an ideal fit for you! Each blog post is a self-contained project. They're short and easy to complete.
You can write them in advance when inspiration strikes and "stockpile" them.
Say you have a burst of creativity and write four in one weekend (which is definitely achievable, by the way). Now you have a buffer and won't feel pressured by looming deadlines.
This way, you can still meet the deadline when your day job gets busy.
Look for clients who need blog posts every week or every other week. For now, avoid the clients who need a new post every day.
Submitting a daily blog post is too demanding when you still have a day job. You can take on these projects later, if you so desire. Wait until you're copywriting full-time.
Blog posts give you a head start into writing longer articles, special reports, and case studies. Ideal (and lucrative) work for when you're a full-time writer.
2. FAQs ($150-$750)
Customers often ask clients the same recurring set of questions. To address this, they need an FAQ page written or updated on their website.
Here's another use for FAQs. If a client needs old content updated, use FAQs to freshen it up.
FAQs are fun, interesting to research, easy to write, and can be completed in one morning.
Plus, FAQs are a "secret sauce" for search results. Mix writing FAQs with SEO (Search Engine Optimization) skills and you'll be very valuable to your clients.
And who knows? After researching topics for suitable FAQs, you might decide to be a full-time researcher for other copywriters.
Whatever you decide, research skills are a vital part of any copywriter's skill set.
3. Re-Writing Old Websites ($250-$500 per page)
Too many companies have tired old websites, snoozing away in a dark corner of the internet. No one ever visits them because they're outdated, a relic from the past.
Use your persuasive writing skills to bring them back into the limelight!
Re-writing old websites is typically not time-sensitive. The site has been ineffective for a while, so another few weeks won't matter.
And you can treat each page as a mini-project. This way, you can work on it as time permits and the client can see you're making progress.
It's rewarding work. The payoff is when the website starts climbing the search engine rankings … all because of your copywriting skills.
The other benefits? You learn about:
The structure of websites, what's good and not so good. Then when you're writing full-time, you'll feel more confident about building new websites from scratch.
SEO (Search Engine Optimization). SEO web writers are always in demand! Another potential income source down the track …
4. Information Pages ($150-$750)
Information pages answer prospects' questions about a product or service.
They aren't hard-sell sales pages. Rather, they explain how to use the product or service and its benefits. You use a friendly, conversational tone.
The aim is to pre-sell the product or service by educating the prospect. No hype, more like talking to a friend.
You can easily complete an information page in one morning over the weekend. At the same time, you're developing persuasive writing skills … skills easily transferrable to sales pages and landing pages later on.
5. Infographics ($100-$750)
Infographics explain complex ideas in a visual way. They are the long, vertical visuals you often see on web pages.
What's the aim of an infographic? To educate a reader visually … taking a process or set of instructions, breaking them down into simple steps then presenting them visually.
The copy is short. A brief sub-heading then a few lines of copy for each step. You might work with a graphic designer or be asked to create the entire infographic.
They're fun and often challenging! Your job is to convey the information in short, sharp chunks.
Because each step stands by itself, you can work on an infographic for a short time then go back to it later. Ideal for when you're still working a day job.
Then when you're a full-time web writer, you can transfer your newly-acquired skill of writing super-short copy to writing Google Ads or Facebook Ads. Video scripts can also demand these types of short sound bites.
6. Site Audits ($1,500-$2,000)
How many websites have you seen that are difficult to use, the information is hard to find, or just don't look right? The internet is full of poorly designed websites.
Set yourself up as the person who can fix these sites!
Typically, you'll audit the top-level pages (the ones in the Navigation Bar plus the homepage). Then you write a report on what needs to be changed.
Site auditing is straightforward. You follow a set of standard checklists and use them as your auditing guide. By the end, you'll have a comprehensive report ready to show the client. This report covers all the elements needing attention.
And you're the one they'll hire to make the changes.
An ideal way to get your foot in the door!
Site auditing involves running through a series of checklists, so you can easily leave them and pick up where you left off. Have a one-hour lunch break? Do a little every lunch hour.
The big bonus with being a site auditor? You'll quickly learn the ingredients which make up a great website … what works, what doesn't.
This is an invaluable web writing skill.
And down the track, why not add web designer to your portfolio? After all, you know all the elements needed to create a great website.
7. Emails ($250-$3,500)
Writing emails offers a great opportunity — especially for beginners.
They're easy, fun, and short, and businesses need A LOT of them in order to stay in touch with their customers and prospective customers.
Email is a cost-effective marketing method, so often marketing directors will be more than willing to let someone with zero experience try writing an email or two. They'll see the results quickly, and if your emails do well, they'll hire you for more.
Autoresponders — a series of emails triggered to be sent after a prospect or customer takes a specific action — are set up in advance to go out automatically. You can write them on your schedule, without any timing pressure. Since a series of autoresponders may include 3-10 emails (or more), you'll be earning good fees for the set.
And once you've mastered writing emails, you can build on those skills to write other important materials, like lift notes, sales funnels, and onboarding messages.
A New World of Opportunity
Notice how these seven short copy projects all lead into a whole new world of other copywriting opportunities?
Here they are again:
Now: Blog posts → Later: Articles, special reports, case studies
Now: FAQs → Later: Copywriting research, web writing, SEO
Now: Re-writing old websites → Later: Writing new websites, SEO
Now: Information pages → Later: Sales pages, landing pages
Now: Infographics → Later: Writing Google Ads, Facebook Ads, video scripts
Now: Site audits → Later: Web writing, consulting, web designing
Now: Emails → Later: Lift notes, sales funnels, onboarding messages
They're all stepping-stones to new projects, new opportunities. No long learning curves either. You can get up to speed in no time.
I've really only touched on a few of the opportunities available. I could easily add e-newsletters, special reports, product descriptions, and many more.
Short copy projects are the ideal balance between juggling a day job or other commitments, starting your writer's life journey, and developing a whole new set of writing skills … skills you'll build on as your copywriting dream becomes a reality.
Who knows, you might even decide to specialize in writing short copy. After all, the demand is massive and the paychecks are certainly healthy.
And what of those time-sensitive projects we spoke about earlier, like social media management?
Well, use one (or more) of these seven short copy projects as a starting point, a learning curve … all while you still have the security of a day job.
Be patient and develop your skills. Build a solid base of steady income, prove your worth to your clients, use your proven skills to ask for more work, leave your 9-to-5 job … and go for it!
If you have any questions on how to get started as a web writer, please ask in the comments so we can point you to other resources.

The Professional Writers' Alliance
At last, a professional organization that caters to the needs of direct-response industry writers. Find out how membership can change the course of your career. Learn More »

Published: March 4, 2020