March Issue: Mess With Your
Brain the Smart Way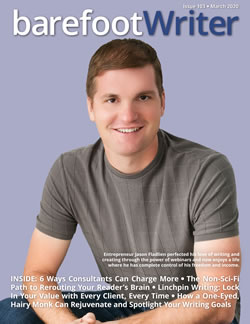 Here's a new rule book for writers:
Fail, fail, fail, fail, fail, fail, repeat.
Do that five times … or maybe 20. And then do it again. And still again.
Why?
Because according to Jason Fladlien, our Featured Interviewee this month, it's going to mess with your brain in the most profound way.
***Click here to read your copy of the March Barefoot Writer***
See, as writers and entrepreneurs, we tend to attach a lot of baggage to success. So when someone says something is possible — like a paid writing career — and we can't make it happen overnight …
Or we're scared, or nervous, or don't feel ready or worthy …
We wind up steeped in self-doubt. That's not a good place to be when you're trying to launch a dream career designed to get you everything you want in life.
But if you change your perception of failure … aim lower … plan to mess up …
You lose all that baggage.
You're no longer trying to imitate what someone else did to get where you want to be. You're writing your own way.
Not only does this make you more confident, but it also makes you more creative.
You get a blank canvas.
It's the difference between trying to repaint someone else's masterpiece, which is hard, and painting your own, which is fun. You can paint what you want.
Plus, every step you take into the paid writing world is easier and more fun when you're expecting to fail.
Right now, read your March issue of Barefoot Writer. Pay close attention to my interview with Jason, who's big on rewriting the perception of failure. It worked for him — go to page 9 to find out how.
And then after you read it, get out there and fail your way forward.
***Click here to read your copy of the March Barefoot Writer***
Would you like to be part of a supportive community of writers who will cheer for your wins and help you through any fails that come your way?
We're a fun bunch, full of insider secrets and shortcuts on how to build a satisfying, long-lasting writing career.
This may be exactly what you've been looking for to help get your writing career off the ground once and for all. Find out more about us here.