Lean In: The Unique Secret to Launching YOUR Writer's Life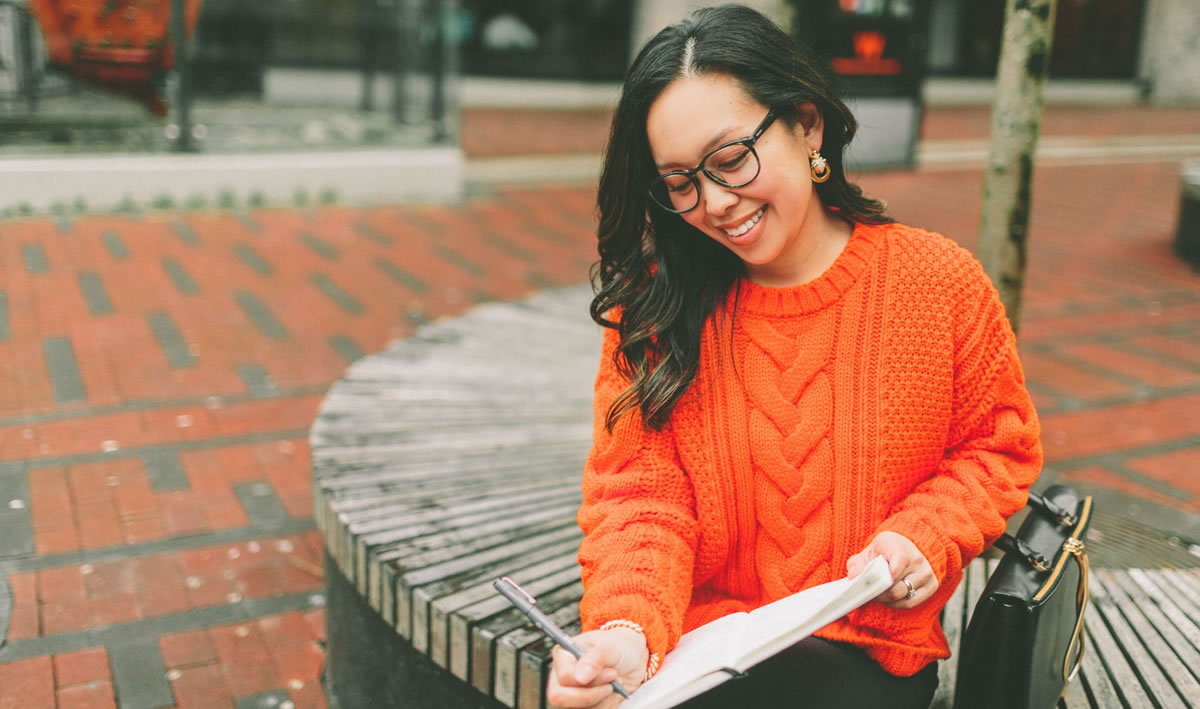 A few years ago, I was hanging out at the party at AWAI's Bootcamp chatting with email copywriter Ben Settle.
I was telling Ben about some of the success I had using his email tips in the financial niche and he told me the biggest mistake he sees people making with the information in his email newsletter.
I don't remember Ben's exact words, but this was the gist …
Too many lazy people practically steal his emails, use the same made-up words he does, and try to sound exactly like him.
In other words, they completely missed what is probably the #1 lesson he teaches purely by example … BE YOURSELF!
You see, while there are plenty of working copywriters out there today, none of them bring your life experience, your background, your training, and everything else that makes you unique.
No matter who you are, you have unique stories to tell and your own voice to tell them with.
Today, I want to share several reasons it's important to know who you are and what you stand for … and how you can use this insight to help you achieve the writer's life faster.
Work with YOUR Ideal Clients
If you haven't discovered this yourself yet, I'm here to tell you that not every potential client in your niche will be a good fit.
Some may be more aggressive in their marketing than you're comfortable with …
Some may care more about profit than customer results …
And some may be downright dishonest.
Others may simply have different values and beliefs than you.
But there are quite literally millions of businesses out there in need of copy every day. That means there are also plenty of businesses out there who will be a great fit for you.
While you can certainly chase every potential client possible in order to make the most money …
I encourage you instead to write down your values and your reason why …
Understand what drives you to do your best work and what type of work puts a smile on your face …
Then look for niches that can help you fulfill your personal mission and clients who share the same values and visions for their business as you do.
Get Paid to Serve, Not Sell
I can't tell you how many copywriters and marketers I've met who say something like "I hate selling."
First, that is part of the gig, so you'll have to come to grips with it.
But second, stop thinking of it as selling.
Because if you've taken the first step to identify your values and your mission and find a niche and clients that you agree with …
Writing for that niche becomes less about selling and more about serving.
If you've leaned in to your values and know you're helping someone achieve a goal or a dream that's important to them, you're not selling a product or a course …
You're helping connect them with a solution you believe in and that you know can help them.
Write for companies, products, and services you believe in and it can help you overcome that mental block of "I hate selling" and focus your copy on what matters most … the transformation for the prospect.
Lean In to YOUR Story to Get More Clients
I'm telling you right now, there is something about YOU that sets you apart from other copywriters.
I don't know what it is — and you might not yet either — but it's there.
So have a friend or a peer in the industry interview you and dig deep into your story.
Why? Because we all have blind spots and looking inwards to find them is difficult.
So have someone help you find something that makes you stand out and makes your story — and your pitch to clients — memorable.
Maybe it's where you grew up or how you got into the writing …
Or your background and how you think that will help you as a copywriter.
As fascinated as people have been about my background as an aerospace engineer, that's not the part of my story that helped me break into the financial niche …
It's the fact that I was a customer long before I became a copywriter.
I spent 13 years subscribing to financial newsletters and investing my own money on picks recommended by gurus before I discovered copywriting.
In other words, I have a very good feel for what our prospects want, need, and think and how they really feel about the industry. That insight is invaluable and it's greatly helped me write successful copy.
But more importantly, it helped me land my first clients because so many other copywriters don't have that same experience with the product.
So dig deep, find the interesting nuggets of your story, then use those pieces to tell stories on your website, in your emails to potential clients, and to craft a powerful elevator pitch for when you meet people at events.
This Is Your Writer's Life, So Own It
The resources and team here at AWAI have helped countless people build extraordinary lives as writers.
But just remember, while you can always follow a proven roadmap to the writer's life …
The most important thing to remember is it's always your journey.
Work with clients with similar values and missions …
Work on projects and write about products you're proud to represent so you're serving, not selling …
And tap into what sets you apart from others to make your pitch memorable and irresistible.
Lean in to who you are and you'll build a writer's life that will be more rewarding — mentally, spiritually, and financially — than you ever thought possible.
Do you have any questions about this unique secret? Share with us in the comments.

The Professional Writers' Alliance
At last, a professional organization that caters to the needs of direct-response industry writers. Find out how membership can change the course of your career. Learn More »

Published: March 24, 2020