A Tale of Two Crises: 2001 and 2008, and How to Make the Best of 2020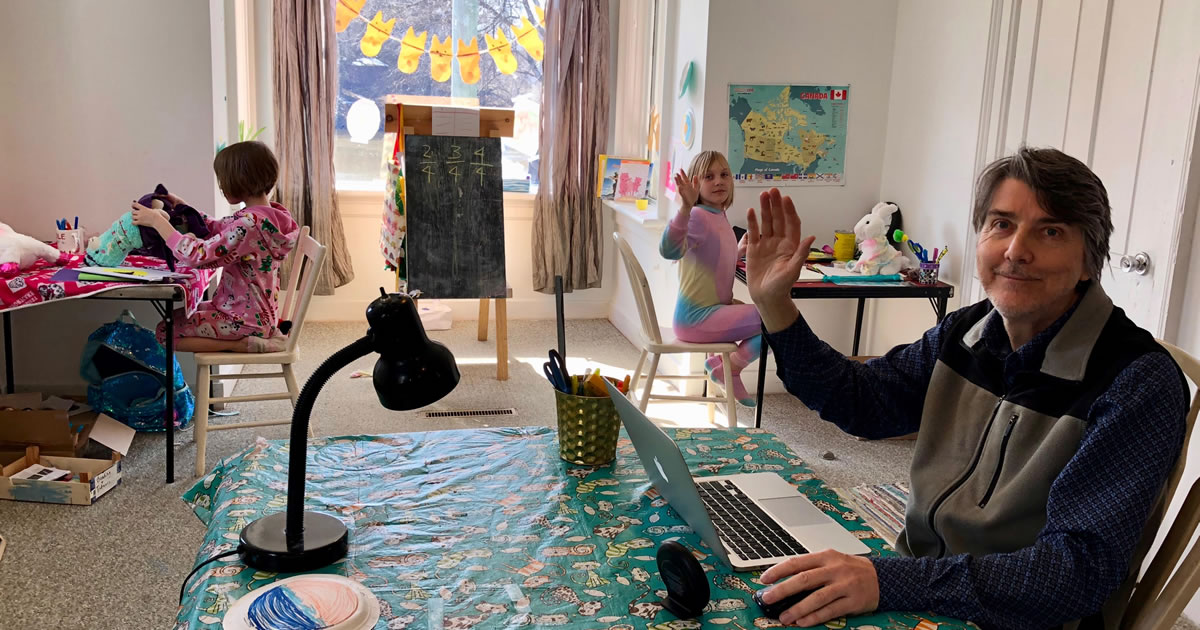 Gordon Graham in his living room where his two daughters, Lily, 6, and Cassidy, 9, put together their own "classroom."
In these weird times, it helps to realize that this, too, shall pass.
Let me tell you the story of two earlier global meltdowns and how I got through those. One was definitely the worst of times, because I was caught unprepared. The other was much better.
One lovely spring day in March 2001, my biggest client called me in for a meeting. The dot-com bubble had burst but that was happening far away in Silicon Valley, not where I lived in Montreal. Or so I thought.
"Gordon, we love what you do for us," said my client, the VP. I knew they did. The company had me writing a monthly printed newsletter, brochures, slide decks, press releases … so much that one software firm accounted for one-third of my income.
"But with everything happening out there …" he gestured at the window, "we have to press Pause on all our marketing. For at least a quarter. Maybe longer. I'm sorry."
I was stunned. My biggest client, gone. Just as the entire tech industry around the world — all my potential clients — was reeling from the same hit.
Over the next few weeks, most of my other projects were put on hold for the same reason. An estimated $5 trillion in shareholder value went down the drain. My own cash flow bottomed out.
I'd been living a carefree life as a single guy, not thinking about the future, certainly not saving any money for a rainy day. I had no deep specialty: I would write anything for any tech firm in my area. I had a basic website, but no customers outside Montreal.
And now I was desperate, not sure what to do. I had a trickle of work coming in, but not enough. Slowly I emptied my bank account and maxed out my credit cards.
And finally, I went bankrupt. I remember sitting in the trustee's office handing over my credit cards, my bank cards, the records for my retirement savings. They were all gone.
Embarrassed, I had to admit to my friends that I couldn't rent the car for a road trip we'd planned. With no credit card to reserve a hotel room, I couldn't go anywhere.
For me, that was the age of foolishness. And I vowed I'd never be so foolish again.
The Great Recession of 2008
Fast-forward seven years to the Great Recession of 2008. Again, people and businesses around the world were hurting. Again, the stock market tanked. Again, lots of projects were delayed or cancelled. And again, lots of writers were desperate.
I remember a colleague telling me how the bottom was falling out of his writing business. Worried, he asked, "So how are things with you?"
"Well, I haven't noticed any big difference," I said honestly. He couldn't believe his ears.
What was different for me this time?
Well, by 2008 I had grown up a lot. I had a wonderful wife and a big house we'd bought in a small town. And again, I had a steady newsletter gig.
But I also had a clear specialty: doing white papers. I had a focused website that had climbed to the first page of Google for my keywords. I was publishing a regular blog with several thousand subscribers. I was presenting at live events for AWAI.
And best of all, I was booked solid with white papers for clients.
My invoices for 2008 show that I worked with clients in four different countries and a dozen cities. I wasn't depending on any one sector or any one company. That made my business far more resilient.
In the end, my income for 2008 dropped about $15,000: a pinch, rather than 2001's knock-out punch. For me, it was the age of wisdom.
The COVID-19 Pandemic of 2020
So here we are again, in another global crisis.
The stock market has had days where it tanked. Again. Companies are in shock, trying to figure out what to do. Again. Projects and campaigns are being put on hold or cancelled. Again. Everyone is worried about the future and wondering how to hold onto their houses. Again.
Only this time, it's worse. People are dying. If you have school-age kids, they're probably home underfoot. We're all worried about our health, our families, even our food supplies. The world may never go back to the way it was before all this.
Yet the one thing I know for sure: We can get through this. We can come out of this with our writing selves stronger and more resilient. Here are a few ideas on how.
COVID-19 Tip #1: First of all, keep calm and carry on
Learn what you need to know to be smart. But don't sit on TV news and social media all that much. That can get depressing.
Instead, step outside for a breath of fresh air. Enjoy your family. Keep your distance, but be kind. Help your neighbors … especially older people or singles feeling isolated right now.
Keep in mind that none of us should expect to produce at a regular pace these days … we all have background stress and anxiety, children or significant others underfoot, even changed physical arrangements in our living quarters. Combine that with an inability to go out to get a coffee or go to the gym and in many places, even go to the park. It's a strange time and to think we can carry on writing at the usual pace — even if we're fortunate enough to have lots of work — is just not realistic.
And be patient with yourself and others. Don't expect any quick fixes. For the next few months, this is the new normal. So wash your hands. Again.
COVID-19 Tip #2: Do whatever makes you happy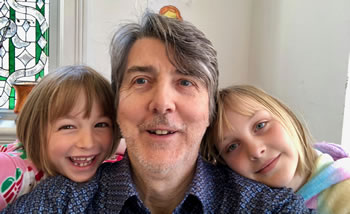 Gordon and daughters Lily (left)
and Cassidy (right) at home together
Lay in some supplies to get through a few weeks. Then quit shopping. If you like cooking, pull out your favorite recipe for some comfort food.
Here's one of mine: an insanely rich grilled cheese with caramelized onion. This works perfectly well with whatever onions, cheese, and bread you have on hand.
Want to waste all day playing a video game? Catching up on Netflix? Doing a jigsaw puzzle? You have my permission.
COVID-19 Tip #3: Reconnect with friends and favorite clients
I've been doing "Virtual Happy Hours" through Zoom with my friends and colleagues around the world. We share a drink and a few laughs and make sure we're all okay.
And that can work with clients too. But do it as a person, not an anxious peddler trying to line up work. Just reach out to check that they're okay.
For example, these days I'm starting every email with something like this:
First of all, how are you? How are the kids? How are things in your area?
And then I offer a brief update on how we're doing in my house.
Isn't that a lot better than ignoring the elephant in the room and jumping into some pitch, telling them how you can help tweak their copy to react to the coronavirus?
Sure, they may need you. But first, connect as a person.
COVID-19 Tip #4: Pick (or reconsider) your niche
And when your thoughts turn back to work, why not start with the fundamentals? Do you have a specialty or a niche yet? Now is an excellent time to pick one. For flexibility, pick two or three.
Picking a niche can help your writing business in many ways.
Soon after 2001, I decided to focus on white papers, mainly for B2B technology. With my new specialty, I found it simpler to market myself and easier for clients to remember me. I could offer more value to clients and charge higher fees.
And working in the same niche flattened my learning curve on every project. I could hit the ground running, because I already knew the jargon, the challenges, and the best practices in my niche.
AWAI has many helpful resources on picking a specialty:
Perhaps you have a niche that's not working so well for you? Getting bored with it? You can always refocus on another area. This is a great time for doing that, too.
COVID-19 Tip #5: Rethink your web presence
Maybe that can be as simple as adding a note on your homepage that you're "open for business during COVID-19."
If you don't have a website for your writing services, this is a perfect time to set one up.
Here's Jim Wright explaining why you don't have to be a gearhead to get on the Web these days.
And here's Rebecca Matter on how to plan out your website in less than an hour.
And this is also a perfect time to update and tweak your LinkedIn profile. Not on LinkedIn? You should be. That's where the clients are, far more than on Facebook. You can find super tips from LinkedIn expert Steve Maurer here. And, you can watch these free Inside AWAI webinars for more strategies: How to Write a Professional LinkedIn Profile and LinkedIn Now: Best Practices for Getting Great Writing Clients.
The next step is to create some blog posts or a buzz piece you can use to attract prospects when the time is right. I'm working on some of those myself.
COVID-19 Tip #6: Gather your samples
Collect and organize your writing samples so you can easily find the best ones to show a new prospect. I keep a list of nearly 300 white papers I've worked on, with all the PDFs in the same folder. That way, I can instantly pull out a couple to show off.
No samples? What an ideal time to create some!
Learn how in the free Inside AWAI webinar on creating a winning portfolio of samples.
COVID-19 Tip #7: Learn some new tricks in Word
Word is the main tool of your trade as a writer. Learning a few more tricks can save you hours of frustration.
Here are a couple of basics:
Insert a page break instead of pressing Enter 25 times to get to the next page (hint: press Ctrl+Enter).
Get Word to read your draft out loud, so you can hear the rough spots (hint: select Review on the ribbon, then Read Aloud).
Or figure out how to solve that super-annoying problem that's always bugged you. To do that, I just google what I want to do:
Get rid of line separator before endnotes in Word
Up will pop tons of free tips and online videos that show exactly how to solve that problem. Use them. Knowing your way around Word is a basic requirement of any professional writer.
Then, here are some tips you can practice on formatting copy in Word for your clients: Copywriter's Checklist for Submitting Copy.
COVID-19 Tip #8: Brush up on your skills
If your work has slowed down and you've got some extra time on your hands, what a great time to pull out that course you never finished!
Schedule an hour a day and you'll be speeding through it.
Writing better emails, understanding SEO, learning the latest trends in marketing: The more you understand, the more value you can bring to your clients.
AWAI just sponsored an incredible day of free presentations from a star-studded cast of presenters in the State-of-the-Industry Virtual Summit 2020. Listen to tips from 12 influential marketers and writers.
You can watch the replay here — and you really should.
COVID-19 Tip #9: Check into some new types of writing
Whether you're a beginner trying to pick a niche, or an established writer keen to add more services to your menu, this is a great time to research new possibilities.
If you'd like an overview of the 12 most popular forms of content today — from blogs to white papers — my Crash Course in B2B Content is just the ticket.
That program gives you a quick overview and lots of tips in about one hour per format. Each module includes a video walkthrough of a sample, with advice on writing and pricing each one. (Binge-watch this instead of Netflix and you'll be building valuable writing skills for whatever is in store.)
Developing your writing skills is an excellent way to make the most of your time sheltering at home.
Mark my words: As bad as this coronavirus situation is, it won't last forever.
And when clients wake up again, your writing business can be healthier than ever. You can have a stronger focus, a better web presence, a more organized set of samples, a better handle on Word, and some new writing skills to bring to the market.
I'll be using this pause to do all those things. I hope you do too. Then we can look back and realize that after a winter of despair, spring and summer 2020 actually became a time of hope and an age of wisdom.
Do you have any questions about getting started in content marketing? Please share with us in the comments.

Crash Course in B2B Content
Dive into the lucrative world of B2B content writing. Expert Gordon Graham will show you the top 12 content types in high demand by B2B firms and how to complete each one like a pro. Learn More »

Published: April 24, 2020