April Issue: The Power of Writing Is Helping More People than Ever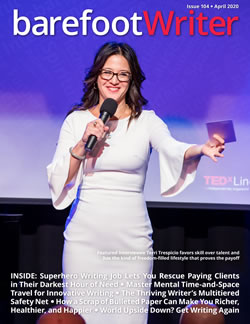 As we're staying home and practicing social distancing …
The act of writing is gaining steam as a way to cope and connect.
Daily journaling has therapeutic benefits. It helps us slow down and reflect on life during extraordinary times, like the present.
Letter writing can bring joy to loved ones, reconnect the isolated, and give glimpses into the human mind and heart.
Content writing can influence others in a rapid manner — the very definition of infectious. It can inform, educate, and calm. It's also a gateway to a steady writing income.
You're not alone if you feel frightened or lost or downright sullen about the way our lives have suddenly changed.
But no matter what you're dealing with, writing helps. The very act of being creative reminds us of our common humanity.
Plus, during these difficult times, if you are a writer, you have options.
Read your April issue to find out how — right now — you could be a superhero to clients in their darkest hour of need.
You'll also discover how to create a multitiered safety net for your writing career, and why it would help to pen a love letter … to your own website.
Most fascinating of all is our interview with powerhouse Terri Trespicio, who makes it clear there's really just one thing that determines whether you sink or swim as a paid writer …
Click here now to read your April issue of Barefoot Writer.
To your writing success,
The world is crazy right now. We thought we'd lighten the mood. See page 29.
If you're ready to go for it and get paid to write for a living, join our Barefoot Writer Club. Along with your 12-month Barefoot Writer Magazine subscription, you'll get unlimited access to over 100 back issues, all designed to help you write better, faster, and for more profit, AND admittance to the Barefoot Writer Private Facebook Group where your fellow writers actively engage in growing their businesses, sharing advice, and answering the burning questions that might be holding you back.
Membership into the Barefoot Writer Club is literally the quickest, most supportive route I know to life as a paid writer: Join the Barefoot Writer Club today.