How You Can Design Your Writing Life for Profitability and Joy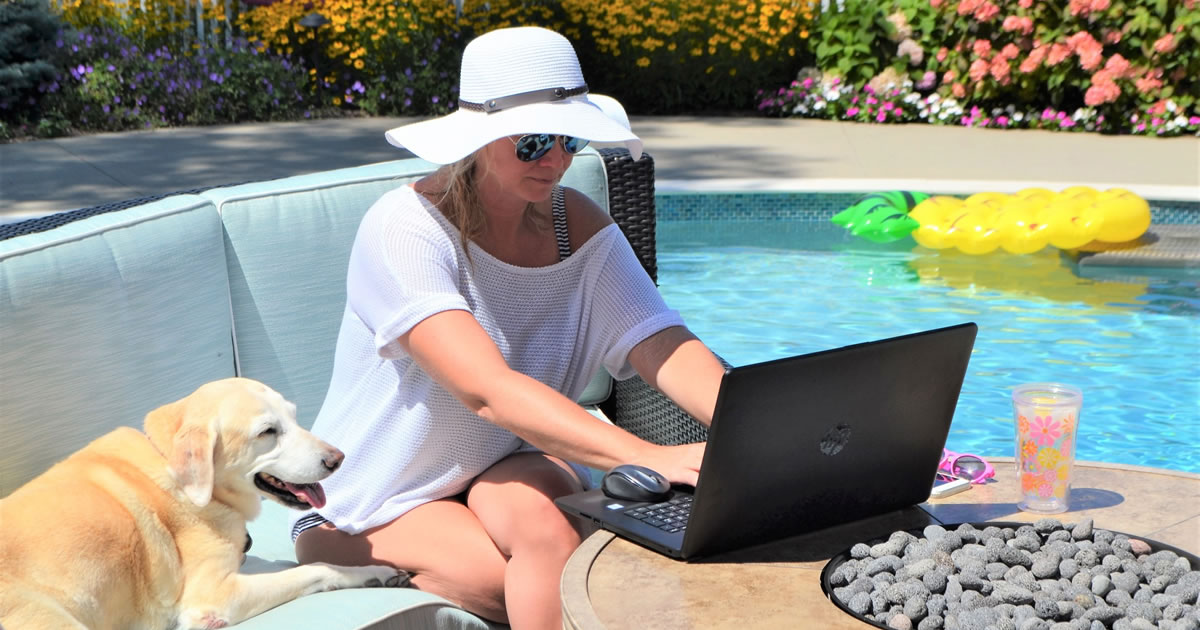 To niche or not may be one of the most misunderstood (and paralyzing) elements of starting a freelance writing business.
At least it was for me.
When I started my copywriting business, I didn't know how to find clients.
However, I did have five years' experience writing my Money-Making Website about dogs and health. I used that experience to gain my first client who was a friend of mine and a dog trainer. When I mentioned I was "hanging out my shingle" as a freelance writer, she said, "I'll be your first client!"
With that experience, I screwed up my courage and went to local networking events. There, I picked up clients like a financial advisor, a couple of nutrition coaches, an interior designer, and other small business owners.
Yet, every time I took on a new industry, there was a learning curve. I didn't have the deep knowledge I already had about the pet industry, so it took me longer to get up to speed.
Finally, I realized why experts advise that if I focused my efforts on one or two areas, it'd be easier to market myself. So, I assessed my experience and what I liked doing and built a freelance career writing blog posts, social media, and web copy within the pet industry.
Over time, I broadened my experience and now I actively promote 2-3 niches. That's right, "choosing a niche" doesn't mean you must limit yourself to only one.
In fact, I think it's smart to diversify just a bit because it's more interesting writing about different topics and it helps protect you from industry downturns.
For example, imagine if you were a real estate copywriter in 2008. Or a travel industry copywriter now. Tough times.
Diversifying your client base gives you more protection. Plus, I love learning new things and I can go deeper in my chosen areas.
When you choose a niche, it narrows your focus so marketing yourself is easier.
Even better, you can command higher fees because you become a subject matter expert. Plus, because you know the subject matter well, you can work quickly, which also pushes your rate up.
Perhaps best of all, just because you make a choice today, doesn't mean you can't change it later. You can try out an area and see if it's for you.
So now, what about you?
What type of writing work interests you? Do you want to write customer success stories or does writing promotional emails excite you?
You really do get to design your writer's life.
So, ask yourself, what kind of writer do you want to be? Really try to imagine yourself with a specific type of writing project.
Here Are Two Questions to Help You Narrow It Down
1. What Topics Interest You?
Which of these "light you up" when you think about them? What do you read about in your free time? Where do you already have experience?
Self-Improvement
Home and Garden
Home Improvement
Health and Wellness
Beauty and Fashion
Consumer Electronics
Business Technology
"Green" Building Practices
Sustainable Travel
Corporate Training
Real Estate
Education
Investments
You can probably come up with a few more. It's not often in life that we get to truly choose what we do for a living. But when it comes designing a writing life, you do, so choose something that interests you.
Now that you're thinking about an industry, what type of writing project(s) do you imagine yourself doing?
2. Choose a Type of Writing Project
Do you see yourself writing persuasive copy? Or maybe you see yourself writing technical content like buyers' guides or white papers. Or maybe web content and blog posts. There are a wealth of choices and no one writer writes everything.
What two or three choices leap out to you?
Ads
Taglines
E-newsletters
Promotional emails
Blog posts
Web content
Web sales pages
Web informational pages
E-books
Video scripts
Buyers' Guides
White papers
Case studies
Social Media posts
If you've already got some experience in one area, why not start there?
As you can see, there are a lot of options. And there are no right or wrong answers.
Businesses of all shapes and sizes and in every industry need copy and content both online and off. (Of course, you'll want to make sure that the types of projects you specialize in are commonly used in the industry you've chosen.)
There truly is so much opportunity for freelance writers and copywriters. You can choose the type of clients you want to work with and the type of work you do. There are few careers with so much choice.
Of course, the first thing is to get the training you need. That way you can feel excited to about your work, do what lights you up, and have the confidence you need. When you make these two choices, you'll have a better idea what training you need to design a solid and profitable writer's life you'll enjoy.
For more information on The #1 Easiest Way to Choose a Copywriting Niche and Start Attracting Well-Paying Clients, check out this free Inside AWAI webinar here.
What questions do you have about designing your writing career? We'd love to hear from you in the comments.

The Professional Writers' Alliance
At last, a professional organization that caters to the needs of direct-response industry writers. Find out how membership can change the course of your career. Learn More »

Published: April 28, 2020