Living The Writer's Life: Gloria Rand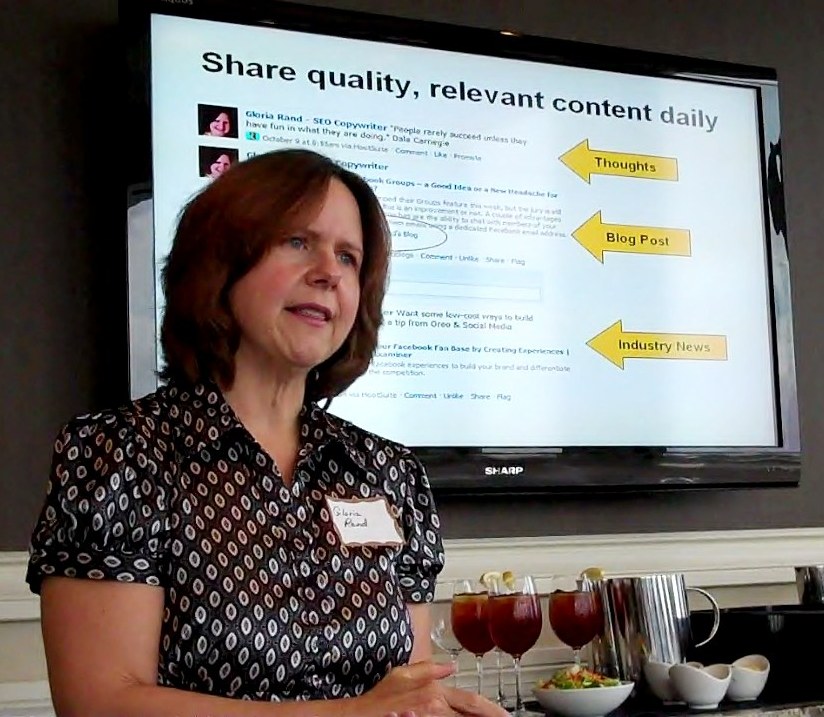 How did you first get started as a copywriter?
I met my first client at a Mothers and More meeting. (It's a nonprofit support group for working and non-working moms.) She was a life coach, and after visiting her website, I realized that her company desperately needed help. Her site was nowhere to be found on Google, and even though I was only halfway through Heather Lloyd-Martin's SEO Copywriting Certificate Program at the time, I contacted her and offered my assistance. She was relieved that I knew what was wrong and could fix it! She introduced me to a local networking group, and I started picking up more work after sending out an email sales letter to the group's members.
Any current goals you're willing to share?
My current goal is to double my income from last year.
What's the most unusual writing project you've ever worked on?
It would have to be managing the Facebook page and blog for a judicial court candidate. That was interesting. I had to be on the lookout for negative comments from the opponent and his supporters. The candidate wanted to be absolutely sure that she wasn't posting anything inappropriate or that could be misused by the opposition. I like to think my efforts played a small part in the fact that she won the election!
While writing, do you have any favorite foods you like to eat?
No favorite food, but I do like a cup of green tea! Keeps me going through the day.
How has your life been different than what you'd imagined since you started freelancing?
I never imagined giving presentations and hosting webinars! I'm a shy person at heart, but I've had to get over that. If you want to sell your services, you have to learn to talk to people. And even though it was nerve-wracking at first, I have found that speaking is one of the best ways to demonstrate your authority — and it has led to new copywriting jobs.
What were some of the best investments you made in your writing career?
Besides AWAI programs, Circle of Success, and Bootcamp? Those were the top three for sure. I'd also recommend a business coach. Sometimes you get stuck, and it takes someone outside your profession to help you clear through the clutter and keep you on track. And books! I can never get enough writing and marketing books. It's so important to keep learning.
Are there any words of wisdom you'd like to pass along to other writers?
Be persistent and patient. Building a business takes time. And make no mistake, copywriting is a business. Be willing to do some work for free to get started. It helps build the portfolio. And realize that you're not going to get paid top dollar at the beginning. But that's okay. Just keep doing good work for your clients — under-promise and over-deliver — and soon you'll be able to raise your rates, attract even more clients, and enjoy the life of a Barefoot Writer!
Gloria's Living The Writer's Life story was originally published in Barefoot Writer. To learn more about how you can start living your dream writer's life too, click here.
What help do you need to move forward with your version of the writer's life? Let us know in the comments below so we can help guide you in the right direction.
Published: April 18, 2020