Practice Assignment: Rewrite the Content for a Website Intro Section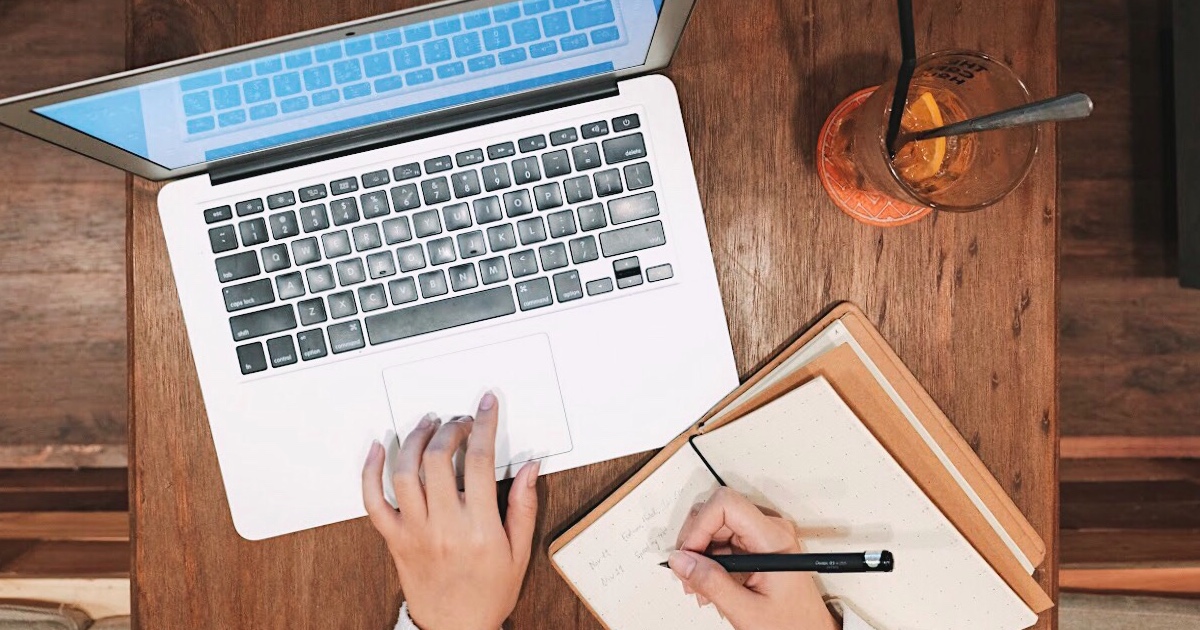 Who's ready for a web copywriting practice assignment?
If you are … keep reading because I have a challenge for you.
You're going to fix a website's homepage that's missing the right information for its visitors.
Do this and you'll get hands-on experience with writing web content that WORKS, so you can help countless clients with your skills.
Plus, you'll end up with a solid piece of web copy for your portfolio.
Here's How It Works …
First, keep reading.
I'm going to brief you on the project, just like a real client would.
Then, I'll explain how to write web page copy that brings in more traffic and sales … which is a highly valuable skill you can offer clients.
Think about it. It's a great opportunity to get a sense of what it feels like to be given a brief to write web copy for a real client — and identify gaps you can fix on any website.
Are you with me? I hope so.
Let's get started …
Here's Your Brief …
Your challenge is to rewrite the homepage web copy for Charles Chiropractic(dot)com; just the "above the fold" area (that first screen people see on their computers when landing on this page). NOTE: This is not a real website. It's a sample for this practice assignment.
See the image below to understand what's there now:
The practice logo at the top, in the header (also known as the masthead) along with contact information across the top (very small)
A little bit of navigation: Meet Our Doctors, Our Services, Book Online
Headline: The name of the practice: Charles Chiropractic Clinic
A subhead: Quality Care You Can Trust
Body copy that says this:
"Our focus at Charles Chiropractic Clinic is to deliver an experience unlike any other Chiropractic Clinic. We take a true musculoskeletal approach to our treatments utilizing the same chiropractic treatments that you have come to love, but complementing it with an array of muscle therapies to both address the joint and the muscle aspect of the area in focus. Check out 'Our Services' section to find out some of the services that we have to offer to complement our Chiropractic care."
And, a call-to-action button: Book an Appointment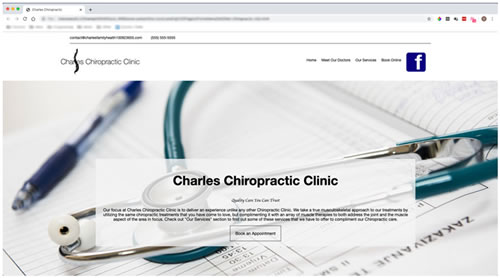 That's everything a visitor will see "above the fold" on a typical laptop, before scrolling down the page.
Why is this "above the fold" area so important?
It's the first content visitors see, creating an instant first impression.
Statistics show that website visitors decide within just 3-8 seconds whether to stick around or hit the back button … so that first impression is critical.
If a web page doesn't include vital, clear information the visitor needs, it's losing business. (This happens every day, by the way.)
This sample website has a few problems we'd like you to fix with a content makeover.
First, we don't have any idea where the clinic is located. Since a chiropractic clinic is likely to be a local business serving patients in a local area, it's important to make it obvious in the content: this is where we are, and who we serve. More on this in a moment.
Second, the headline isn't inviting or engaging in any way. It simply names the practice. It's not presenting a wonderful solution, relief, desired outcome, or anything that would inspire the visitor.
Next, the subhead, "Quality Care You Can Trust" is generic and not specific to the care/relief/outcome a patient can receive here. There's no copy that helps the visitor picture himself getting quality care and remarkable relief here.
The body copy is very formal and dry, using medical terms … and frankly, projecting that they're quite proud of themselves. Sadly, it doesn't really say how their approach will solve the visitor's needs in a unique and powerful way.
Your mission?
Turn this vague, ho-hum, and locally invisible web page into appealing copy that's a first-impression winner, leading to interest and action.
How will you turn this into MUCH better content?
1. Start by knowing the client's offering and business mission.
Your client should give you some briefing information like this, whatever you're going to be writing (you can also ask for it):
The Company Name: Charles Chiropractic Clinic (I made the name up, but it's based on a real website). For purposes of this practice assignment, let's say the clinic is located in Boston, Massachusetts; serving patients within a 30 to 45-mile radius of Boston.
Target Audience: People in the Boston area, looking for pain relief. They're specifically looking for a reputable chiropractor located near them.
Product: Based on the current homepage web content, this company offers "Quality Care You Can Trust." It "combines expected chiropractic treatments … with an array of muscle therapies to both address the joint and the muscle aspect of the area in focus."
Features:
A combined approach to chiropractic care
Addresses both the joint and muscle aspects of pain
Quality care
Trusted care
What's unique: Based on the current content, "an experience unlike any other Chiropractic Clinic" means that the practice delivers a combined joint and muscle approach to care is unique. (We can assume most practices only focus on the joint pain of patients.) However, it's not clear how this unique approach will ultimately help the visitor relieve pain in the best way. Plus, it's not clear that this is a unique offering in Boston.
Benefits: We'd like you to come up with the benefits. This will involve some online research to determine how this practice's features turn into benefits for the person dealing with pain. There is LOADS of information online about chiropractic medicine, and even the "two-pronged" approach mentioned above. This is where you can pull in benefits and get creative to write exciting, beneficial copy.
2. Be familiar with three main aspects of web page copy that WORKS.
These three best practices give you a solid starting point for this practice assignment.
Clear: In just seconds, you can tell what the company is, what it offers the visitor, why it's an excellent option to solve the visitor's specific need. Since this practice assignment is for a LOCAL business, your content also needs to include local information: something called the NAP (Name, Address, and Phone). The NAP is what people look for when searching locally, to help them determine, "Is this a great place near me?" Location makes a big difference, especially in a major city, because a prospect in north Boston (for instance) may not want to drive through heavy traffic to get to a clinic in south Boston. So, the street address needs to be quickly visible.
Customer-focused: The copy is 100% written to the visitor (the prospect or potential customer from the Boston area). It has a personal tone directed at the individual; ideally in a conversational style as if you're talking to a prospect in person in a coffee shop. It's not about how great the company is; it's how the company solves "your" need!
Competitive and conversion-optimized: This company — the chiropractic clinic — certainly has competition in the greater Boston area. If you search online to find a Boston chiropractor, you'll see many websites in the search results. Take a look at each one and consider: how does the Charles Chiropractic Clinic stand apart as the best option out there? What can you say, on the website's homepage, that instantly sets them apart from other clinics in Boston?
And then … conversion means prospects DO something after visiting the website. You want to make sure the homepage copy converts visitors into appointments or other inquiries, or at least have them follow their Facebook page or get a free guide or something. Yes, the current website has "Book an Appointment," but is that compelling enough? Could something else be more inviting?
Here's a pretty good example of a local business website that follows all three best practices. It's a website for an optometrist in Denver.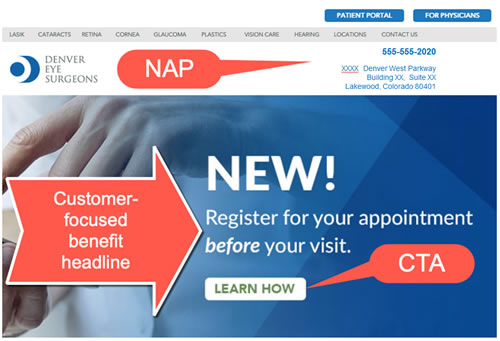 Why is it a decent example?
First, the NAP is visible on every page, at the top. It's in Denver, there's an address, and a phone number. (Note: We substituted their actual phone number and address for this example.)
It's customer-focused, with a nice promise speaking to the individual visitor: "Register for your appointment before your visit." This is a benefit that saves time when the prospect/patient arrives at the practice.
And, it's competitive, assuming most other optometrists don't have this pre-registration feature (or they don't promote it).
Finally, it has a call-to-action: a LEARN HOW button visitors click to get the details.
Sure, there could be a little more intro copy, such as a subhead and perhaps 2-3 bullets, and it would even be stronger for local searches if the word Denver was in the headline. But this is pretty good for covering the basics (which many local sites don't do, from what I've seen).
Now that you know the main aspects of web pages that work, let's get writing!
Your task for this practice assignment:
1. Write the NAP for the header.
Add the address (you can make up a Boston address) and a phone number (anything you'd like).
2. Write a new headline.
Make it a solution promise that also includes the word Boston … along the lines of what you saw in the sample above. Make sure it's unique and specific! (Not just "feel better," but something that's more of a picture; a desirable outcome.)
3. Write a "solution focused" subhead.
Support the main promise with a second line that speaks to the unique solution the practice offers. It could even be a very short testimonial from one of the clinic's patients.
4. Write some short, competitive body copy.
Include a few competitive "why choose this company?" bullets or a short paragraph … always leading with the benefits of choosing this practice. Let's say 50 words maximum for the body copy.
5. Include text for a call-to-action (CTA) button:
Provide one clear, beneficial call-to-action that invites the visitor to DO something they'd value: it could be "Book an Appointment," but you might go further will a value message such as, "Book a Free Consultation." (As an example.)
How to Research and Prepare
Go to Google and search for chiropractic clinics in Boston. Based on the websites that show up, study their homepages.
Take notes. Get a feel for what the different sites have to say.
You may find that many of them suffer from the same issues as our sample website. It's a common problem! I looked through hundreds of local business websites throughout the U.S. before finding the decent example I posted here. Many, many websites don't have the NAP or any inviting message "above the fold."
Once you've looked at a few local competition sites, move on and research the "dual approach" mentioned in the current website's copy:
"We take a true musculoskeletal approach to our treatments utilizing the same chiropractic treatments that you have come to love, but complementing it with an array of muscle therapies to both address the joint and the muscle aspect of the area in focus."
See if you can find out what this truly means when it comes to helping a patient who's dealing with pain.
In other words, do homework that makes you a hero to the client! During your research, you'll discover great ideas you can write for your client.
This is how it goes with real clients at a basic level. They give you a briefing, then you do your own research too, digging deeper and immersing yourself in the product or service.
Pro Tips for Making Your Homepage Copy a Big Wow
Once you've done all that research, you might think it's time to start writing.
Not so fast!
That's just Step One.
Step Two is to immerse yourself in the lives of your prospects.
Close your eyes and imagine yourself as someone who's dealing with pain and would love to find relief, as quickly as possible. It could be knee pain, back pain, shoulder pain, anything.
Now consider, what's motivating the prospect and why are they searching NOW?
Are they motivated simply by the idea of being pain-free? Or getting back to activities they love? Or, instead, maybe it's FINALLY finding a solution that actually works, vs. approaches they've tried before.
Not sure how to answer those questions?
Here's a special pro tip for you …
Go back to Google and search for forums related to pain. For instance, I searched "knee pain forum" and found some websites where people asked questions about specific pain.
THAT'S where you get to know how it feels to be in your prospects' shoes.
Totally immerse yourself in those questions and different answers. Get a feel for the words (and even emotions) people use when talking about pain, their frustration, and how some have found help.
Do that and THEN you'll be ready to start writing.
Remember … a website's homepage is often the first impression potential customers have with a business. You need to provide a wow solution in just seconds.
And finally … remember that the prospects for this practice assignment are in the Boston area. The web copy should be obvious that the Charles Chiropractic Clinic is in Boston, and it's easy to reach them.
One More Important Tip
As you do this exercise, consider it as practice on how to review ANY website for the three main basics of web homepage copy that WORKS: Clear, Customer-focused, and Competitive (with a call-to-action).
Imagine the value this will bring to ANY web client!
Most websites could use a content Site Audit and copy makeover, to improve how it works. So this is a way of showing you how to wow any web client with a smart review of the content.
Remember, the real value here lies in the practice, and in having a piece of writing for your portfolio. Best wishes!
Do you have any questions? Let us know in the comments.

Site Audits Made Simple: Consult Your Way to Lucrative Web Copywriting Projects
Pam Foster reveals how you can make as much as $2,500 auditing websites while setting yourself up for even bigger web copywriting projects. Learn More »

Published: April 2, 2020