Marketing with Purpose – Figure out the Why of Your Marketing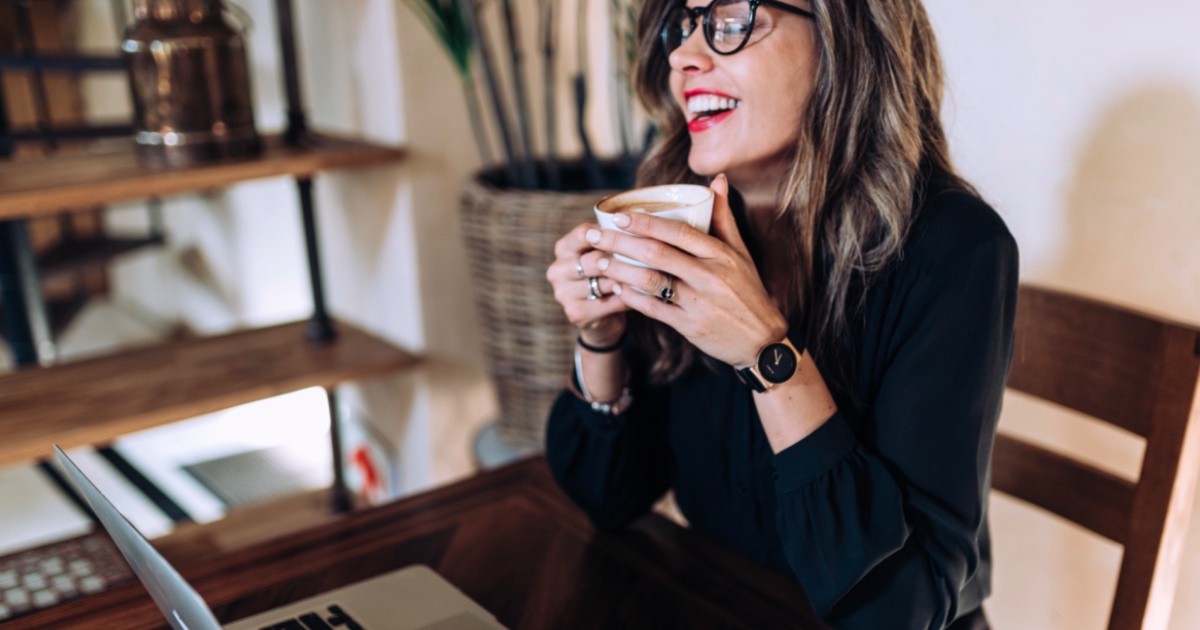 All Those Things You "Should" Be Doing …
Web writing is wonderful.
It's wonderful because it's so diverse. No matter what you're interested in, there's a high chance a business out there can use your services and is willing to pay you for it.
And, no matter what kind of writing you like to do, as long as it's related to marketing, someone out there is willing to pay you for that, too.
This means you can custom build a web-writing business that's perfect for you. It may take a little time, and you may have to work on some projects you don't love in the beginning. But, eventually you can grow your business to a place where you're working in the industries you enjoy most, taking on projects that interest and challenge you, getting paid what you desire, and having quite a bit of free time, if you want it.
To get to this place you have to market yourself.
And, that's where it's easy to run into trouble.
Not for all the usual reasons — fear of rejection, shiny object syndrome, kitchen sink syndrome, procrastination. We're not going to talk about those today.
Instead, I want to talk to you about feeling like you "should" do things.
And, in doing so, I want to help you get to the heart of why you're doing your marketing.
The Danger of Other People's Goals
Brian Clark and Darren Rowse have used blogging and content marketing to grow hugely successful businesses.
Maybe you see that and think … I need to start a blog.
Meanwhile, Heather Lloyd-Martin has accomplished impressive things through SEO copywriting.
And, maybe that leads you to decide to start using SEO in your marketing efforts.
Steve Maurer has built a successful writing business using LinkedIn to make connections.
Hearing that, you might determine you need to spend more time on LinkedIn.
If you're anything like me, you aren't just picking one of these. No, no. You feel this odd pressure to do all of them. And then some.
But, here's the thing … in every case, you're considering these marketing methods because they've worked for someone else.
And, that's a fine place to start. Seeing that something can be successful is very useful. But, it can't be the only reason to adopt that strategy. Not if you want to be successful, too.
You have to dig deeper than that.
You have to stop choosing marketing strategies because you feel like you "should" do them. And, you have to start choosing marketing strategies that tick entirely different boxes.
What are those boxes? Glad you asked …
Figuring Out the Why of Your Marketing
Before we get to those boxes, it's important to note there isn't a right way or a wrong way to do your marketing. (Okay … maybe not doing any marketing at all is the wrong way to do it; but other than that, pretty much anything is on the table.)
There isn't a set amount of time you need to spend marketing yourself. And, there isn't a magical formula that guarantees success. (How nice would that be?!?)
But, whatever approach you take to market your writing services, it will work better if you understand why you're doing it that way.
And, that's the first box …
What Specific Purpose Are You Trying to Accomplish?
Different marketing methods will produce different results.
LinkedIn will help you build connections and establish your authority on a specific topic.
Social media can help you grow your influence and drive more traffic to your site.
Content marketing can help you establish your authority and attract more traffic, among other things.
Facebook advertising can help you grow your list of subscribers.
So, when you set out to "do your marketing," you have to understand why you're doing what you're doing, if you really want it to work well.
And, that starts with identifying your current goal or need.
Do you need more connections? Do you need to be having more conversations with people in your industry? Do you need more traffic to your site? More subscribers on your list? More authority? More writing samples? Do you need clients yesterday, because you have bills due today?
If you need to bring clients in the door as quickly as possible, you'll fare better using different marketing strategies than what a writer who's booked out for three months might use.
So, the first box to check … will this marketing strategy deliver what I need right now?
A good way to go about this is to decide what you need or want and then list all the marketing strategies that can deliver that.
If you need clients and you need them fast, then some of the marketing strategies that will work best include:
Warm email prospecting
Cold calling
Cold email prospecting
Timed mailings
Direct mailings
Referrals
Speaking engagements
Pitching
Which brings us to the second box to tick …
Will You Enjoy the Process?
Once you figure out what you need from your marketing efforts and you've made a list of all the ways you can think of to meet that need, the next consideration is whether or not you'll enjoy using that particular strategy.
Now, being nervous about a strategy doesn't mean you won't enjoy it. I love public speaking, but I spend most of the time between saying yes to an engagement and actually walking onto the stage wondering what on earth I've gotten myself into. But, once I get to talking, I start having a really good time. And, I know I'm going to come away feeling elated in the end, so I say yes, even though that means dealing with all the nerves in between.
But, if you absolutely dread doing something — if you just hate the idea of it — it doesn't matter how effective the strategy is … it won't work for you. Because, chances are you just won't do it in the first place. And, if you do, you'll be miserable. So, it's unlikely you'll stick with it for long. Plus, why be miserable if you don't have to?
Go through the list of marketing strategies you made and ask yourself, "Will I enjoy doing this?" Or, at the very least, "Can I learn to enjoy doing this?"
Cross off anything that doesn't make the grade.
Meeting a need and knowing you'll enjoy the approach are both important, but there's one more box to tick before you can be sure you have a solid marketing strategy for your purposes.
And, that is …
Do I have time to do it well?
Many marketing strategies — maybe I should say, all marketing strategies — require repetition, if you hope to see results.
If you want to build connections on LinkedIn, you need to show up at least every week to comment on other people's posts, share your thoughts on interesting things you've seen published that week, say hello to a few people you're already connected with, make a few new connection requests, accept incoming connection requests, answer your InMail, and see what's new in the groups you frequent.
Now, that sounds like a lot, but you could probably manage all this in an hour or two a week. The thing is, you'd need to commit that time every single week, if you want your LinkedIn efforts to bear fruit.
If you decide more traffic is what you need and you want to focus on content marketing to reach that goal, that means creating a publishing schedule and sticking to it. If you plan to write and publish one high-quality blog post every week, plan to spend four to six hours on that. Every week.
If you need more clients, and sooner would be better, you might set your sights on cold email prospecting. In that case, plan to send out a hundred or so email messages before you count on landing a new client … and, it may take more than that.
Look at the list of methods that will meet your needs and you'll enjoy. For each one, figure out how much time you'll need in a week to do it justice. And then ask, how much time do you have to give? It's likely you'll narrow your list even further.
But good news, you now have a short list of marketing strategies that will deliver the result you want, that you'll enjoy doing, and that you have the resources to do well.
Once you have that, you'll find it's much easier to move forward with certainty … and to start bringing in those clients.

The Professional Writers' Alliance
At last, a professional organization that caters to the needs of direct-response industry writers. Find out how membership can change the course of your career. Learn More »

Published: May 20, 2020