The New Authority Builder Few
Web Writers Use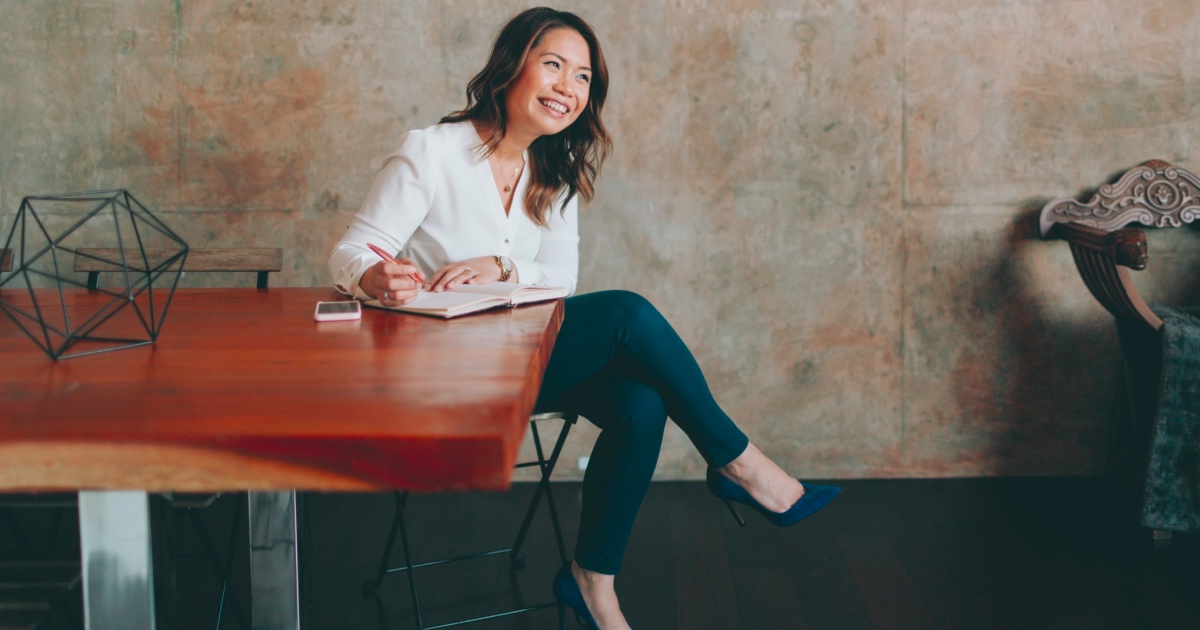 For many web writers, especially those just starting out, it's hard to be seen above the crowd.
It feels like you're competing with hundreds of people … if not the entire internet.
As a web writer, you have to get in front of your ideal clients online. But, what's the best way to do that?
Right now, there are over a billion websites on the internet and over 400 million blogs.
On Facebook, there are billions of users. Other social media platforms have millions and millions of users.
YouTube gets more than 500 hours of video uploaded per minute. On such crowded marketing channels, it's hard to get started or noticed.
Fortunately, there is a way for you to get instant recognition in your industry and to start building your authority as an expert in your particular field.
And … it's free.
This new marketing method is simple. All you have to do is talk about what you do: writing for the web.
You can talk about the process you use to write for specific projects, the best practices to follow, or anything else you've learned as a web writer.
This new marketing channel is podcasting.
Podcast as Authority Builder
You can use podcasts to build your authority in your niche.
You don't need to launch your own show first. In fact, it's easiest to get started as a guest on established podcasts.
Podcasting, just like blogging or social media, is a long-term strategy to build your authority. It's also a "new media" outlet.
Many people used to scramble to get an announcement in a newspaper, on the radio, or on TV.
Now, podcasting provides a new opportunity on that front.
More importantly, unlike TV, radio or a newspaper, podcasts are available on-demand, and they last forever. Your listeners don't have to tune in live. Podcasts you were featured on months ago can still put you in front of your audience today.
This means those podcasts constantly build your authority and put your name and expertise in front of new people.
The first step is to find the right shows.
There are podcasts on every topic from fiction to true crime to politics to business. At last count, there were over 900,000 podcasts on Apple Podcasts. Compare that to millions of blogs or video channels, and you can see there's a lot of opportunity for people to find you and hear what you have to say.
Even better for web writers, there are many business podcasts. The people who listen to those podcasts are the type of people looking for web writers.
It's very likely there are several podcasts which would be a great fit for you.
Most podcasters don't charge anything for you to talk on their show. All you need is an interesting take on a topic that's useful to their audience, just like writing a guest blog post.
People can also get to know you … you're literally "in their ears" as most people listen to a podcast using earbuds or headphones.
This lets people hear your passion and excitement when you talk about what you do. It's the best option after video and in-person events to "meet" somebody, even though you're not meeting face-to-face.
Finding the Right Podcasts
When you search for shows to pitch, ask yourself a couple of questions …
Who is your ideal client?
Who would you like to get your message in front of?
What shows would they listen to?
Podcasters are like YouTubers or Instagrammers. They have large followings of people who are interested in a particular topic. Anyone who listens to a podcast on a regular basis already knows, likes, and trusts the host of the podcast.
When you appear on a podcast, you receive a halo effect from the host and get a warm introduction to their entire audience.
And, if you land a spot on a show that targets your ideal clients, it's a powerful combination.
For example, let's say you write for alternative health …
If your ideal client sells supplements, it's very possible they're listening to alternative-health podcasts. However, the majority of guests on an alternative-health podcast are talking about things like supplements, wellness plans, and other alternative-health topics.
Few guests will speak about how to write on the web for that particular industry!
Many people who listen to this type of podcast have a business in the space. According to Podcast Insights, 45% of monthly podcast listeners have a household income over $75,000. These are the people who are more likely to hire you.
As few web writers use this method to get in front of ideal clients, you'll be one of the few people they actually hear about from their podcast.
Podcast as SEO Builder
When your episode goes live, you not only get to borrow the authority of your host, you get to borrow your host's website authority, too.
Most hosts give links not only to your website, but also to a free gift or lead magnet you might have offered on the show, and to your social media profiles.
This is an opportunity for you to get a high-quality backlink to your website from a site in your niche. Google will recognize these as high-quality links, which is a huge factor in your search engine rankings.
Search Engine Optimization doesn't just depend on your content. It also relies on the authority that Google assigns to your website. When other websites with authority link to your site, Google raises your authority.
When this happens, you can improve your search engine rankings for the keywords surrounding the topic of the your podcast interview.
So, you want to pick a topic that's related to your favorite type of client and favorite type of project.
For example, let's say you talk about how to create a winning headline in the alternative-health space on a podcast. The podcast host provides a summary of the interview with links back to a related post on your site. This becomes a valuable piece of content that's searchable, borrows the authority of your host, and gives you a high-quality link back to your own website.
Podcast as Marketing Library
As a web writer, it can be difficult to find the time to create your own marketing. You have to think about what topics people want to hear about, exactly how you should write about them, and where you should publish.
As you begin to appear on more and more shows, you build your own library of content around specific ideas you want to be known for.
One way to use this marketing library is in your prospecting. If you find an ideal client, and you want to show them you're an authority, you can include a link to a podcast episode that's relevant to them, such as the episode on creating headlines.
You can reach out with a message like, "I love the way you're doing content marketing, especially [give a specific example]. I was recently interviewed on this [Authority podcast title] for Content marketing for [your niche] and I talked about [your relevant topic]. You can check it out here. [LINK]"
This message is personalized and also showcases your authority. It gives your prospect an opportunity to hear about what it would be like to work with you and shows you know what you're talking about.
You can also repurpose any of the material people send you for your marketing.
Often times, podcasters will create unique social media shares and unique social media images for you to help promote your episode. You can use these regularly throughout the year to promote your episode and to get more eyeballs back onto what you do and who you are.
You can also get your podcast episodes transcribed. Use this to form the basis of an email, a new blog post series, or even a new training series you want to host. You're repurposing your own words to create another marketing asset.
This works best if you use the episodes that get downloaded the most. You know people are interested in the topic, and that means more people would probably want to hear about it.
Podcasting is a rising new medium you can use to build your authority, get high-quality SEO backlinks to your website, and start building your own content library. It's easy to get started, and few people are using this new marketing channel.

The Professional Writers' Alliance
At last, a professional organization that caters to the needs of direct-response industry writers. Find out how membership can change the course of your career. Learn More »

Published: May 6, 2020