Like a Private Library with $56,000 Worth of Copywriting Resources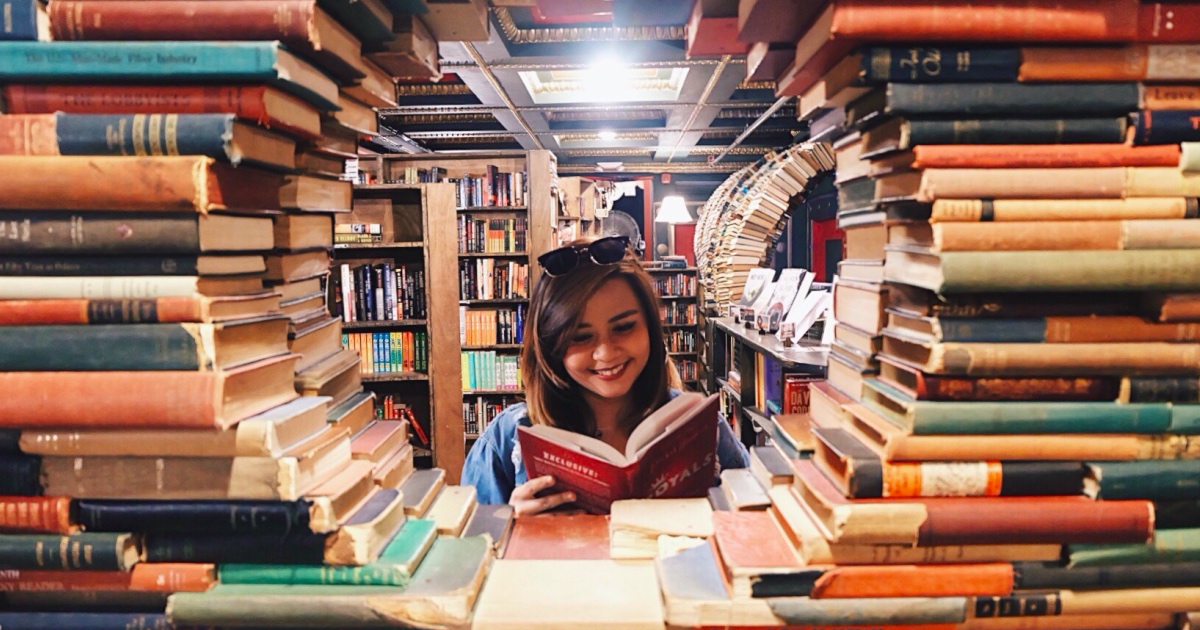 I'm fairly certain that if you ask a group of your friends to name the one assignment they hated most while in high school, the answer would be writing a term paper.
I admit I'm one those people.
But it wasn't the writing part I hated.
It was all the other steps involved, including making sure you had right source documents, putting your bibliography together, and inserting footnotes in the proper manner.
And to get your term paper done on time, you'd spend most of your free time in the library going through card catalogs.
Remember those?
Back then, every school library used the card catalog system.
To refresh your memory, the system consisted of little index cards that contained bibliographic information, including the author's name, book title, and the precise location where the book resided in the library.
The cards were housed in a wooden file cabinet, filled from top to bottom with drawers.
It was considered the latest technology available for finding a book sitting idle on one of the many shelves housed in the hallow halls of the library.
Of course, what would a walk down "term paper memory lane" be if we didn't talk about the history of the card catalog system?
Before it was invented, finding a book in a library wasn't an easy task. In fact, there was no actual written record for the many books that were housed in a library.
If you needed a book, you asked the librarian at the front desk where it might be located. And that librarian relied mostly on memory for its location.
However, as more and more books were published, librarians needed a way to keep track of the number of books. So sometime in 1855, they started keeping a record of the books housed in their libraries in what was known as the "library book."
Print copies of the book were made available and then passed around to other libraries. While the library book seemed to offer a solution, it was a temporary one.
You see, as the volume of new books published grew, those "library books" had to be constantly updated. And the time required to produce a new book was rather lengthy. In fact, by the time the update was completed, the "library book" was already out-of-date.
It was a frustrating situation for librarians. Somebody needed to come up with a better way and soon. And that somebody was Ezra Abbot, an assistant librarian working at the Harvard College Library.
It was Ezra who developed the card catalog system. It was a huge technological breakthrough for librarians all across the country. Any time a new book was published or a new edition was put out, the librarian simply wrote the information down on a new card.
And then that card was added to the system. In the first year the card catalog system was put into use, it contained 35,672 handwritten cards.
In fact, handwriting was so crucial to the system that librarians were required to take handwriting classes to ensure their writing was legible. And no one was allowed touch the cards except librarians.
But even the neatest handwritten card couldn't compete with the next technological breakthrough … the typewriter. Not only were typewritten cards easier to read, but also offered a uniform look.
And that was just one advantage. Typists could squeeze more lines of information onto the front of the card than a librarian could write out by hand.
But as the drawers in the wooden cabinet kept filling up with new cards, it was harder and harder to find a single card. And so once again the system became outdated. And this brings us to the next evolution of the card catalog system.
I'll tell you more in just a minute, but for now, let's talk about one of most important libraries you should know about … one that could have a dramatic and immediate impact on your copywriting career.
The library I'm talking about is AWAI's all-inclusive Infinity Membership. And because of the vast number of resources included, you could literally take on any type of copywriting project regardless of your level of experience.
Let's say you find a few freelance projects that interest you, but you're not exactly qualified for them. It's not that you don't know how to write persuasive copy, but the job might be in a niche or project type you're unfamiliar with.
In the past, you had to pass on these opportunities. But now you can take on just about any of those high-paying copywriting jobs that come your way. That means growing your freelance business — and achieving copywriting success — faster than ever.
That's because as part of AWAI's Infinity Program, you get access to the full library of AWAI resources — worth more than $56,000 — for a drastic discount. It's more than 100 programs, books, webinars, and more that you get for a fraction of the price if you bought them separately.
Of course, you can't put a price on having this library at your fingertips. And to be perfectly honest, it's the best educational value you'll see anywhere.
So good, in fact, AWAI can only offer it for brief periods a few times a year. This is one of those times. If you want access to this library of resources, go here now for details.
The Google library system of the 19th century invented by a 21-year-old librarian. If you wrote a term paper, you were also taught how to use the Dewey Decimal System. But you probably aren't familiar with the man who invented it. Melvil Dewey invented his decimal classification system while working as a student assistant in the library of Amherst College in Massachusetts.
He devised a system that sectioned a library's contents into 10 broad categories, each denoted by a three-digit number, from 000 (general information) to 900 (history and geography). And in 1876, he introduced the world to his new system for keeping track of all the books held in a library.

The Professional Writers' Alliance
At last, a professional organization that caters to the needs of direct-response industry writers. Find out how membership can change the course of your career. Learn More »

Published: June 8, 2020