5 Common Website Types and How to Write for Each

"We need a new website. Can you help us with that?"
It's an exciting question for any web writer. But, before you break ground on the project, there's an important step you need to take. And, that is, you need to understand the exact purpose of your client's future website.
Is it an ecommerce site? A membership site? A site offering professional services?
When you understand the type of website your client needs – and, specifically, how it will bring in revenue for your client – you'll have a key piece of the puzzle to start your copy project.
To help you with this step, today we're going to look at five common websites companies need, as well as examples from the health and fitness industry.
Ready? Let's get started.
1."Buy Now" on Ecommerce Websites
You've probably been to your fair share of ecommerce sites. The whole purpose is to get you to buy a product – whether it's shoes, groceries, or computers – right now.
Let's look at the health website 310nutrition.com to see how one ecommerce site does this.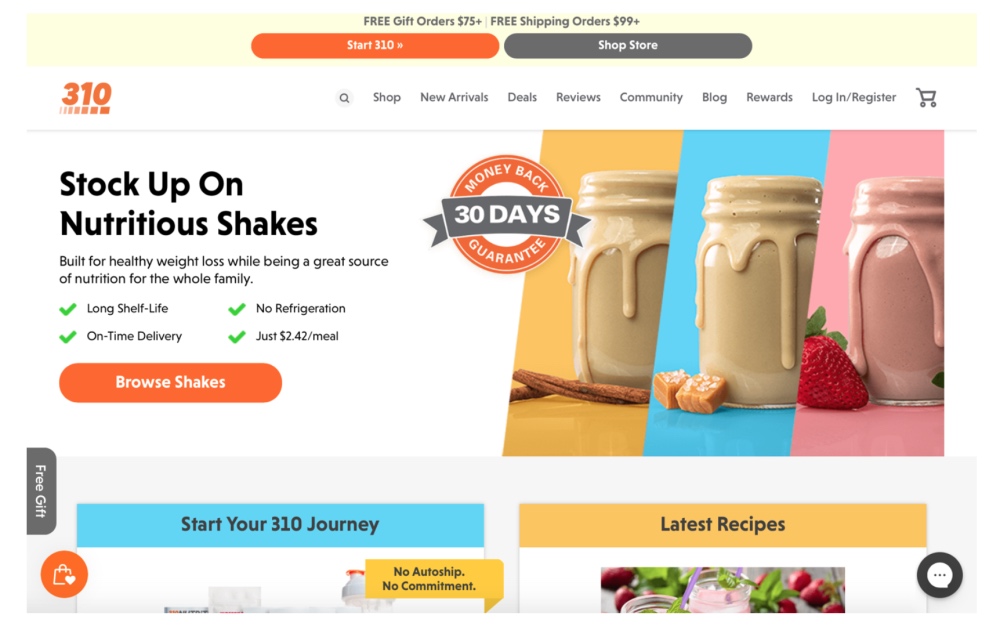 When we look at the home page, there's no confusion about the product 310 Nutrition is selling.
We see a bright picture of various shakes on the right, a headline and orange call to action to browse their shakes on the left, and the guarantee seal right in the center of the page.
There's no question what this company wants visitors to do – start shopping!
But, there are a few other key features on this page, as well.
In the banner at the top, we see the details of an offer for a free gift and free shipping, as well as two calls to action leading us to various product pages.
These offers immediately make us feel better about spending money, and again lead us to pages where we can start shopping.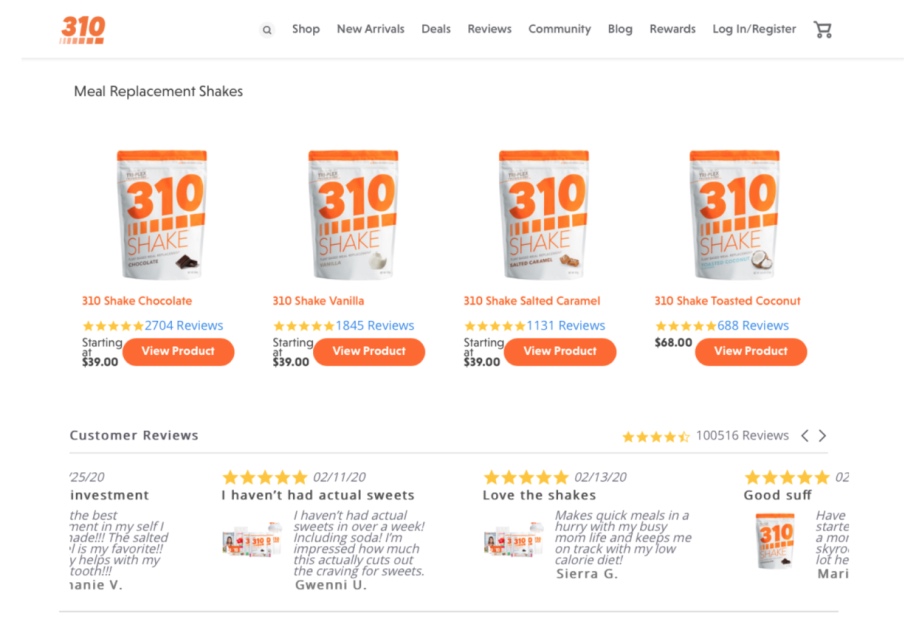 Just like any other website, a good ecommerce site will include some kind of proof of the quality of the product. 310 Nutrition's site does this by featuring customer reviews and testimonials from happy customers. This builds trust with potential buyers and helps them move closer to a buying decision.
Main Takeaways: Get Them to the Product Pages
The organization and copy on an ecommerce site are often designed to quickly guide a visitor to product pages, to make the visitor feel good about buying the product, and to close the sale right away with free shipping or other limited-time offers.
As we see with this example, copy that meets these objectives is a crucial component of an ecommerce site that converts visitors to buyers.
2."Schedule a Consultation" on a Professional Service Website
Next, we'll look at a professional service website. This kind of site often looks and feels very different from an ecommerce site, as the company is selling a service rather than a product.
Let's take the example of metpro.co, a site offering metabolic profiling coaching services.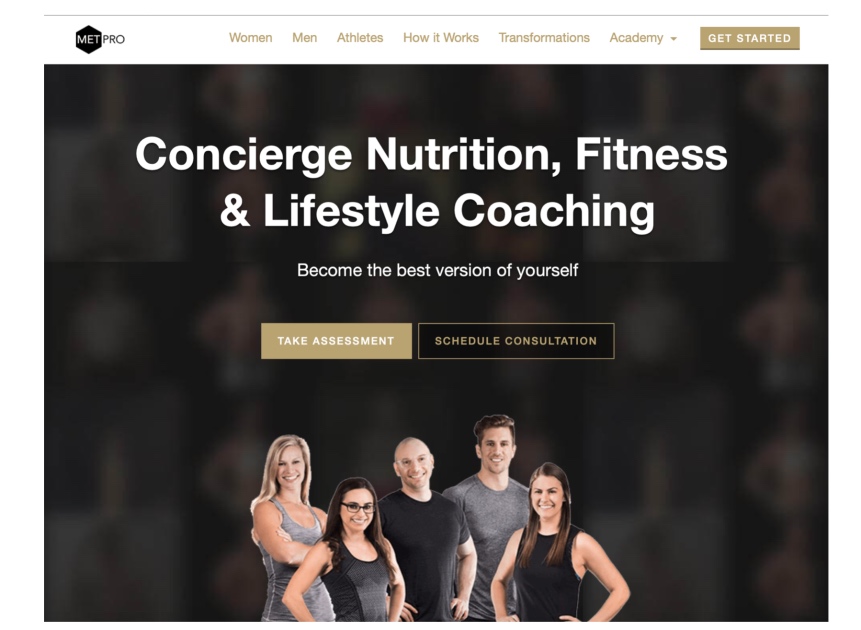 Like 310 Nutrition, the website starts off with the all-important headline, copy highlighting the benefits to the visitor, a primary call to action, and a photo.
But, instead of guiding us to a product page, we are led to take an "assessment" – an engaging quiz that builds trust and gives the company valuable information about their potential clients.
Alternatively, we can skip the quiz and go straight to the final call to action on their website, which is scheduling a consultation with one of their coaches.
You'll notice on this site that there are no prices – that's revealed in the consultation. Instead, there's a whole lot of copy further into the site establishing the proof behind how transformative the coaching is – proof which is very necessary for their high-priced services.
Main Takeaway: Build the Case
While the exact features of a professional service site will differ depending on the marketing strategy, this kind of website must always prove the company can deliver on its promises.
After all, they can't necessarily point to a photo showing what they're selling. Instead, they have to rely much more on past results and research – all of which need a lot of copy to showcase.
3."Join the Club" on a Subscription Website
A subscription site is all about converting potential buyers to members, so they'll make a regular payment each month. A subscription website can be an ecommerce or a professional service site – the main difference is the business model.
Let's look at fabletics.com, a very successful example of this kind of business.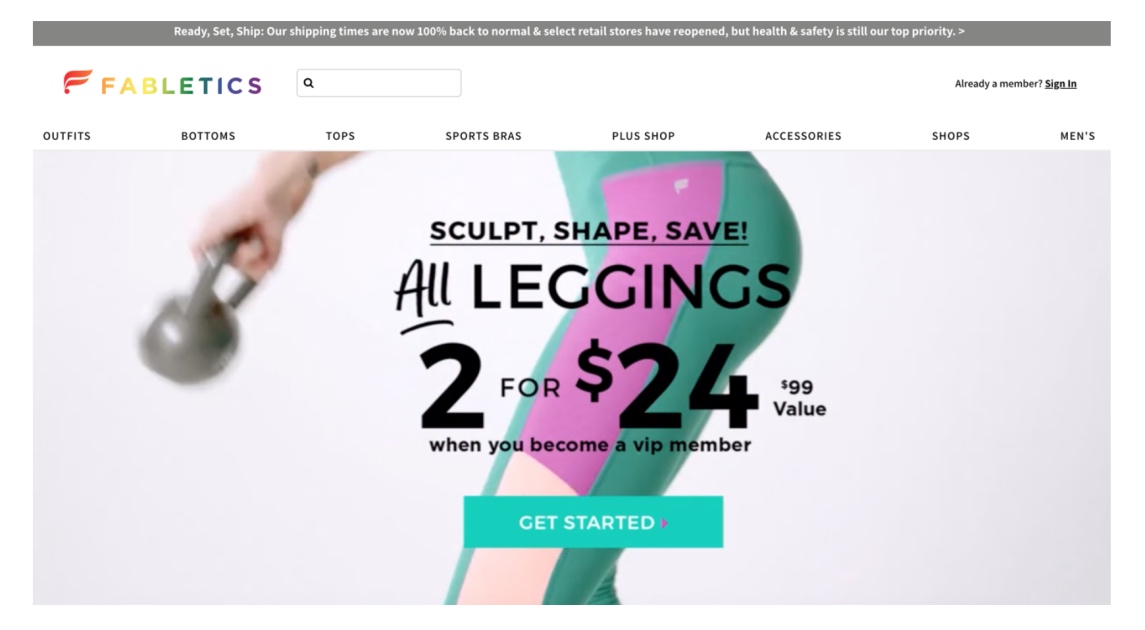 In many ways, the website looks like any other ecommerce site for athletic wear. However, there's a big difference.
The primary offer – two leggings for $24 – is designed to entice us to become "VIP members." If we click on the call to action here, we are sent to a style quiz asking for our activewear preferences and personal information.
When we finally see the products, it's with a significant discount just for VIP members. A small timer urges us to buy the leggings and claim the offer before time runs out.
On the home page, we also see copy explaining how the subscription model works – and again we have calls to action leading us to create an account.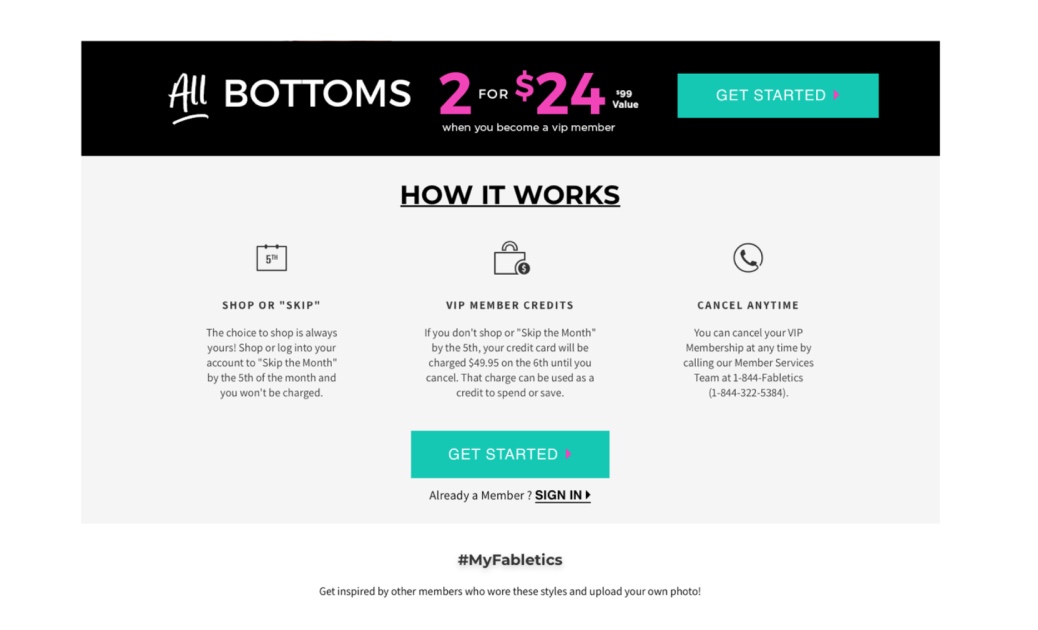 Main Takeaway: Make It Sound Easy
Like our other two websites, copy on a subscription site is designed to sell. But here, the primary hurdle is to show the visitor "joining the club" is worth it.
The copy will have to convince the visitor it's easy and worth it to sign up … and easy to cancel if, for some reason, the product does not meet the customer's expectations. If the copy doesn't accomplish this, then potential buyers may feel it's too much of a hassle and forgo membership.
4."Download Now" on an App Website
Another very common website companies may need you to write is an app website. Let's take a look at the fitness app site 8fit.com for our example.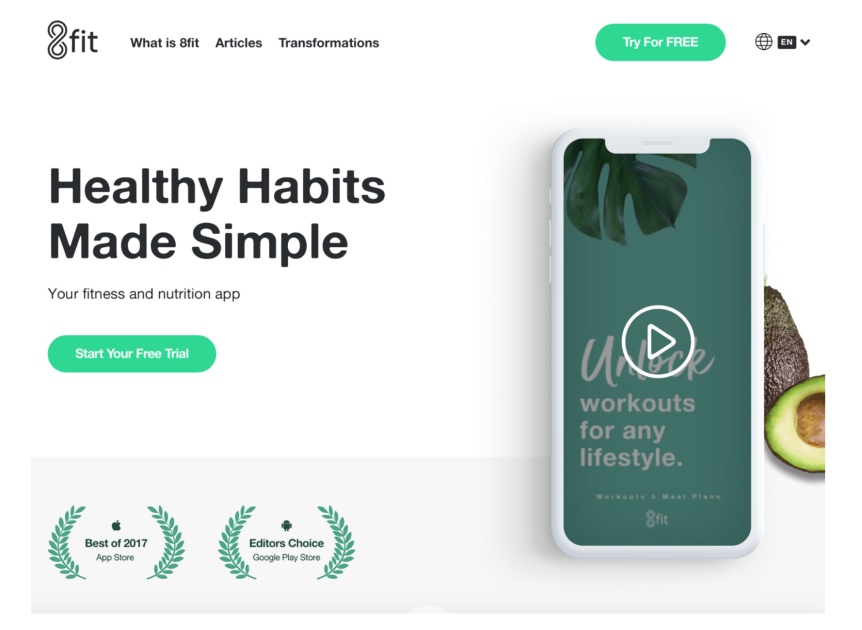 Here, the product is a fitness and nutrition app, and two green calls to action urge us to start a free trial.
To do this, we'll need to tell them our health and fitness goals and provide some personal information. The last two steps in the sign-up process are to select a plan – 8fit gives us paid and free options – before we download the app itself.
In some ways, the goal of the copy is easier than getting someone to buy something – it's a free offer!
However, the copy should go beyond getting the visitor to download the app. Ideally, it should also mentally prepare the visitor for when their free trial ends and they'll need to pay for the service.
Quite a bit of copy on 8fit's website focuses on the benefits of the app, and we see examples of happy users who have lost weight.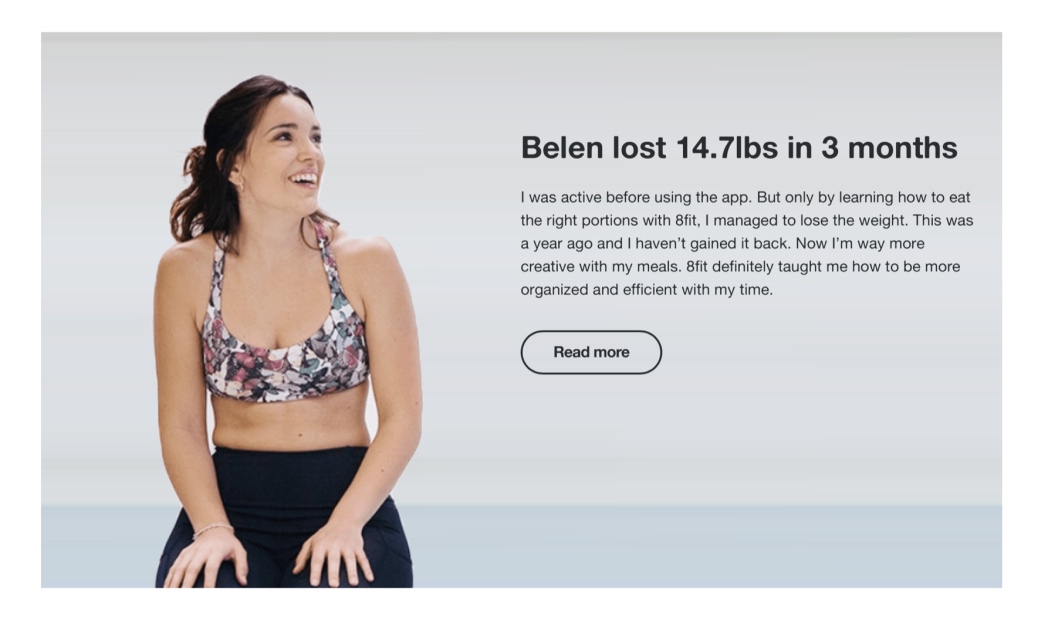 Seeing this kind of proof early on, the visitor is excited about starting the app, and will be much more willing to pay for it when the time comes.
Main Takeaway: Start Small
While a good app website will ultimately get visitors excited about paying for an app, these kinds of websites usually put their main focus on getting visitors to sign up and download for free. That's because once visitors have created their account, the company will have many more opportunities to upsell to them in the future.
5."Educate Yourself" on a Blog-Based Website
The last type of website we'll look at is a blog-based website. The example here is from livestrong.com.
Notice the home page looks quite different from the other websites we've looked at, featuring not a product or service, but many different articles for a visitor to read.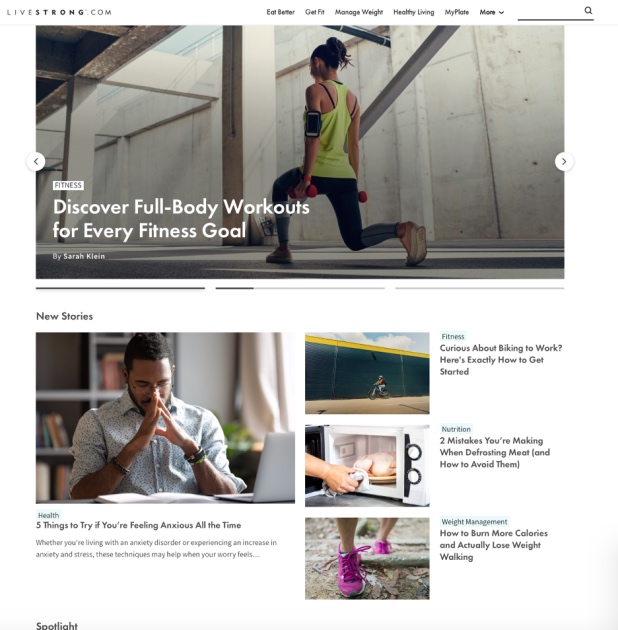 So, what are they selling?
When we look at an individual article, we see the site is actually selling information.
As soon as you click on an article, you'll start seeing ads that are tailored to you – a large banner ad at the very top of the page, and another ad on the right side of the page. If I click on these ads, the advertisers will pay a small fee to the website.
Additionally, many of the articles on this site contain product recommendations relevant to the article topic.
So, for example, in an article about how often to replace running shoes, you'll see a variety of running shoes recommended by the staff. These product descriptions will contain affiliate links that earn the website a commission, if you buy one of the products.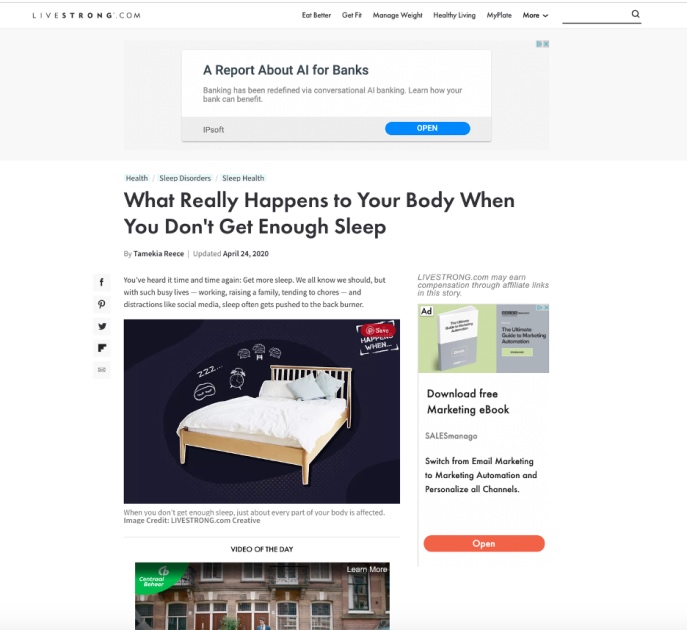 Main Takeaway: It's All About Content
In the case of a blog-based website, it's not so much copy that's going to do the selling, but a lot of well-written content.
If the articles on the website speak to a visitor's needs and point them to relevant, helpful products, the visitor is much more likely to click on an ad, or even buy one of the products. All of this means money streaming in for the publisher, which only grows as the site produces more content.
For those reasons, a company like this may not actually need many web pages, but will certainly need lots of strategic articles.
Know the Site You're Writing For
No matter what kind of company you're working with, it's important to understand early on the kind of website you need to write and how it will bring in revenue for your client.
This information will largely dictate the website's organization and the goals of your copy.
Understand this, and you'll have accomplished one key step to writing a great website for your next client.

The Professional Writers' Alliance
At last, a professional organization that caters to the needs of direct-response industry writers. Find out how membership can change the course of your career. Learn More »

Published: July 1, 2020