25 Lessons I Learned from 25 Years as a Freelance Writer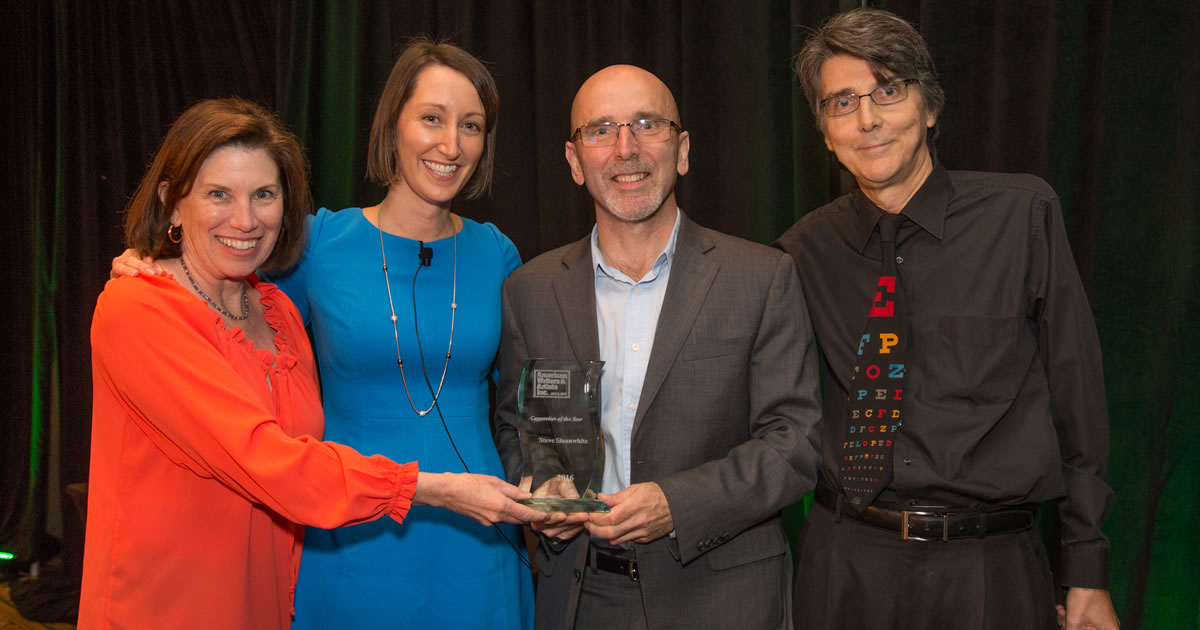 Katie Yeakle, Rebecca Matter, Steve Slaunwhite, and Gordon Graham celebrate Steve's 2016 Copywriter of the Year win at Bootcamp
This month, I celebrated 25 years as a self-employed copywriter (slash consultant, slash trainer, slash other vocations I've tried!) So, I thought it would be interesting to list all I've learned about being a successful freelancer and share that with you.
Frankly, when I started making this list, I wondered what I would write that had helped me over the years. But, as my list grew, I realized that I had more than a few ideas that might help my fellow compatriots succeed in this competitive world of solo-ing.
So, here goes (in no particular order) …
1. Don't be a low-end service provider. Offer a premium service; something you can be proud of. Price accordingly.
2. Never stop marketing. Prospecting, networking, etc. Even when you're booked solid. Especially when you're booked solid.
3. Love your clients. After all, they pay for the many things — if not everything — in your life. (I'm paraphrasing my friend and famed UK copywriter, Andy Maslen.)
4. Make friends with fellow solo professionals, ideally those a little more successful than you.
5. Give new freelancers a helping hand whenever you can. Share your advice, freely. When you do, you're not only doing the right thing, you're investing in the health and vibrancy of this profession.
6. Pay yourself a regular "salary." Like a good business owner, commit — really, really commit — to never missing your payroll.
7. Give your clients a 5-star experience when working with you. Every time. Don't take long-time, regular clients for granted. If anything, you should be giving them a 6-star experience!
8. Don't envy successful people in your field. Learn from them.
9. Strive to be the best at what you do. You may not end up being the best, but you'll probably get close. Push yourself to be a little better each week. Strive, grow.
10. Don't miss deadlines. If the client doesn't give you one, set the deadline yourself. (A tip I learned from Bob Bly.)
11. If you wake up in the morning not looking forward to your day, something's wrong. Find out what that is. Fix it, fast.
12. Return client calls and emails promptly. If possible, the same day.
13. When you take a day off, really take it off. No work. No emails. No business reading.
14. Earn a Ph.D. in your client's business. Learn all about what they do, what they sell, who their ideal customers are — and how you can help. You'll need this to accomplish #15 …
15. Become a linchpin in your client's business. Be "that guy" or "that gal" who's indispensable to them. (For a great definition of this, read Seth Godin's Linchpin.)
16. Get to know the players. In your field. And in the industry you target.
17. Reach out to and, if possible, meet with one new contact each week. Ideally, someone who could potentially hire you, recommend you, or just be a valuable professional connection in some other way. (Nod to Lindsay Ratowsky.)
18. Create a positive, stimulating environment in which to work. For me, that's my home office, with my paintings adorning the walls, guitar in the corner, favorite books on the shelf. Make your workspace an oasis.
19. Don't hang onto the past. Things change. Chances are, you'll need to update your skills, or do a complete pivot, every couple of years. Don't be the freelancer who still specializes in software CDs when the industry has moved on to SaaS.
20. Be good with money. Be "Suze Orman" good. Have enough in the bank to pay your business and personal expenses for at least six months. If you can't do that now, make it a goal. Even if it takes you five years of scrimping and saving, you'll be glad you did it.
21. Take on the occasional tough or unfamiliar project. It will stretch you. Years ago, I taught a 3-day seminar having previously only handled half-day sessions. I was as nervous as an acrophobic about to do a bungee jump. But now multi-day workshops are within my comfort zone.
22. Act like a consultant, not a temp employee. You're an equal with your client. You offer a valuable business service. Always present yourself that way.
23. Success isn't about getting gigs, it's about building relationships. One-off gigs will make you tired. Regular clients with recurring projects will make you inspired.
24. If you're not getting half your new business through referrals, you're doing something wrong. Fix it. (Tom Stoyan told me that 20 years ago and I never forgot it.)
25. Never submit your work to a client unless you're in love with it yourself. That means doing your best, wow-worthy work, every time.
After 25 years, you might think I follow these tenets religiously these days. Ahhh, no. Not always. I slip up more times than I care to admit. But, as I said in #9, it's all about striving to be the best you can be.
So, my overall advice to my fellow freelancers is … keep on striving!
I recently recorded an interview with Rebecca about the B2B market and what I see happening in the industry right now. You can check it out here.
Do you have any questions about getting started as a B2B copywriting freelancer? Share them in the comments so we can get you the answers.

Modern B2B Copywriting
Learn everything you need to know to succeed as a B2B copywriter from marketing your services to writing copy and everything in between. Learn More »

Published: August 31, 2020