The Single Niche That Could Skyrocket Your Copywriting Income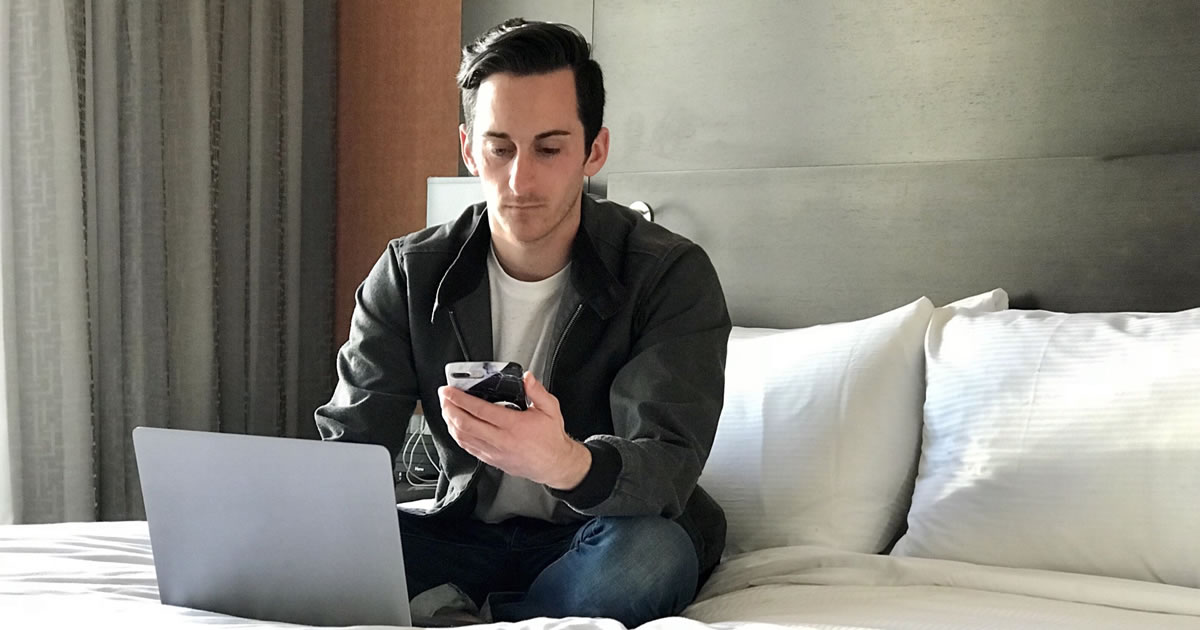 He could never quite shake off the cold.
His room just wasn't warm enough.
But what do you expect when you're in Maine, where daytime temperatures range right around the freezing mark at 32 degrees Fahrenheit and at night drop to as low as 17 below from November to February?
Being a student at the University of Maine, Gary Glegg was determined to find a way to stay warm.
He used a sleeping bag along with blankets on his dorm bed, which provided some warmth while he slept. But what about during the day, when he was doing schoolwork at his desk?
Wouldn't it be nice if he could wrap himself in a blanket but still had arm-free movement?
As he complained about the cold to his mother, she came up with a solution: she sewed a sleeve to one of his blankets. And while that helped somewhat with keeping him warm, it limited his arm movements.
But that gave Gary an idea … an even better way to solve his problem of being cold but needing to move his arms.
Holding the scissors in his hand, Gary cut holes in the sleeping bag and then sewed sleeves to each one. Now he could zip his bag up and stay warm while being able to use both of his arms without feeling restricted.
Gary called his new invention the Slanket. And when his dorm buddies and friends saw it, they wanted one too. Next thing you know, most of the campus was talking about the Slanket.
And by 2007, the Slanket made its debut appearance on QVC, a popular home shopping network. It was an instant hit.
In just two years, Gary generated $7 million in sales. Now, Dear Copywriter, I think you'll agree that's a decent amount of money for a guy who was just looking for a way to stay warm, right?
But that's just a small fraction of the true sales potential for this kind of unique product. You see, the real money came from an almost identical product sold by another entrepreneur.
That man is Scott Boilen, who likes turning unusual consumer product inventions into household names.
Scott is an advertising man, writer, and direct-response marketing master and CEO of Allstar Products Group, a company that dominates the "As Seen on TV" marketplace.
Being an astute marketer, Scott took notice of the success Gary had selling the Slanket. But Scott figured he could do better … a whole lot better.
And since a design patent on the Slanket was considered "not feasible" by lawyers, Scott decided he'd take the opportunity to create a similar product with the goal of making it a big-time bestseller. Although the products were identical, what really made Scott's product stand out were the name and the commercials he made to sell it. In fact, Scott's blanket sold 71 times more than Gary's Slanket.
And I'll tell you more in just a minute, but for now, we should spend some time talking about your copywriting career and how you too can dominate a niche that is often overlooked by writers but one that could skyrocket your earning potential.
That niche is writing for the alternative health market. And while I'm referring to it as niche … it's a big one, a really big industry. According to Grand View Research, the alternative health market is projected to reach $296.3 billion in sales by 2027.
Writing for the alternative health industry includes everything from botanicals and yoga to dietary and nutritional supplements. For you, this means clients are everywhere.
Many of the biggest publishers in this industry routinely say they just can't find enough writers for everything they want to promote. This kind of demand spells top dollar for writers who focus in on this niche. It's not unusual for writers to quickly achieve six-figure incomes.
One of those writers is Carline Anglade-Cole.
When she began her copywriting freelance career in 1999 — her goal was simple: Make a decent income and have the flexibility and time to raise her four kids with her firefighter husband, Mickey.
Along the way, she managed to create multi-year controls for leading clients in the health industry including: Health Resources … True Health … Healthy Directions … Boardroom … Biscayne Labs … Vitamin Research Group … and NeoGenis — just to name a few …
She's also consulted and helped international clients break into the American health market and even got a shot at launching Oprah's O Magazine in the direct-mail arena. Today, she's a "million-dollar" copywriter.
Now she's ready to help you. She's ready to share her secrets with a handful of writers who want to "dominate" writing for the health market. That's why she's put together a one-of-a-kind training program where she walks you through how to write a winning sales letter, from start to finish.
She shares the exact method she uses to write lucrative, control-busting sales letters that earn her big royalties. If you are interested in her training, you'll want to act quickly. You can get all the details here.
Now, about Scott's version of the blanket with sleeves … It sold over $500 million. At the time, it seemed as if everyone in the world wanted to be wrapped up in a blanket with sleeves. Scott called his version a Snuggie. And the commercials he created turned the Snuggie not only into a viral sensation but a cultural one as well. He managed to rack up over $500 million in sales.
Scott even wound up being featured on The Oprah Winfrey Show. Today, more than 35 million of his body-blankets have been sold.

The Professional Writers' Alliance
At last, a professional organization that caters to the needs of direct-response industry writers. Find out how membership can change the course of your career. Learn More »

Published: October 5, 2020