November Issue:
Contagion You Want to Catch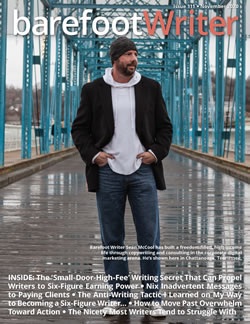 Have you ever thought about your work culture?
It might sound odd, especially if you're trying to leave the traditional workplace …
Or you've already escaped.
But whether you're freelancing or working an in-house writing position, culture is important.
And that's because it plays a role in success and satisfaction.
Consider that our world has gone through some harsh, divisive times lately.
But just as bad behavior spreads … so too does good behavior.
And that's because kindness is contagious. Stanford psychologist Jamil Zaki calls this "positive conformity."
I call it the best kind of social pressure around.
But what does a culture of kindness look like for a freelancer?
Simple. You go above and beyond the standards of service to impress your clients …
And they're likely to reciprocate in return, with more writing projects, or accolades, or bonuses, or perhaps even a holiday cheesecake.
Kindness comes in different ways from different people, but it's worth seeking out — and doling out yourself …
Because kindness noticeably improves every transaction, every project, and even the perceived value of every paycheck.
That's our focus this month:
translating kindness into action in your writing business,
ramping up your own confidence,
and using kind and mindful approaches to help you appear both professional and approachable.
Go to your November issue of Barefoot Writer now to read all about this contagion of kindness.
While you're there, enjoy our Featured Interview with Sean McCool, the very admired, very driven copywriter, consultant, and coach.
Not Barefoot Writer Club member?
If you're serious about getting paid to write for a living so you can build your own culture of kindness, consider becoming a member of our Barefoot Writer Club.
Along with your 12-month Barefoot Writer Magazine subscription, you'll get …
Admittance to the Barefoot Writer Private Facebook Group where your fellow writers actively engage in discussions on how to grow their businesses and answer the burning questions that might be holding you back.
Unlimited access to all back issues (over 2,500 pages of content designed to help you write better, faster, and for more profit!).
Access to the private member portal of our Barefoot Writer website — an exclusive area for members-only where you can access special reports and other content loaded with secrets to getting your writing career up and moving fast.
And, of course, a whole lot more …
Membership into the Barefoot Writer Club is literally the quickest route I know to life as a paid writer: Join the Barefoot Writer Club today.
Published: November 6, 2020