Using FAQs to Grow Site Traffic and Enhance the User Experience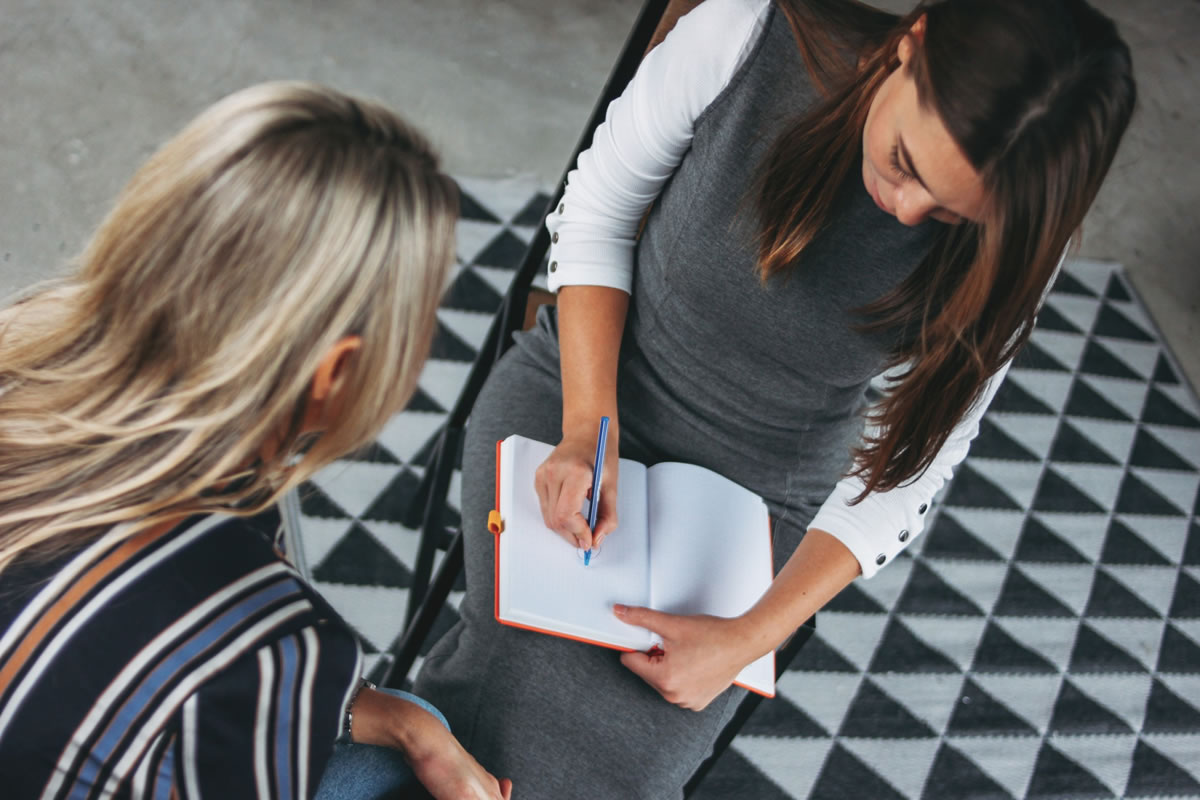 Frequently Asked Questions (FAQs) are under-rated.
Have you ever considered using them to grow your traffic and improve the user experience on your site?
Most of us think of them as simply answering customer service questions. You know, those mundane questions about business hours and so on.
But, FAQs have some serious superpowers. Let's take a closer look at them.
Why Have FAQs?
Most of us are familiar with FAQs on websites. They're used as a tool … a way for users to find information quickly. Typical questions are:
How do I contact you?
How do I reset my password?
How do I get a refund?
… all those mundane admin questions I mentioned above.
Granted, it's an important role. It frees up the Customer Service Department to deal with other issues. And, it enhances the user experience. Users can easily find answers to their questions without having to pick up the phone and call a company.
But, confining FAQs solely to an administrator role is a lost opportunity.
The real power of FAQs lies in their ability to drive traffic to your website. Have you ever considered adding FAQs to your articles or using them to answer a series of questions around a topic in your niche?
Let's look at how you can use FAQs to drive more traffic to your website.
What Are Search Engines Looking For?
In the past couple of years, most search engines have added Featured Snippets and People Also Ask sections at the top of search results.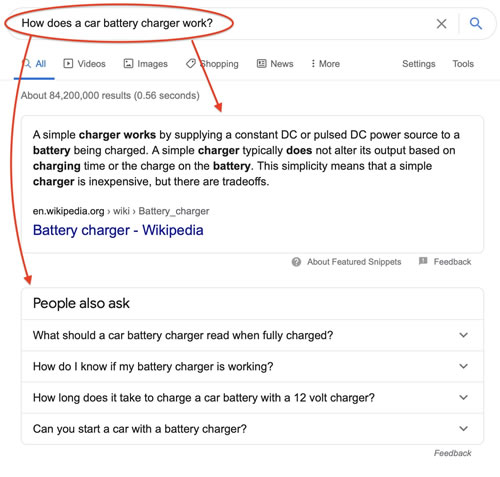 Notice how Google have Featured Snippets
and People Also Ask at the top of their search results.
Why have they done this? Well, search engines want to enhance the user experience, too. They want users to get the information they need as quickly as possible.
The best way to do this is to present a short answer, a snippet of information. Then, they'll present a list of similar questions related to your search … People Also Ask.
And, if a user wants more information, they'll click through to the related website.
What are search engines looking for? Relevance. In the above example, I searched for "How does a battery charger work?" Google thinks I might also like to know the answers to related questions … real questions that actual humans have searched for.
Why should we care about this?
Well, it's a massive opportunity for you. Google is showing you a list of questions real humans ask. If you're writing a post about car battery chargers, then Google has just given you a list of questions directly related to your topic.
And, look what happens when you click on a question.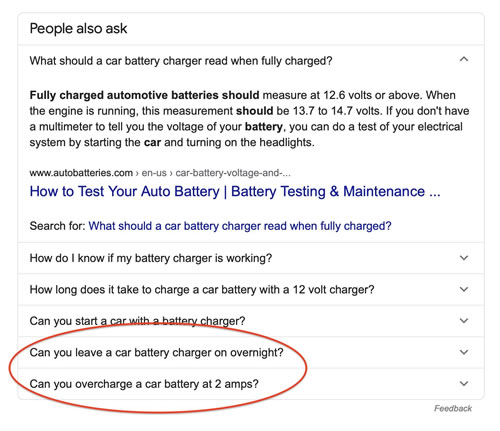 The list of questions grows longer when you click on a question.
Google finds more related questions relevant to the question you clicked on … plus, the list of questions grows. All of these questions are actually long-tail keywords … valuable keywords you can use to drive more traffic to your website.
Using Long-Tail Keywords
Each long-tail keyword might only have a small amount of search traffic per month. But, when you use a dozen or more, the search traffic adds up quickly. So, they're valuable … especially when you can have them all on a single web page.
Remember, Google is showing you a list of actual questions that real humans are typing into their search engines. So, how can you take advantage of all these long-tail keywords Google has handed you on a platter?
Create an FAQ around the topic.
Why do this? By creating an FAQ, you can include as many of these long-tail keywords as you like. You simply present them in a question-and-answer format, answering the exact questions real people are asking.
Make sure your answer has better-quality information than your competitors. This way, in time, your answer will likely show in the Featured Snippet and People Also Ask sections.
When this happens, your organic traffic will take off.
The other upside of adding topic-specific FAQs? The benefits you're providing to users.
Say someone lands on my site and reads my post about car battery chargers. But, they still have some questions.
If I add an FAQ dedicated to car battery chargers, the user is more likely to search for their answer here than to leave my site and search elsewhere.
So, I've enhanced the user experience … and shown I'm an authority on the topic.
Okay, so how do you add FAQs to a website without having them look clumsy or out of place? There are a few ways …
The Sitewide FAQ Page
Say you have a copywriting website, and you specialize in case studies. In this instance, you could have an FAQ page answering specific questions about case studies. So, you'll only have one FAQ page covering all the questions directly related to your topic.
Start by entering a question in a Google search. It might be, "How long is a case study?"
Then take a look at the Featured Snippet and People Also Ask sections to find other questions relevant to your business. You'll quickly build a long list of questions … each directly related to your niche.
Gordon Graham (That White Paper Guy) has a great example of a sitewide FAQ page. I'm guessing he's been updating and adding to this page for several years now. And, if you ask Google a question about white papers, 9 times out of 10 Gordon's FAQ page shows up in the Featured Snippet.
This is a perfect example of using FAQs to drive traffic to your website and build authority.
Take a closer look at Gordon's FAQ page. It answers pretty well every question you can imagine about white papers. It keeps users on his site and gives them a great user experience … all their white paper questions answered in one place. Perfect!
Even better, the search engines now know Gordon's website is a quality resource for the topic of white papers. So, they're more likely to rank his other web pages higher, as well. Effectively, his entire website gets a boost in the rankings.
Now, what if you want to write an FAQ on a specific topic within your niche?
The Topic-Specific FAQ
You need to make a decision. Should you add the FAQ at the end of a post, or do you create a separate post?
It depends …
Right now, I have several FAQs on my Money-Making Website, Top Wire Traveller. Some are specific to particular places or products, like the FAQ at the end of this post about Waeco car fridges.
This FAQ wouldn't make sense as a separate post. It's specific to this particular make and model of car fridge.
Others are on broader topics, like this one about car battery jump starters. This FAQ is a standalone post. It's not about a specific brand or model of product; rather, the FAQ covers a wider topic.
It's still about a specific topic (battery jump starters); however, it's not about a specific product.
Think about how your FAQ fits into a given topic. Then decide whether it should be part of an existing post or a new, standalone post.
Whatever the role of an FAQ, ideally you want the user to click through to another page on your site. How do you achieve this?
Keeping Users on Your Site
If the answer is brief, by all means answer the question within the FAQ. After all, you want the user to have the best experience.
But, if the answer requires a detailed explanation, just provide a brief summary. Then link to a separate post, where you answer the question in depth. Why? Because no one wants to trawl through a 20-page FAQ, searching for the answer to their question.
For example, take a look at this FAQ about water tanks for campers and RVs. About three quarters of the way down the page is the question, "What's the best water tank for camping?" It links to a detailed post I wrote about this very topic.


See how this question simply links
to another article I've written on this topic?
You're giving users the best of both worlds … a brief summary for the skimmers and a separate, detailed post for the rest.
Your brief summary may also be picked up by Google and used as the text in the Featured Snippet or People Also Ask section. If this happens, congratulations!
Now, there's one other trick to helping the search engines discover your FAQs …
Making the Connections
Without getting all techie on you, there's a thing called Schema Structured Data. In layman's terms, it shows search engines how each piece within a website is connected.
If you apply Schema to FAQs (and it's easy to do), then search engines are far more likely to feature your answers in their Featured Snippet and People Also Ask sections.
I wrote a more detailed explanation about Schema Structured Data here, in a Reality Blog post. If you're serious about getting your content into Featured Snippet and People Also Ask sections, then you really should understand what Schema is and why it matters.
Wrapping Up
FAQs can make a huge difference to your organic site traffic. As an example, Top Wire Traveller's traffic grew over 400% in nine months, once I started using them.
And, I've really only scratched the surface … I have so many more FAQs to write!
Start viewing FAQs as way more than a boring admin tool. A well-written FAQ page adds enormous value to a website. It can position your website as the go-to information site in your niche.
The biggest benefit? How much you improve the user experience. You're giving visitors the answers they need, all in one convenient place.
Once you start writing FAQs, you'll see the potential … not only for your website, but for your clients, as well.
Do you have any questions about FAQs? Let us know in the Comments below.
This article, Using FAQs to Grow Site Traffic and Enhance the User Experience, was originally published by Wealthy Web Writer.

The Professional Writers' Alliance
At last, a professional organization that caters to the needs of direct-response industry writers. Find out how membership can change the course of your career. Learn More »

Published: November 11, 2020