4 Tips for Writing the Perfect Instagram Caption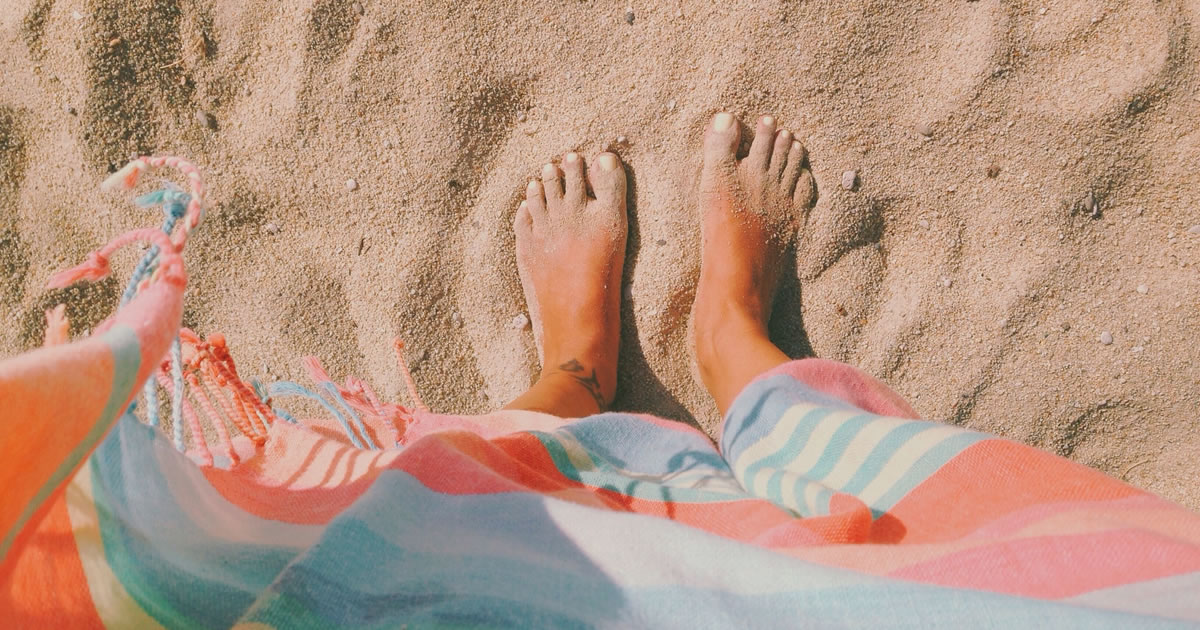 If you're a professional writer, Instagram may not seem like the most logical fit for your talents.
After all, Instagram is a place for visual media — striking pictures and stunning videos are the keys to making a post stand out in an Instagram feed.
But, while visuals are the most important element of an Instagram post, the text that accompanies these visuals is also crucial to a post's success.
Social media expert Stephanie Cartin said it this way: "On Instagram, strong imagery is what stops users in their feed. However, captions are what drives engagement."
What does this mean for you? It means that writing for Instagram is a service you can offer clients, as well as a very powerful tool in your own self-promotional skill set.
To help you get the most out of this medium, today we're going to zero in on the caption, a small but mighty aspect of an Instagram post.
With these tips, you'll be able to optimize every post you write for maximum impact.
Tip #1: Find Your Voice
The most important function of an Instagram caption is to give a voice to your brand. Your Instagram caption could be serious, carefree, quirky, inspiring … or any other number of styles.
Your voice will tell your readers a lot about who you are, how you see the world, and how you want them to see you.
But, just because you want to be seen as a professional doesn't mean you can't let your personality shine. In fact, some of the most influential professionals are all about the personality in their Instagram captions.
Take Bozoma Saint John, for example. Saint John is Chief Marketing Officer of Netflix — a high-powered executive by any measure. But, in her Instagram posts, Saint John doesn't come across as stuffy or bland at all.
On the contrary, she matches vibrant visuals with a clear, confident, and empowering tone. In one post, she shows herself leaning back at her desk, writing, "It always has … and always will be … about the WOOOORQUE. Whether in the spotlight on stage or behind closed doors in the boardroom … I'm about OUR business. Y'all hear me, sisters?!"
As Saint John shows, it's okay to show your personality, and definitely okay to be bold.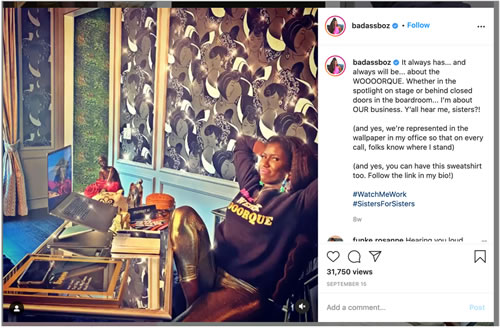 If you're managing Instagram for a client, you may be more restricted in the voice you can adopt.
Nevertheless, even businesses need a powerful voice, if they want to break through the noise and increase engagement. And, you'll add value to your client's business by helping them hone their voice in their posts.
Tip #2: Choose Your Length Wisely
The length of captions on Instagram vary widely, from just a few words or emojis to the maximum 2,200-character allowance.
Statistically speaking, shorter is usually better.
According to Hootsuite, the ideal length for your Instagram caption is just 138 to 150 characters. If you're writing a sponsored post, the ideal length drops down to 125 characters.
Why so short? This is because as users scroll through their Instagram feed, they will just be skimming the text, and short copy is much easier to understand quickly.
It's also because Instagram truncates text longer than about 125 characters, hiding the rest of the post behind a "more" tag that readers have to click on in order to access the rest of the post.
While many brands and influencers have incredibly short Instagram captions, plenty of writers and influencers write posts much longer than 150 characters.
Often these types of posts tell a story, starting with an interesting hook to get the reader to engage with the full text.
Take content marketer Ann Handley, for example. In a recent post, Handley introducers her new puppy August and shares how he helped bring her joy after the death of her previous dog. The post is on the longer side, at more than 700 characters.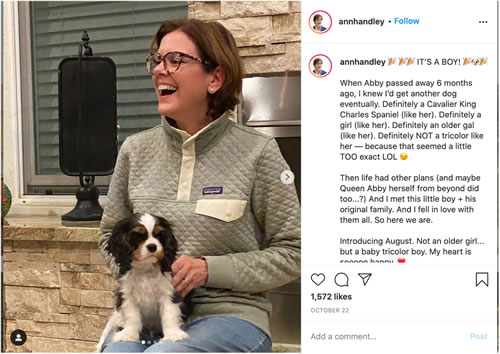 But, before she gets into her story, Handley starts with the announcement "IT'S A BOY!" … which includes several emojis to express her excitement.
This short declaration (not to mention the adorable puppy photo) is all visible above the "more" tag, no doubt getting the attention of her readers and driving many to read the full post.
So, how long should your posts be?
There may be an "ideal length," according to the social media experts, but the best length for your brand will depend on you, your products, and your writing style.
The bottom line is, make sure to consider the length when writing posts, and front-load any key pieces of information. If you do have a story to tell, make sure to start with a powerful, attention-grabbing first line to engage your readers right from the beginning.
Tip #3: Optimize With Hashtags
Another key to Instagram caption success is including the right hashtags, so you can reach a wider audience.
Hubspot's Instagram engagement report indicates that engagement drops on average after more than six hashtags. You only need a few to make a difference on your post, but what's even more important than the number of hashtags is which hashtags you choose.
Let's take a look at the Instagram of social media specialist Guy Kawasaki.
In one of his recent posts, Kawasaki promotes the reMarkable tablet, a tablet that simulates the experience of writing on paper.
He uses 19 hashtags total, which is on the high side, but you can see he's chosen his hashtags carefully. He's used tags like #papertablet, #paperpeople, and #techpeople to reach the ideal audience for his message.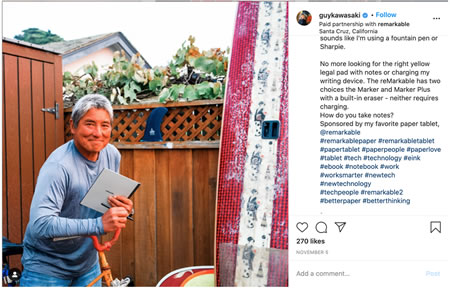 Carefully selecting hashtags that appeal to tailored audiences is key to using hashtags strategically.
If you use an extremely broad and popular tag — #love, for example — you're in tough competition. (There are nearly two BILLION posts with the #love hashtag.) It's not easy to break through in this scenario.
However, if you can narrow down your target market and speak to a niche group like homeschool moms, remote workers, or marathon runners — or, in Kawasaki's case, "paper people" — you'll be much more likely to stand out and connect with your ideal audience.
Tip #4: End With a Call to Action
Whether you're using Instagram for your own self-promotion or the promotion of your client's products and services, you're often going to want your readers to do something.
This is where a strategic call to action comes into play.
Unlike other forms of social media, Instagram doesn't allow active links in the caption itself, only a link in the bio section.
This presents somewhat of a challenge to businesses and influencers.
In light of this restriction, most businesses simply link to their websites in their Instagram bio. In the caption copy, they may say something like "see link in bio" in order to drive traffic to their website. They may also periodically change the link, if there's a special promotion or product they want to highlight.
Other businesses that want a more sophisticated link system may use a service like Linktree in their bio. Linktree provides a link that, when you click on it, neatly links to other pages.
Marketer Seth Godin uses the Linktree approach. On his Instagram, he directs readers to five different webpages through Linktree. These include links for a workshop, a blog subscription page, and his new book.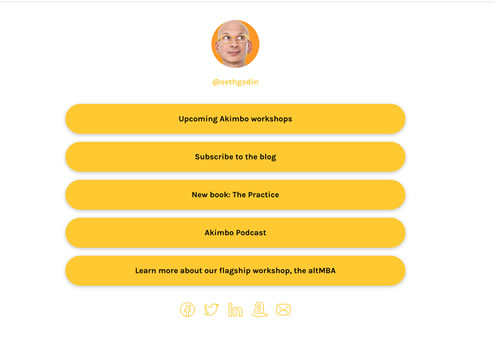 Another approach that businesses and influencers use is to simply include the raw link in the caption copy. In this case, they know it won't "work" — their readers will have to copy and paste the link into their browser. Still, this is a valid strategy, if you need to lead your reader to somewhere very specific, as your reader won't have to hunt for the link anywhere.
Whatever approach you choose, take the time to pick a strategy that makes sense for you and your readers.
Ensure you're helping your readers find what they're looking for.
After all, you want to help your readers take the next step, not leave them wondering how to get in touch with you.
How Will You Use Instagram in 2021?
So, there you have it — four tips to perfect your Instagram captions!
These tips are an important part of Instagram caption success, and ones you can apply to grow your business in 2021.
With a strong voice, optimized length, strategic hashtags, and logical call to action, your Instagram posts will have more impact and drive engagement for your Instagram account, as well as your client's.
So, are you ready to get started writing for Instagram, or to upgrade your existing Instagram profile?
Let us know your next steps in the comments below!
This article, 4 Tips for Writing the Perfect Instagram Caption, was originally published by Wealthy Web Writer.

The Professional Writers' Alliance
At last, a professional organization that caters to the needs of direct-response industry writers. Find out how membership can change the course of your career. Learn More »

Published: December 2, 2020