Are You a Phone Junkie? 4 Ways to Kick the Habit (And Become a Better Writer Because of It!)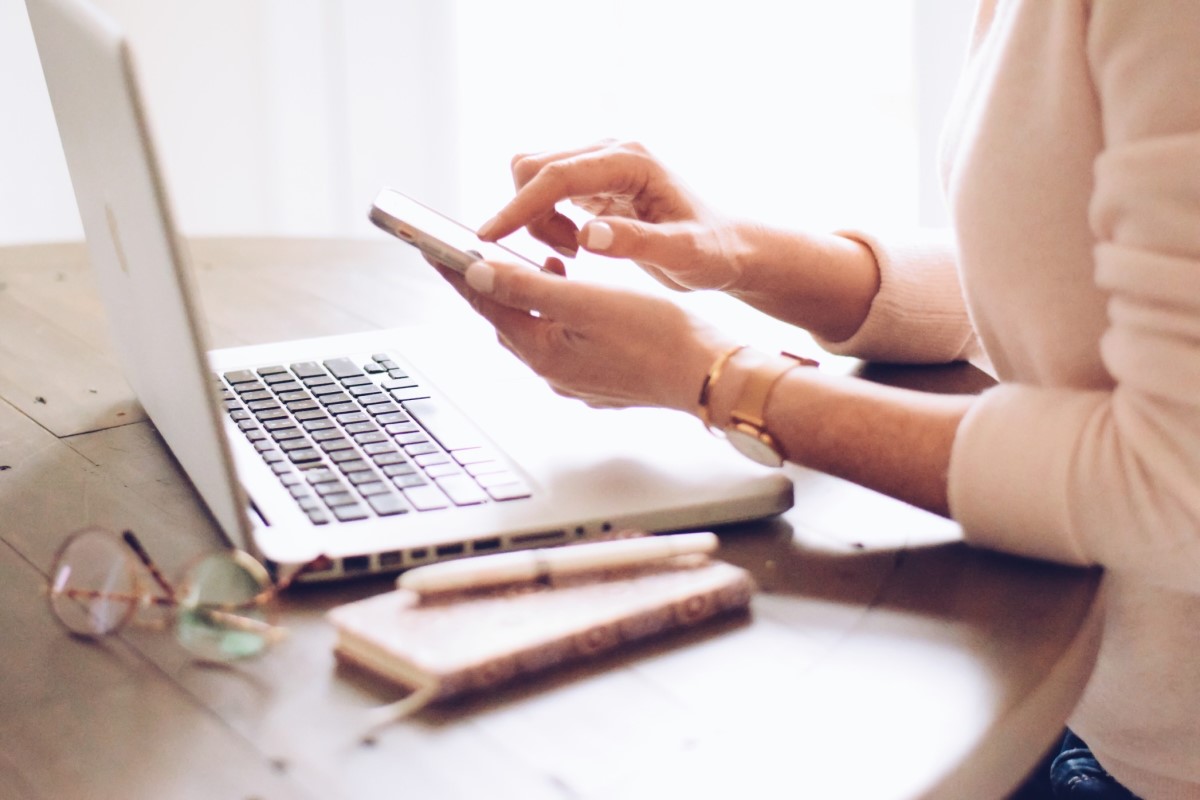 Has this ever happened to you?
One minute, I was innocently typing away on my computer …
But I must have blacked out.
Suddenly, I "came to," staring dumbly at my phone, thumb mechanically scrolling through my Facebook feed.
I wasn't sure how long it had been … what I'd seen on the screen … or even how I got there.
I had zero recollection of picking up my phone at all.
It was easy enough to ignore the first time. But then it happened again. And again.
Somehow, grabbing my phone, lifting it to my face, and mindlessly scrolling through social media had become involuntary — automatic.
And I wasn't even "tuned in" enough to notice.
It was getting creepy.
If you have a smartphone, it's likely you're addicted to it in one way or another.
Recent studies show that we check our phones, on average, 110-150 times a day …
And Americans average about 5.4 hours a DAY staring at our phones …
You may not be as addicted as the rest of us …
But if you ever feel like your phone is sucking up precious time that you could be spending on something constructive, instead …
Here are four easy ways to become healthier, happier, and more productive by breaking your phone habit:
1. Kick your phone out of the bedroom.
The second that you turn off your phone alarm in the morning … do you instantly start surfing to "wake up" to the day?
This sets you up to get sucked in all day.
I beat it by buying a very simple, very dumb alarm clock. The kind where you twist the knob on the back to set the alarm.
The phone is banished to another room, where it charges out of grasp.
It's incredibly refreshing!
Now, as soon as I turn off my alarm, there's nothing but the ceiling to stare at and my own thoughts to wake me up.
Imagine going back to mornings that begin with the clarity of an un-cluttered, un-distracted mind.
2. Keep your phone in another room for the rest of the day — or at least during productive hours.
Another option: Turn off your ringer and all notifications. Then, put your phone in a drawer or hide it behind your computer while you work. (James Clear explains in his book Atomic Habits how this action creates enough friction to help you curb a bad phone habit.)
You can always check texts and messages on a break, or reserve phone time for lunch.
3. Set time limits on certain apps.
At first, I tried removing the Facebook and Instagram apps from my phone. But eventually, like a junkie, I signed into my accounts from my browser and continued getting my "fix" there.
Here's something helpful …
Most phones have controls that allow you to set a time limit on whichever apps you choose. Now, I set a 30-minute limit on Instagram. Try it and see how fast the time goes!
One advantage to doing it this way is that it still allows you to "check in" with any accounts you follow, watch a favorite show, make a post, or see what your friends are up to … but it keeps you from getting sucked into a wormhole.
There's nothing wrong with spending some mindless time watching a show on YouTube or reading friends' posts to give your brain a rest.
The danger lies in taking it too far.
With set time limits, you can get a little "brain break" until the app is disabled for the rest of the day.
4. Make a list of things you want to do, instead.
Instead of getting lost in my phone at lunch time, now I pick up one of the books I'd like to read. Heaven knows I've bought enough of them. Now I have time to actually read them — imagine that!
You could try meditating for 5 minutes … going for a walk … calling a friend … folding laundry … doing a writing prompt …
The advantage of doing all of this?
For one, it helps reduce anxiety. Constantly getting bombarded by the state of the world … ads … and clickbait takes its toll.
Next, your thoughts become less cluttered. It's easier to focus.
And, for me anyway, it's making me a better writer.
Giving my brain some breathing room — and then feeding it well-curated books, instead of random content and ads — makes my writing easier and smoother.
Sure beats getting sucked in and losing time that you'll never get back!
Ready to put your phone aside more frequently and focus more time on your writing career? Please share with us in the comments.

The Professional Writers' Alliance
At last, a professional organization that caters to the needs of direct-response industry writers. Find out how membership can change the course of your career. Learn More »

Published: December 8, 2020