December Issue:
You've already won the year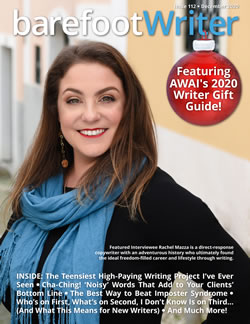 If you're reading this message right now …
Then I'm 100 percent certain you have what it takes to succeed as a paid writer.
I know it. I feel it.
And just by being here, you've proved it.
How can I be so sure?
Click here now to read your December issue of Barefoot Writer.
Just look at what you've handled over the past year. A pandemic. Social strife. Uncertainty. Isolation. Weirdness.
It's been about nine months now … but it feels like forever sometimes, doesn't it?
Considering that you've weathered that storm — and that there's finally a bit of light at the end of the corona tunnel —
You've more than proved that you have the confidence chops to navigate any other challenge that comes your way …
Including whatever fear you've felt about moving forward as a paid writer.
In her essay this month, Featured Interviewee Rachel Mazza writes about overcoming head trash and "thought hijacks" that steal your writing confidence away (see p. 15).
She explains that it's not actually the fear of doing something that holds you back … It's the fear of not knowing how you'll feel on the other end. How you'll handle the aftermath. The fallout.
So the fear is less about putting yourself out there to get a new writing client …
And more about how you'll feel if they say no.
Or how you'll move forward if they say yes.
Or, consider finally hanging up your hat on your current career and going full steam ahead as a writer …
It's less about making that big leap …
And more about worrying whether you'll feel like you made the right choice once there's no turning back.
But as Rachel puts it, this year of ups and mostly downs has taught us all we can handle life after the fallout of something gone wrong.
And if you can handle that, you can handle anything!
Lucky for you, a writing career is pretty much filled with ups and more ups — which you'll see when you read more about Rachel's story, along with the inspiring stories of our other interviewees this month, Susan Greene and Joel Boomer (see p. 5).
So click on over to your December issue of Barefoot Writer now …
And get full instruction on how to shut the door in a positive way on 2020 and move forward with grace, confidence, and a heck of a lot of writing wins for the coming year.
Click here now to read your December issue of Barefoot Writer.

The Barefoot Writer
Discover a lucrative style of writing that will give you as much freedom as you can have while earning a great income at the same time. Learn More »

Published: December 4, 2020