Feeling Stuck? Start Breaking Through Your Barriers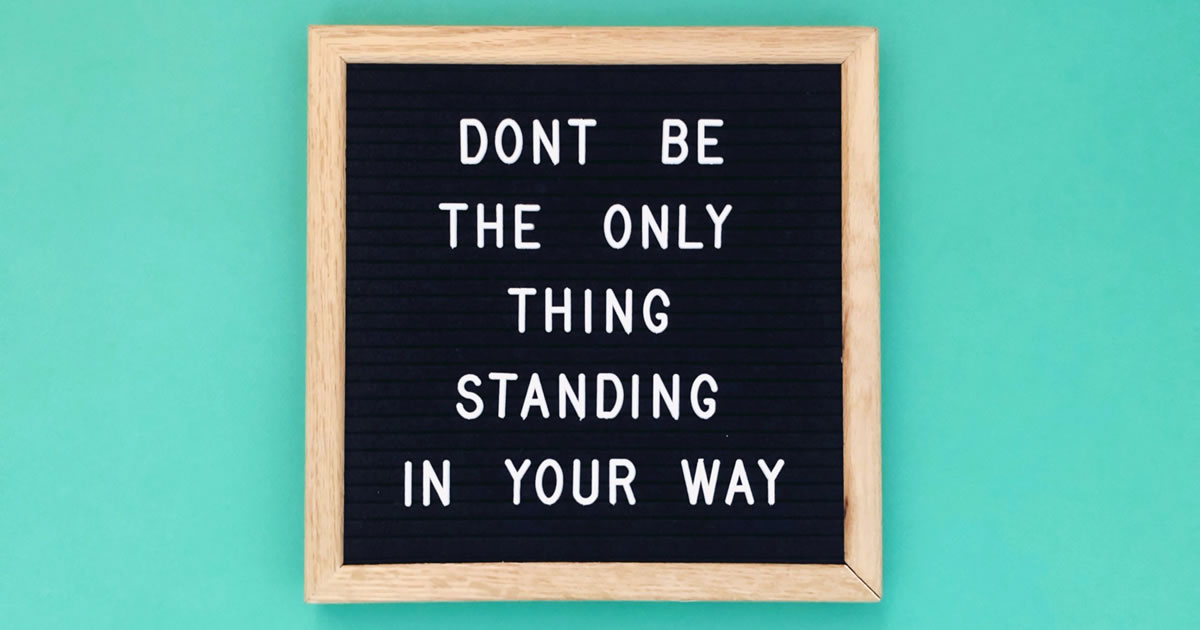 Tell me if this sounds familiar …
You have a dream — and it's a big dream. Big enough that the thought of speaking it out loud makes you a little uncomfortable.
But you're pursuing it. Even though it's big, you know it isn't impossible. You plan to get there. You know you'll get there.
It's just, so far, your progress has been … a little slower than you'd like.
Enough so, that even though you love your dream, you sometimes wonder if maybe that's what it will always be … Just a dream.
If this is all hitting uncomfortably close to home, you aren't alone. This is a scenario a lot of writers go through.
The good news — it's also a scenario a lot of writers break through. And you can be one of them.
When You're Doing Everything Right, But …
Up to this point, I'll bet you've been doing everything right.
You've read up on setting goals and understand the importance of making them S.M.A.R.T.
You've broken your goals down into major milestones and the tasks you need to do to achieve each one.
You revisit your goal often … maybe you even review it each morning before you start your day.
You have some accountability. You've told a friend or two about what you want to accomplish and you give them regular progress reports.
But that progress … well, it's frustratingly slow. So what gives?
Why, when you're doing everything right, are you still inching forward instead of leaping ahead?
Not to worry. I've got your answers … and solutions to help you break through the barriers that are holding you back.
Barrier Number One — Protecting Yourself
One of the biggest hindrances I see writers face again and again comes from the desire to protect yourself.
You might think of this as having a fear of rejection.
But it isn't the fear of rejection that holds you back. It's the desire to protect yourself against the unpleasantness that comes from being rejected.
The good news here is, if you can reframe it so the rejection isn't so uncomfortable, you won't feel like you need to protect yourself.
And that will make it a lot easier to move forward.
There are two steps to breaking through this barrier.
The first is to depersonalize those rejections.
When you think about rejection, it's pretty common to take it personally. When a prospect rejects a proposal you send them, it feels like they're rejecting you.
It's a lot easier to accept rejection when you realize it's hardly ever a commentary on you or even your work.
Rejection is almost never personal. It usually happens because the prospect doesn't know you well enough to say yes yet or because they don't have a need for your services at the time you connect with them.
Once you recognize that rejection isn't personal, the next step to crashing through this barrier is to frame everything you do to build your business as an experiment.
Doing a new paid social media campaign to gain leads? It isn't about how many leads you bring in — that's a metric of acceptance or rejection. Instead, to embrace the experiment mentality, think about whether or not it works well enough to keep to doing it and about what you learned from testing it out.
Launching a new blog? It isn't about how much traffic you bring in during the first six months. It's about publishing consistently and seeing how your traffic trends change … and again, what you learn from the whole process.
When you can get into the mindset of running experiments in your business, you take away the need to protect yourself from rejection. You might even find yourself eager to try the next thing … and the next.
When that happens, you'll start moving forward much faster.
Barrier Number Two — Protecting Your Dream
Another reason you might be struggling to move forward is because you want to protect your dream.
This is a common barrier — and one that's easily overlooked.
Whatever your dream is, it exists as a possibility.
When you begin taking serious action to achieve it, you go from thinking in possibilities to working with realities. You might achieve something close to your dream. Or you might achieve something that looks completely different.
Whatever happens, when you start taking action, you have to reckon with reality.
For example, I publish fiction novels. As I was getting ready to publish the first one, I had dreams about it becoming a runaway hit, about shifting my focus from marketing writing to writing fiction full time.
As long as I waited to publish my book, that dream continued to exist as a possibility. Anything could happen; anything was possible.
But as soon as I hit that publish button, I had to contend with reality.
The reality is that people who read my books like my books. But they aren't topping any best-seller lists. That's quite a far cry from the novel writing empire I was imagining. But it's also okay. I'm tickled that people like my work. And I like writing books. I enjoy it enough to do it even without huge monetary gains.
But up until I hit the publish button, I still had the possibility of fame and riches living in my mind.
Whatever your dream is, "hitting the publish button" forces you to stop dealing in possibilities and start dealing in facts.
But here's the thing that's easy to overlook when you don't hit publish or send or whatever …
Whatever reality turns out to be, it is a step closer to your dream than the mere possibility that exists in your head.
Me having published three novels is way closer to being a best-selling author than me not having published three novels.
The sooner you start working with facts — failures, successes, wins, and setbacks — the faster you'll make progress toward turning your dream into a reality …
And you just might build or discover something else really great in the process.
Often, with this barrier, adopting the mantra, "I'll never know until I try," is all it takes to push through.
Next time, you're sweating over launching a website, updating a LinkedIn profile, or sending a follow-up email to a client, consider that you might be protecting your possibilities … remind yourself of that mantra … and then put yourself out there!
Barrier Number Three — You Don't Want To
I saved the best for last. This is one of the biggest and most confusing barriers to break through.
It's confusing because you have a dream. You've figured out a path to get there. But then, for some reason, you keep putting off doing the steps.
You know the tasks you need to get done, the actions you need to take, but at the end of the day, they're still there on your list, with no line through them.
What is going on?
Well, if you're not stalling to protect yourself or your dream, then chances are, you're stalling because you just don't want to do the task.
This happens when you have a dream you're excited about, but the tasks you need to get there are not things you enjoy doing.
For example, you might love the idea of earning your living writing case studies. You've learned how to write case studies. You've gotten good feedback on the examples you've created. You have everything you need to be successful … except the clients.
So you make a plan. You're going to send out five emails a day to potential clients. That's it. You've even built a list of 100 potential clients and tracked down the contact information for each one. You're ready. You just have to send those emails.
Except … you don't like sending the emails. Maybe it makes you feel pushy. Maybe you don't feel genuine. Whatever it is, there's a whole lotta "I don't wanna" holding you back.
Think about standing on the edge of a swimming pool. It's a hot day, and you know the water in the pool is cold. You want to cool off. And you know eventually you'll enjoy the swim. But you also know that the initial blast of cold is going to be a lot to process. Maybe even a little unpleasant.
For a moment, you're stuck in that place of hesitation. Will you jump in? Or will you walk away?
That's what's happening here. You want to swim. You just don't want to deal with the initial discomfort of plunging into the pool.
You have a choice.
You can find a warmer pool … a different task that will get you to the same destination … one that you don't mind so much.
Or you can take a deep breath and send the emails! (It gets easier each time you do it, I promise!)
Both options are fine. But choose one so you can start moving forward toward that dream of yours.
The Biggest Predictor of Success
In my experience, if you're having a hard time moving forward, it usually comes down to one of these three barriers. If you're feeling stuck, figure out which one of these barriers in the likely culprit, and then start using the strategies I've shared to break through what's holding you back.
There's one other thing to keep in mind … persistent, meaningful action is the biggest predictor of success.
Building a business takes time and persistence. However you break through your barriers, keep taking action, keep showing up. And then give those actions time to produce a result before you change gears.
Is something holding you back? Let us know in the comments so we can help.

The Professional Writers' Alliance
At last, a professional organization that caters to the needs of direct-response industry writers. Find out how membership can change the course of your career. Learn More »

Published: December 14, 2020