Living the Writer's Life: Bonnie Caton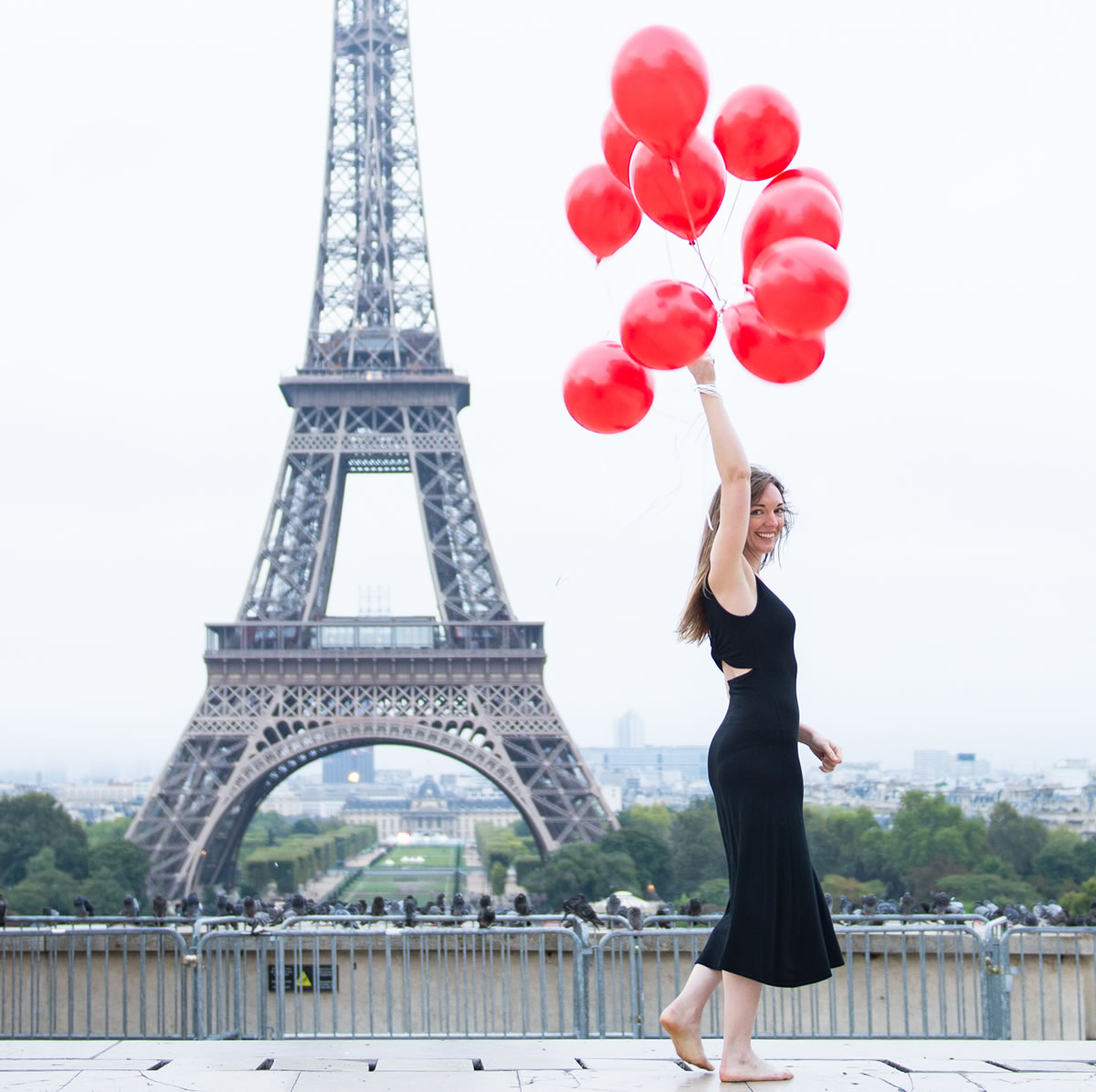 Enjoying the freedom, travel, and excitement of a barefoot lifestyle
overlooking the Eiffel Tower at sunrise at the Trocadero in Paris
How did you get into copywriting? Did you always know you wanted to be a writer?
Well, about 15 years ago, I was living in the South of France, supporting myself by teaching English to French high schoolers. But I had this dream in my head of my ideal life. It would involve lots of travel … I'd get to work from home in a little office in my house … and I'd write.
Back then, I thought I'd be a travel writer. But I wound up landing a job for Great Escape Publishing (GEP), which teaches travel writing and photography. Writing about travel writing wasn't the original plan … but it led me to learn photography, and I spent many years teaching and writing about that. It also sent me on photo expeditions to places like Bali, India, Paris, Ecuador, Peru, Thailand, Tanzania, and many others. But, I kept coming back to the writing. Which led me to work for AWAI.
What kind of writing do you do for AWAI?
Here at AWAI, I'm an in-house copywriter. I write loads of lift notes [emails highlighting product offers], host online Writers' Coffee Breaks to boost engagement with our audience, and of course work on long-form copy projects, too.
What initially drew you to a position with AWAI?
The biggest draw for me is how extremely warm and authentic everyone is. Passion, ideas, and creativity are encouraged here. And the marketing team is focused more on how to give members a great experience than watching the bottom line. Which is something I can get behind.
What do you think is the biggest key to success for new copywriters?
There are so many talented people who hesitate to put themselves out there because they're extremely critical of themselves.
The folks who succeed with writing are those who are able to set aside what everyone else "thinks" and take that first step to reach out to a potential client. Taking one step leads to another and another, and eventually it snowballs. But before it does, you really just have to decide to make a go of it and do it — despite how inexperienced you may feel.
What's it like to host Facebook Live sessions for AWAI?
I love our Facebook Live sessions! One of the biggest perks of my job is getting to chat with people like Ann Handley and meeting members who have these great success stories. It really brings the whole thing to life, and it's incredibly positive and encouraging. We try to keep each Coffee Break session as casual as possible — so it's the same behind the scenes as it is when you're watching, except that I have a few questions written down to seed the conversation.
How do you make the most of your own writer's life?
Well, I love working from home. And it allows me to travel more than I would otherwise. For example, when I was writing for GEP, I took two months to live abroad in Buenos Aires and Bali. When you're completely remote, as long as you have reliable internet, you can go anywhere. Once the world opens back up, I hope to continue the adventure.
What common pitfalls do you see new writers work through at the beginning of their careers?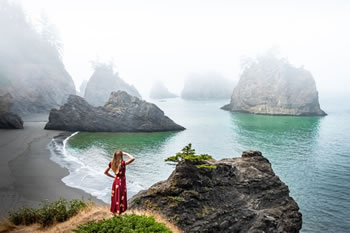 Self-portrait in a secret location along the
Samuel H. Boardman State Scenic Corridor
on the southern Oregon coast
When you're learning to be a better writer, there's a certain amount of review and criticism that's necessary. But getting feedback and criticism is also scary. One thing writers tend to do is avoid figuring out how they can strengthen their writing. But it's so important to seek it out and to never take it personally. Any criticism and feedback you can get (from a reliable source) will only make you a stronger writer in the end.
What do you do for fun?
My husband and I prefer to be outside as much as we can! And living in the mountain/desert town of Bend, Oregon, gives us ample opportunities to do that. We love to hike, camp, take the dogs cross-country skiing, and take photos out in nature.
Bonnie's Living The Writer's Life story was originally published in Barefoot Writer. Click here to learn more about how you can start living your dream writer's life too.
What help do you need to move forward with your version of the writer's life? Let us know in the comments below so we can help guide you in the right direction.

The Barefoot Writer
Discover a lucrative style of writing that will give you as much freedom as you can have while earning a great income at the same time. Learn More »

Published: December 5, 2020