Living the Writer's Life: Rae Brent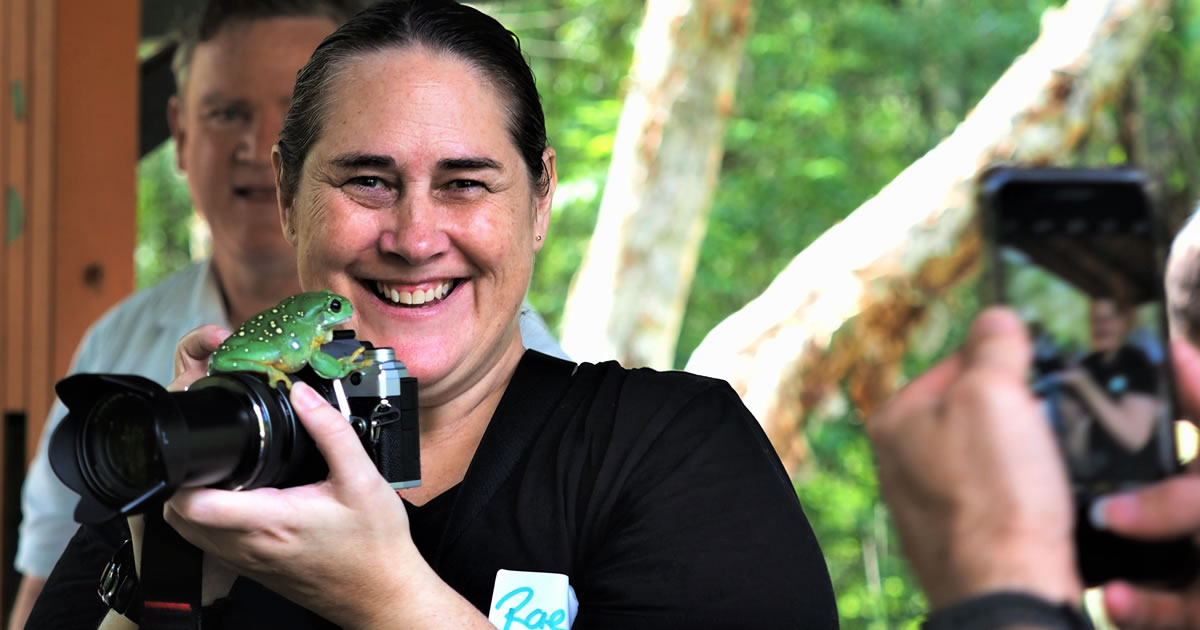 Rae laughing at the sight of a small frog on her camera
What was your life like before you got into copywriting?
I had a somewhat fun and varied life before I got into marketing and copywriting.
I grew up in Tasmania before I joined the Australian Army as a finance clerk. During my 12-year career, I was cross-trained in many different areas. I also represented the army and the Australian Defense Force at an elite level in a number of different sports such as rugby, soccer, and hockey.
It wasn't until I was medically discharged from the army in November 2005 with spinal and shoulder injuries that I stumbled my way into building a successful spiritual healing business with my partner.
In 2010, we hired a marketing company to help grow our business globally. However, we were less than impressed with the copy they created for us. We both embarked on a new mission to master copywriting and marketing. Our first AWAI Bootcamp was in 2015, and we've been to each one since.
What types of projects take up your time these days?
In the beginning, we wrote for a lot of different B2C [business-to-consumer] clients. While my partner was writing the copy, I worked on developing the skills of proofreading and editing copy, learning basic design and web skills, and worked inside our business. (Because of my injuries, I prefer to work behind the scenes as a secret weapon.)
Right now, I'm working with a handful of clients to streamline and optimize their current marketing funnels. And I have a couple of book projects in varying stages of production. I am also working on creating my own books and products, and the marketing pieces to launch them.
What drives you to try new things?
I think the biggest thing that drives me to try new things is my need to be my best. That's why I joined the army. Their slogan at the time I enlisted was "Bring out your best."
I've learned through marketing to always be testing and measuring. To that end, I allow myself to try new things, see the results, and then decide if they help bring out my best. If they do, I get better at them. If they don't, I move on to something else.
One thing that excites me the most about my current projects is helping people. I love helping people see and reach their potential in life. Nowadays, I do the same thing for clients and with my first book, The Money Mirror and my current project, The Discipline of Getting Rich.
How do you make the most of your writer's life?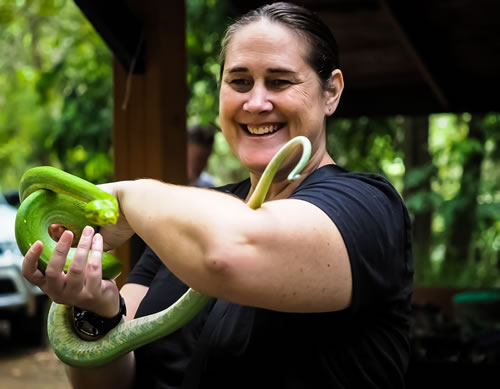 Rae being adventurous
with a snake
Knowing how to write allows me to take time out to enjoy new things without the financial worry of needing to pay the bills. So, when I decide to do something, I know I have the skills needed to generate the cash to pay for it.
And having the skills to turn words into money affords me the freedom to travel and to make better life choices. Because when you lower your stress levels, you're able to get into the creative zone faster, stay there longer, and enjoy life more.
When I'm not working in my copywriting business or traveling, I enjoy reading, learning to play the bass guitar, and improving my photography skills.
Any advice for new writers?
Here are my three top tips for finding your business-of-writing sweet spot:
Manage your money so you can say no when you need to.
Invest in yourself often. This means in time, energy, and money.
Know your "why." This comes down to defining your own level of success and knowing the reason you want to achieve it.
What's one Australian food you'd recommend?
In the true Aussie spirit … I'll have to say Vegemite. It has an intense, salty, and savory flavor … and I think most people are unprepared for it. But if you can bring yourself to try Vegemite … I'll throw a shrimp on the barbie for you!
Rae's Living The Writer's Life story was originally published in Barefoot Writer. To learn more about how you can start living your dream writer's life too, click here.
What help do you need to move forward with your version of the writer's life? Let us know in the comments below so we can help guide you in the right direction.

The Barefoot Writer
Discover a lucrative style of writing that will give you as much freedom as you can have while earning a great income at the same time. Learn More »

Published: December 26, 2020