How to Get Maximum Social Media Results with Tailored Posts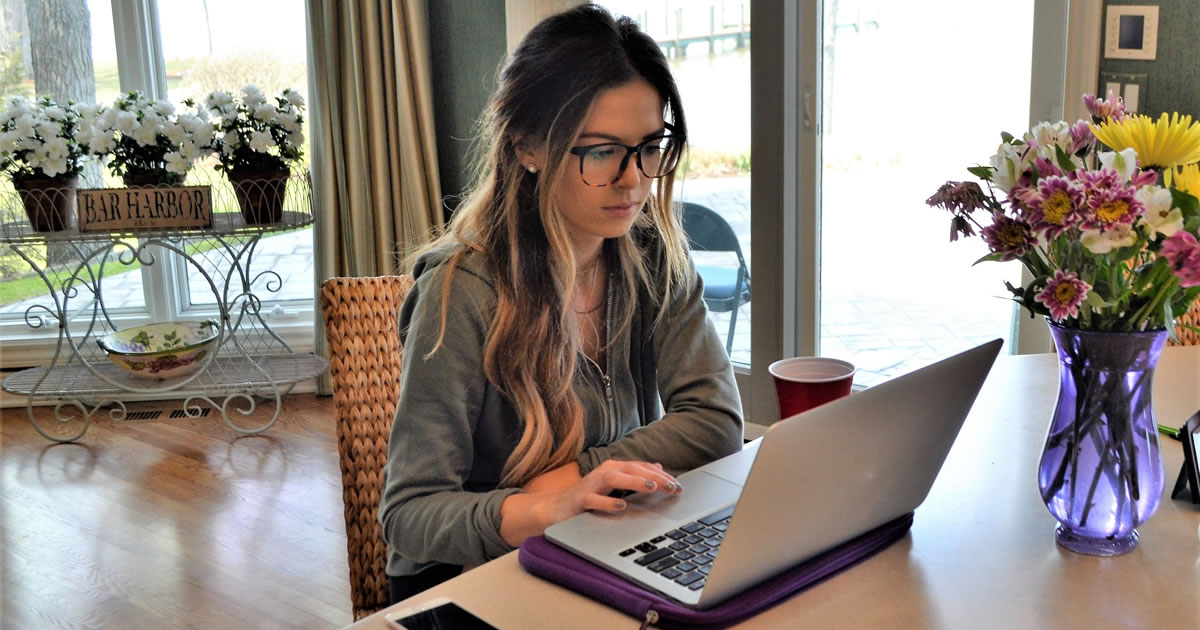 I'll admit … it took me a long time to get on board with social media.
My mother has taught me to be modest, not to call attention to myself. It was a deeply ingrained lesson … one that made posting to social media seem too much like bragging.
It wasn't until I was in my sixties and determined to make a career as a writer that I overcame my Facebook phobia and began to use social media as a marketing tool.
I went "public."
I'd write an article, develop a phrase to introduce it, and hurriedly post the same exact caption to Facebook, LinkedIn, Twitter, and Instagram … so proud of myself.
Until I learned I was doing it ALL wrong.
I was committing the sin of cross-posting and running the risk of alienating my readers with repetitive content. I was ignoring the different audience and purpose of each platform and sending the WRONG message without heed to length, visuals, or hashtags.
Like a designer tailoring a garment to a specific body, I should have been molding each caption to fit the specific social media platform.
One size most definitely doesn't fit all!
One Platform Is NOT Like Another
If I asked you which platforms had more male users than female, would you be able to answer correctly? How long should the text of your post be for optimal results? Which social media platform offers the most engagement with your audience? Where should you use emojis? How many hashtags should you use?
I didn't know the answers to any of these questions. In fact, I wasn't even clear on how hashtags worked. (Why were words marked with number signs, anyway?) Now I know hashtags are labels to identify my topic and help readers find the subjects that interest them, but before I began to post to social media, I had no idea.
The term "social media" may lump Facebook with LinkedIn and Instagram with Twitter, but they are NOT the same. It's not enough to post. If you want optimal results, you need to create unique, stylish posts for each platform.
Crafting a tailor-made social media message means choosing the vocabulary, tone, content, and length to perfectly suit one specific social media platform.
There are FIVE basic elements of social media style, and they change with each platform …
Audience
Content
Hashtags
Length
Visuals
Facebook:
Facebook was created in 2004. Since then, it has grown to 2.7 billion active users per month, with 1.62 billion views per day. Among four of the top platforms — Facebook, LinkedIn, Twitter, and Instagram — the Facebook crowd is the oldest on average, but Facebook also has the widest appeal to all age groups.
Audience: The average age of a Facebook user is 40.5 years, and a whopping 65% of Facebook users are older than 35. But on the other end of the spectrum, 84% of Americans age 25-30 use Facebook, too. More women use Facebook than men.
Content: Facebook is supposed to be FUN and eclectic, a glimpse into the lives of millions of people. The most engaging posts include positive sentiments, exclamation marks, and humor. You can ask occasional questions and conduct virtual conversations. Facebook is the best platform to promote holiday sentiments and sales. If you want to talk about Christmas, do it here.
Hashtags: Hashtags are more important for businesses than for individuals. They are not crucial to Facebook, and if you use them, you should limit them to one or two per post.
Length: Posts with fewer than 80 characters receive 66% higher engagement. Condense those 80 characters down to 40, and you've got a higher combined "like" and comment rate. Keep it short and sweet.
Visuals: Live video is an excellent fit for Facebook, with videos generating the highest reach and 10 TIMES more comments than posts without video. Multiple emojis work well, too.
LinkedIn:
More than 660 million people in 200 countries around the globe use LinkedIn, the world's largest professional network. 260 million users are active every month. This unique platform has the specific goal of building professional networks and sharing industry news. You'll also find advertising, recruiting, and job listings.
Audience: 37% of U.S. adults between ages 30-49 use LinkedIn, and a whopping 60% of LinkedIn users fall in the 25- to 34-year-old age range. Half of all college graduates and high-income households use LinkedIn. The audience is more male (57%) than female (43%), and 90 million are senior-level executives and industry leaders.
Content: Be professional, not playful. LinkedIn is an excellent forum for blog posts and articles to build your reputation and show your credibility. News about various industries, interviews with experts, career advice, and hiring and promotion announcements are a good fit for LinkedIn.
Hashtags: Embed hashtags or put them at the end of your text. Do not hashtag every word. LinkedIn allows you to use as many hashtags as you'd like, but sources suggest using 3-4 hashtags is optimum.
Length: The best post length for engagement is 25 words. If you're publishing an article, longer pieces tend to perform better on LinkedIn with 1,900-2,000 words producing optimal engagement. An article title should be 40-49 characters.
Visuals: Like Facebook, the most engaging posts on LinkedIn include live video, but be aware that on LinkedIn, 85% of the people play video WITHOUT sound (maybe they don't want their officemates to hear), so make sure you include captions!
Twitter:
Twitter has been around since 2006 and focuses primarily on news and politics. Every day, people around the world post 500 MILLION tweets. The site boasts 330 million monthly users. It is the busiest of the four platforms discussed in this article.
Audience: The average age of a Twitter user is just slightly younger than Facebook, at 40 years old. Twitter's audience is more educated and has more income than the general population. Twitter is predominantly a male audience, with 66% of users being men and 34% women.
Content: Twitter's focus is on news and politics. Eighty-three percent of the world's leaders participate on Twitter. It's a good place to share blog posts and curated content, but not a good venue for holiday-related material. Posts do better if you tag people you know. Questions don't perform well on Twitter.
Hashtags: Hashtags were created for Twitter and are an essential tool. You can use as many as you'd like, but research shows posts with more than two hashtags see a significant drop in engagement. One study says tweets with only one hashtag generate the most engagement, averaging 90 interactions per post.
Length: The best posts on Twitter are 71-100 characters — that's the range with the most retweets.
Visuals: Every post should have a visual, whether that's a link, a photo, an infographic, a GIF, or a video. Emojis are good on Twitter.
Instagram:
Instagram is a visual medium, based on photos rather than words. With more than 1 BILLION active users each month and 500 million daily users, Instagram is a powerful tool for marketing. It's also the most interactive of all platforms, with many brands posting 195 times each month, compared to Facebook's 60 posts per month.
Engagement on Instagram is 10x higher than Facebook and 30x higher than Twitter.
Audience: Instagram has a young audience with 35.2% between the ages of 25-34, and another 21.4% being just 18-24. More women (56%) than men use this platform.
Content: High-quality photos with quotes are great. Motivational and inspirational quotes are extremely popular. 42 million posts per day are tagged with "quotes." Instagram is not a conversational platform. Emojis, giveaways, and contests are great.
Hashtags: You can use lots of hashtags. Instagram is the one platform where you shouldn't worry about how many you use. Research shows interaction on Instagram increases when you use more than 11 hashtags!
Length: The optimal length of an Instagram caption is between 138-150 characters.
Visuals: Post "stories." Short 15-second video clips that disappear after 24 hours are popular.
Unique Posts for Each Platform
Here's how an article on Biliterate Brains (the ability to scan and skim versus the ability to read deeply) would appear on each of the four platforms:
Facebook: Digital reading is changing our brains! 🤓 (40 characters plus an exclamation point and emoji)
LinkedIn: Digital reading is changing how our brains function, making it harder to do slow, deep reading with comprehension. We need to develop biliterate brains now. #reading #literacy #personal development (25 words, professional tone, three hashtags)
Twitter: Digital reading is changing our brains. Scanning is important, but so is slow reading. #reading (87 characters, one hashtag)
Instagram: Reading online is changing our comprehension. Scanning is important, but so is slow reading. To be successful, we need to be able to do both. #reading #readingcommunity #readingisfundamental #books #education #psychology #neuroscience #digitallife #personaldevelopment #self #literacy (143 characters, 11 hashtags)
To help you craft your own tailor-made social media posts, use this handy cheat sheet: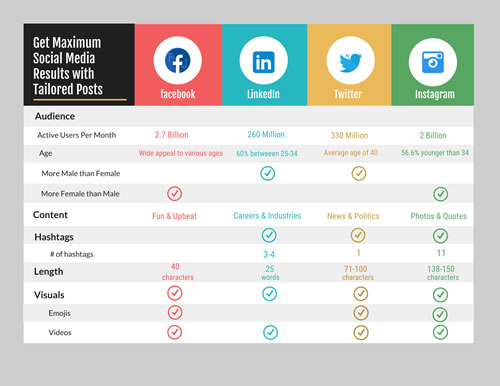 What's your favorite social media platform, and what kinds of posts do you use most often? Share your own experiences in the comments!

How to Make Money as a Social Media Marketing Expert
Everything you need to know to become a social media marketing expert, as well as four different ways to make money using that expertise. Learn More »

Published: December 9, 2020