August Issue:
CCO Perks for Writers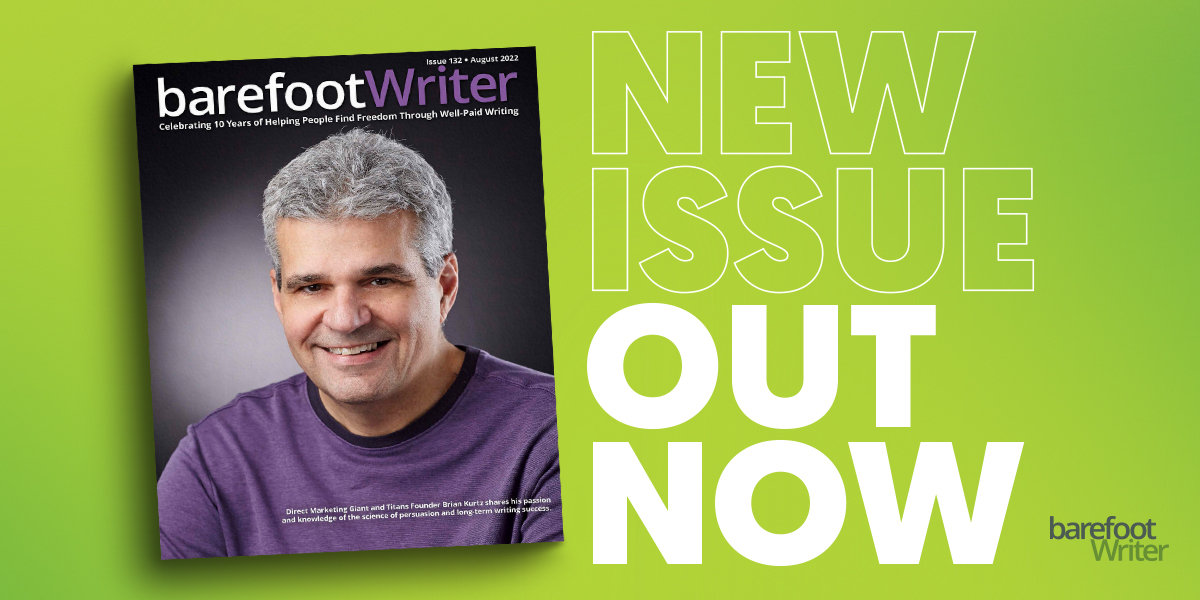 When you first wade into the world of paid writing, it's easy to latch on to someone else's success and want to make it your own …
"She makes six figures."

"He only writes part-time."

"They left full-time jobs just months after starting to write for a living."
Click here now to read your August issue of Barefoot Writer.
But the beauty of the writer's life is that you can make it your own. There's no preset path, no slew of benchmarks to have to hit.
In other words …
If you have a massive income goal, you can go for it.
If you never want to work full-time again, that's completely possible.
And if you're hoping to do something as yet unheard of in the writing world … aim high, friend!
With this month's issue, we've tried to highlight all the possibilities out there — but also to show you ways you can make them your own.
For example, Steve Maurer shares how he transitioned out of a 30+ year career into writing (p. 30).
Lynelle Suan details the steps she took to dive headfirst into full-time writing while still in her early 20s (p. 27).
And Anna Westfall explains some of the nuances and tricks behind loving part-time writing (p. 33).
Add to that this month's "tidal wave–esque" Barefoot Writing Opportunity — designed to show you just how wide the floodgates are when it comes to paid projects in the digital space (p. 22).
Plus, you'll read about …
the logic behind contributing to connect,
what to do if a client says your fees are too high,
and the pros of starting a writing business even when the economy looks grim.
In addition, we have an eye-opening interview from Brian Kurtz, a true titan in the world of direct marketing. He's been nicknamed "the copywriter's best friend" — and with good reason (find out why on p. 9).
All this taken together should open your eyes to the sheer amount of convenience, choice, and opportunity in the paid writing world. Think of it as the "CCO perk," yours for the taking.
Click here now to read your August issue of Barefoot Writer.
Published: August 5, 2022