AWAI's
Copywriting Success & Getting Clients Bootcamp 2023 … Officially REVEALED!
The excitement is OFF THE CHARTS after our big Bootcamp Revealed session on Tuesday …
With over 75% of the spots officially claimed!!
If you missed it, check out the playback here …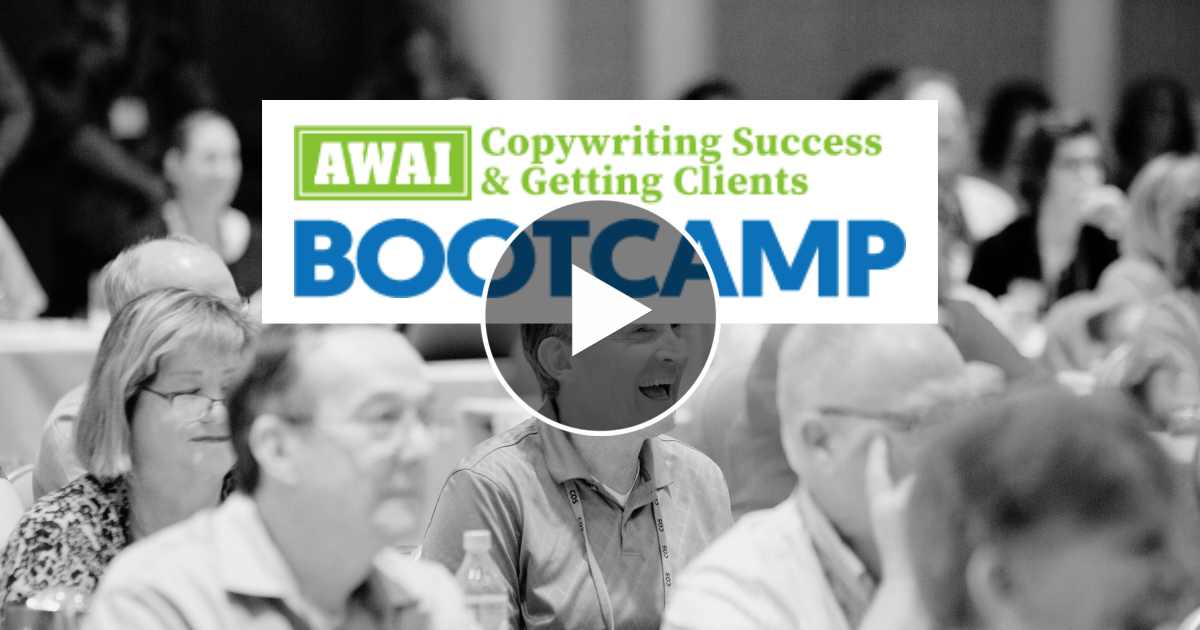 Bootcamp is responsible for launching the careers of our biggest success stories, by bringing together the most in-demand writers and marketers in our industry to share their hard-won secrets and strategies with you.
Members like …
"Fresh from Bootcamp, I got hired as a regular writer for eCommerce Insiders! Can't wait to start churning out B2B content for this great company. Just goes to show that AWAI Bootcamp DOES do what it claims. It helps you make connections in your industry."
—Shawn Dady

"Nowhere else can you get the most up-to-date, relevant, and inspirational information, with all the top copywriters in one place!"
—Donna Kaluzniak

"I wish I had had something like this when I was starting out. Just the FastTrack to Copywriting Clients alone would have been well worth the price of admission — to be able to go into a huge room filled with eager-to-hire representatives from major mailers. Wow."
—David Deutsch
It's going to be not only the BEST one yet, but more importantly … the most PROFITABLE one for you!
With all the things that were discussed in the Reveal …
Growing marketing budgets, AI bringing speed to your work, the need for good writing, strategy increasing your earning power, and the shifts in how companies are using various marketing channels, causing NEW opportunities …
It's going to be a BIG YEAR for writers!
So catch the replay of our Bootcamp Revealed session so you can get the full scope of what we have planned for this year's event …
Our all-star lineup of 15 powerhouse experts …
The insights and tools that will give you clarity and direction on how to build your business …
The connections with people who can help you grow and succeed …
And the WEEKLONG post-Bootcamp event: FastTrack to Copywriting Clients … where we'll help you connect with companies and marketers who are actively looking to hire new writers!
It's the only event of its kind in the copywriting world …
Watch the playback of our big reveal to see why!
Or …
If you KNOW you're planning to attend, go here to grab a remaining spot now!