JOIN US ONLINE:
The "Block" Buster Workshop How to Spot, Shift, and Soar Past the Hidden Roadblocks Holding You Back From Your Ideal Writer's Life
With Terri Trespicio
August 14, 2023, at 12:00 P.M. (Noon) ET:
Our daily purpose here at AWAI is to make sure you have everything
you need to control your writer's life. But if something keeps getting in the way, breaking through that block is hard to do on your own — especially if you're not clear about WHY you're not making the progress you want.
So AWAI is teaming up with one of the very best to help you recapture the excitement and momentum of your writer's life.
As an award-winning writer and keynote speaker, Terri Trespicio is known for her ability to help people gain clarity, build confidence, and start making things happen.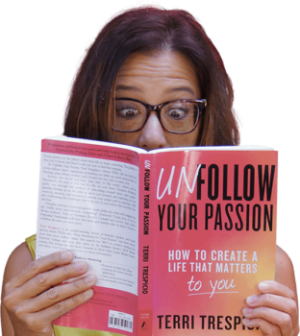 Terri has also been a featured speaker at AWAI's Copywriting Success & Getting Clients Bootcamp, where AWAI members have fallen in love with her insights and begged us to deliver more from Terri to help them leap ahead toward their writing goals.
This is that chance — and it's a pretty incredible opportunity at that.
Terri's mission in this session is to help you see why your big plans for 2023 may have gone sideways or gotten stuck behind a block you didn't even realize was there.
And then …
In her uniquely fun and interactive way, Terri's going to share what you can do to bring your goals back to life, rescue the rest of 2023, and set yourself up for major success in 2024 and beyond.
Terri Trespicio will reveal to you:
The invisible rules and "accidental definitions" that can stop writers dead in their tracks …
Why your struggles may actually be caused by trying to chase after so many OPGs (other people's goals) …
How you accumulate "baggage" on your writing journey — and what you can do to check those bags, fast …
What you're doing … unintentionally, of course! … to dampen your own creativity, curiosity, and potential for greatness …
Register Now! (If you can't make the live event, we'll post the recording afterwards.)
And make sure you sign up for this year's Bootcamp here!

The AWAI Method™ for Becoming a Skilled, In-Demand Copywriter
The AWAI Method™ combines the most up-to-date strategies, insights, and teaching methods with the tried-and-true copywriting fundamentals so you can take on ANY project — not just sales letters. Learn More »

Published: August 11, 2023