SPECIAL TRAINING — Exclusively for "Newbies"!
4 DAYS TO $400 WRITING CHALLENGE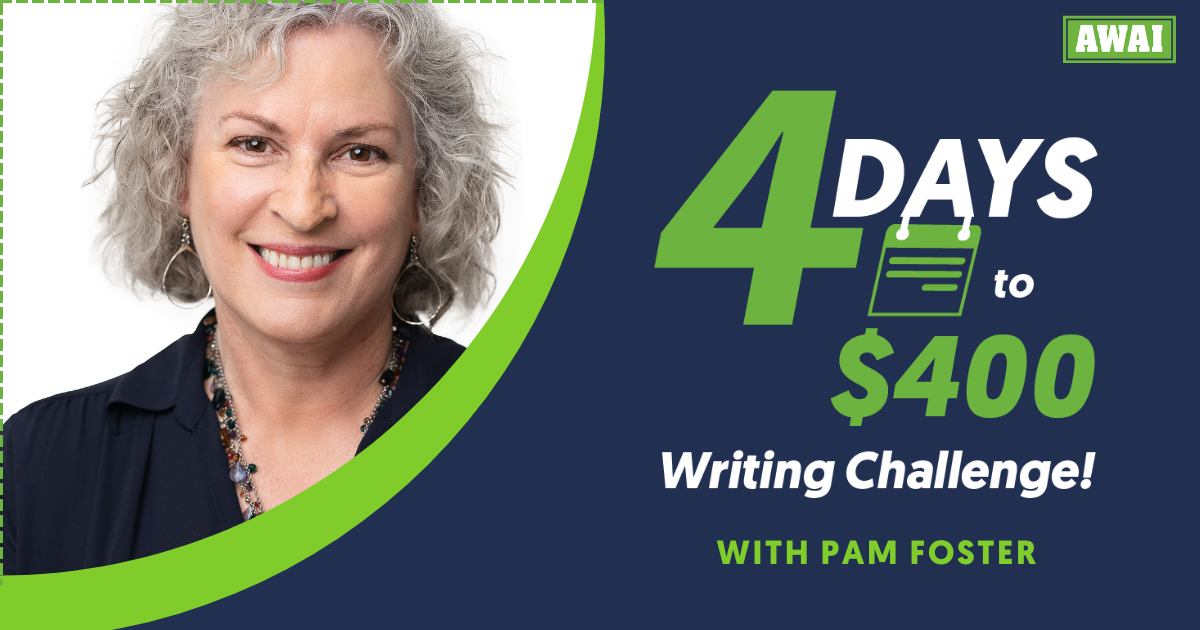 Here at AWAI, we have one singular mission:
Do whatever it takes to help people make a GREAT living as a writer!
As the world's largest and longest-operating copywriter training organization, we've helped thousands of writers do exactly that for more than 26 years.
But there are still far too many members waiting to "break in" as professional writers.
If you're one of them — your moment has arrived!
That's because we've created something special JUST FOR YOU:
An online training where you will once and for all master the simplest, most versatile, most in-demand writing skill … and have a shot at being published with a byline as well as earn a $400 cash payout!
We're calling it the 4 DAYS TO $400 WRITING CHALLENGE …
You'll work shoulder to shoulder with AWAI's learning chief, Pam Foster, along with some very special guests.
Pam is absolutely beloved by AWAI members — for not only her amazing teaching abilities — but her genuine caring and willingness to stick with new writers until they get it!
You'll learn the ONE SKILL that can kick off your writing career … how to land clients … and how writing just got a whole lot easier with AI programs like ChatGPT as your "personal research assistant" and idea generator.
Again, we've created this training for TOTAL NEWBIES …
So, if you want to be a paid writer …
But you've never written a word of copy …
Even if you're not sure exactly what copywriting is …
This training is designed to meet you wherever you are and will change everything for you.
Click here to check out all the details …
Published: September 15, 2023