Last Chance:


Join our 4 Days to $400 Writing Challenge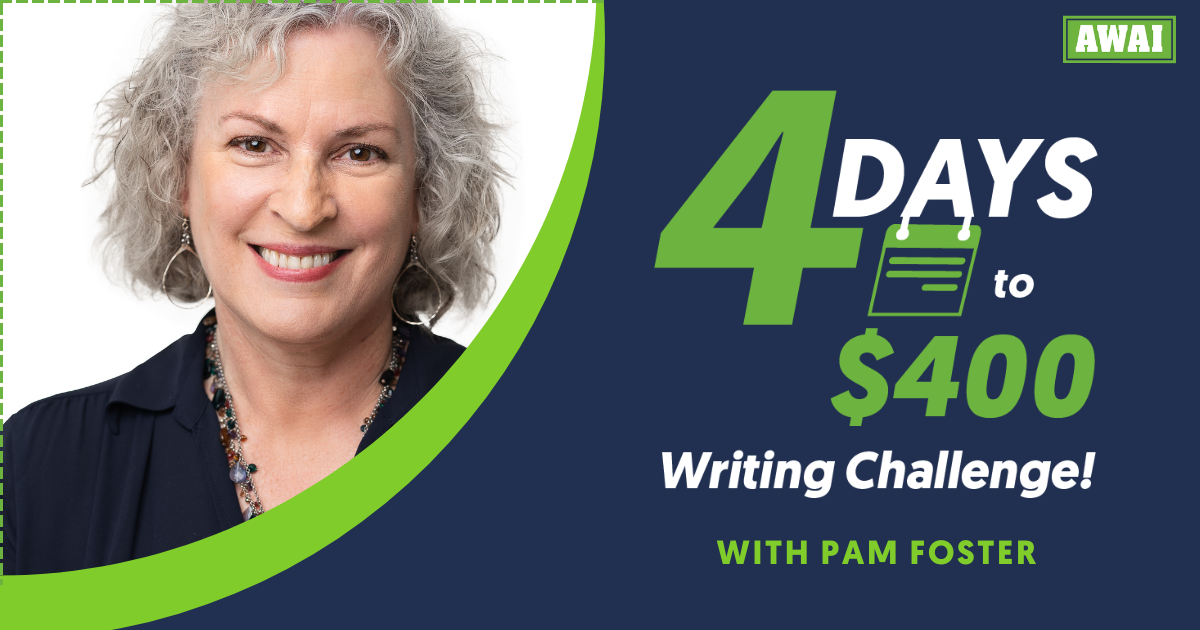 We've got one question for you:
Are you ready?!
Pam and her team have put together a brand-new 4 Days to $400 Writing Challenge training to teach you what you need to know to start getting paid to write …
Including the ONE quick, easy-to-learn writing skill that millions of businesses can't get enough of … and is ALL YOU NEED to launch your paid writing career.
So if you want to be a part of this life-altering event, go here immediately to claim your spot before tonight's final sign-up deadline.
Now, maybe you're still on the fence about joining …
If so, let us show you why ANY NEW WRITER should be a part of this 4 Days to $400 Writing Challenge.
#1: You don't need any previous copywriting experience. All you need is a desire to learn and a willingness to write the assignment we'll give you.

#2: The skill Pam and her guests will teach you is a simple writing assignment of one to two (maybe three) pages that follows a simple formula ANYONE can learn. Know it, and you can be paid to write — from this day forward!

#3: What you'll learn about using AI to speed up your success as a writer — and how it can act as the "personal assistant" you never had — is worth the price of admission alone!

#4: You'll leave with powerful knowledge … a finished piece of writing for your portfolio … a chance to be published … and a shot at your first (of many) $400 writing paychecks!

#5: You'll be online with Pam and her guests for a couple of hours over each of four days — and don't worry if you have to miss a session or two: The training is self-paced so it's easy to catch up … or review something you missed.
And what's crazy about all of this is that the entire four days of online training, and the mountain of resources you'll get when you sign up …
Is just 47 bucks …
$47 you don't even have to pay if you don't feel it was worth every penny!
So that's The Challenge in a nutshell.
But the bottom line is simple.
The ONLY reason you're part of the AWAI family is that you, at one time or another, had the desire to become a free and well-paid writer.
Our 4 Days to $400 Writing Challenge has been created to get you there.
So let's not waste any more time.
Let's make this happen now.
Learn the skill that can kick-start your lucrative career …
Do the writing and put that first $400 in your pocket.
Join the 4 Days to $400 Writing Challenge now …
Before we close the doors for good at midnight tonight.
See you in The Challenge — and beyond!
Published: November 17, 2023