Affiliate Update:


Sell More Products to a Captive Audience


This month I have had a few new affiliates ask my advice on how to market AWAI's products so that they too can become as successful as AWAI.

While this answer could be (and probably is!) the subject for an entire newsletter itself, I thought we would start with the basics.

Hopefully you will find some information that you can apply to your own business to help it become even more successful.

A Captive Audience

As most people know, the best audience to have is a captive one. Not "captive" as in against their will, but captive as in they have "raised their hand" and asked to receive whatever information you are sharing.

If you extend this concept to selling information products online, you will begin to see the benefits of having a list of email names (your captive audience) that you can send information to whenever you desire.

Transitioning your site or blog into one that is focused on capturing someone's email address and name (by offering something valuable in return, like a newsletter or report), is a good way to start "building your list" as we call it in the biz.

Once you have a list of people who know, like, and trust you and are interested in hearing what you have to say, it is a natural fit to begin recommending products that you believe in and/or use yourself.

You can accomplish this in a variety of ways:
Posting a product review on your blog or site with a link to the product.
Including "advertising or sponsored" content in the form of an e-news ad in your newsletter.
Writing about the topic in posts or articles in your newsletter and mentioning a related product in an "editor's note" at the conclusion of the article.
Sending "dedicated" content where the entire email message is an artfully crafted piece of advertising (Copywriting!).
Just remember that this is a relationship built on trust. Your subscribers trust you to provide them with valuable information. Whether that be in the form of editorial or promotional content. So always make sure that you give more than you get.
Now go get busy building your list!
Next month we will expand on this topic and discuss the "Campaign Technique."
I am here to help you so please don't hesitate to contact me with any questions, copy requests or anything else you may need by sending an email to affiliates@awaionline.com.
To a profitable partnership,



Jessica Kurrle
American Writers & Artists, Inc.
Enrollment NOW Open for
Circle of Success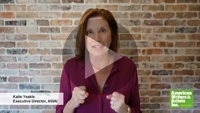 Only a few times a year, we open the doors into this exclusive group that will put you on the fastest path to becoming a highly paid, in-demand copywriter. This is the absolute highest level of hands-on learning offered anywhere in our industry.
Every resource is available at your fingertips along with live learning, guided mentoring sessions, professional copy reviews, access to clients, FREE admission to Bootcamp and more! But spots go fast.
Here's how to reserve your place.
Published: March 21, 2012