Affiliate Update:


Make 2013 Your Best Year Ever


As I write this letter to you, the year 2012 is coming to a close.

So much has happened over the course of a year and it is only natural that you look back and reflect on where you were at this time in 2011.

Have you "made it happen" this year … reaching the goals you set for yourself when you joined AWAI's affiliate program? I truly hope that you have but if you have not, please remember that I am here to help you in any way I can.

AWAI's success depends on your success and nothing makes us happier than to see you succeed.

We have talked about many ways to do that in this newsletter this year and I want to take a moment and revisit them in the hopes that you will too. Here are a few of my favorite topics:

December is a great time to put together a plan of attack for the New Year. I encourage you to re-read these articles and decide how you are going to incorporate them into your business next year.

Have a very safe and Happy Holiday Season and here's to our continued success in 2013!

To a profitable partnership,



Jessica Kurrle
American Writers & Artists, Inc.
P.S. If you have missed an issue or just want to go back and read a few for inspiration, you can always access past issues of the Affiliate Bulletin here.
Work with the AWAI Team on a Real Writing Project!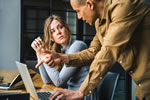 "Simulated Training" is AWAI's newest interactive learning where you get to work directly with AWAI's copy chief on a real writing project.
Not only will you experience what it's like to write for a real client — you'll learn what to do at every stage of the writing process … plus you'll get live personal feedback on your writing.
And right now, we're offering a limited number of spots FREE to members of our highest level of learning.
Go here now for full details …
Published: December 18, 2012