Affiliate Update:


New Copywriting Promotion Travelers

Have an audience that loves to roam? Travel abroad … maybe even become a true Expat?

Then I have the perfect addition to the affiliate program for you to use moving forward.

Read on for more specifics …

New Promo Added!

This promo is for you if:
You speak to an audience who is interested in travel, living abroad and making a portable income where they can work from literally anywhere there is an internet connection.
You are interested in promoting AWAI's most successful and highest converting program, the Accelerated Program for Six-Figure Copywriting.
Jen Adams is a seasoned copywriter and former expat who lived and worked abroad from the lovely country of Ecuador.
Hailing from Nebraska, no one expected that she would actually find a way to live her dream … but she did. With the art of copywriting to fund her lifestyle.
Share her story of how copywriting allowed her to get out of the rat race and escape the traditional ways of living and working abroad.
Plus it now comes with an even greater offer …
Test-drive the Accelerated Program for Six-Figure Copywriting for 30 days for only $99.25! Then pay the remainder of the balance in 4 additional easy payments of $99.25
365 day money back guarantee.
You can find the Jen Adams Expat Accelerated Program for Six-Figure Copywriting promo listed under the -Additional AWAI Product Library under the Links & Tools page in your affiliate dashboard. It is titled Six Figure Copywriting for Travelers
And remember, you can find your personal affiliate link for each product under the "Links & Tools" page. It will look like this: https://www.awai.com/go/index.php?Clk=[YOUR SPECIFIC AFFILIATE NUMBER]"
I am here to help you so please don't hesitate to contact me with any questions, copy requests or anything else you may need by sending an email to affiliates@awaionline.com.
To a profitable partnership,



Jessica Kurrle
American Writers & Artists, Inc.
Work with the AWAI Team on a Real Writing Project!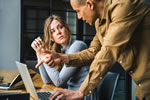 "Simulated Training" is AWAI's newest interactive learning where you get to work directly with AWAI's copy chief on a real writing project.
Not only will you experience what it's like to write for a real client — you'll learn what to do at every stage of the writing process … plus you'll get live personal feedback on your writing.
And right now, we're offering a limited number of spots FREE to members of our highest level of learning.
Go here now for full details …
Published: July 8, 2014