Meet AWAI's Latest Award Winners
One of the themes of Bootcamp this year was "honoring success," so we opened and closed with events celebrating many successful copywriters.
We kicked off the event with a Wall of Fame celebration dinner …
All Wall of Famers in attendance were recognized … applauded … and given a big star to wear proudly for the next three days.
If you haven't been to "the wall" lately, we've added 4 more "stars" … Gary Hennerberg, Dave Keizur, Phil LeMaster and Kelvin Parker. Make sure to read their inspiring profiles, and remember to visit the Wall of Fame any time you need a little inspiration. We'll have more inductees to announce over the next few months, so stay tuned!
We then ended Bootcamp on Saturday with another celebration where three special people were recognized …
First: Meet Donna Kaluzinak
Donna's Bootcamp Spec Challenge for our Freelance Business in Box was selected to be tested. In addition to a $1,000 check she received for the winning headline and lead, she'll receive another $1,000 when she completes the letter. We'll keep you posted on how the letter does.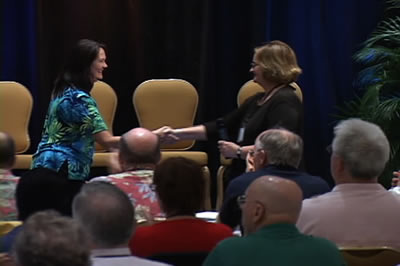 Donna Kaluzinak Receiving Award Check from Denise Ford
Next: Meet Joshua Boswell – AWAI's latest $10K Challenge Winner
As you know, for the past few years, we've had an open invitation for AWAI members to write a sales letter for our Accelerated Program for Six-Figure Copywriting. The offer was very straight-forward: Write a letter that beats the control, and you'll get $10,000 in additional work from us.
That offer is still available to all AWAI members … but now we've expanded it to give you many more opportunities to get paying assignments from us … no matter where you are on your journey to becoming a six-figure copywriter.
Once a year Katie and the AWAI staff review the "results" for all the submissions we've tested in the proceeding 12 months. By that we mean, we evaluate sales results, profits earned, and the breakthrough nature of the copy. Then, based on those results, we select at least one person to receive additional contracted assignments from us – to the tune of $10,000!
This year that person is Joshua Boswell … whose letter for the Accelerated Program beat the current control.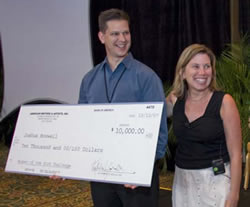 Joshua Boswell Receiving His
$10,000 Check from Katie Yeakle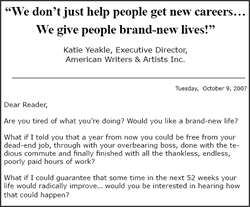 Winning Letter (view)
Last, but certainly not least …
Meet AWAI's Copywriter of the Year … Bob Bly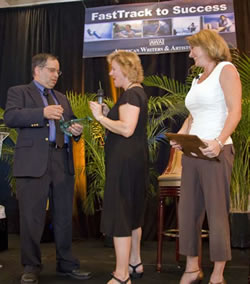 Bob Bly Accepting His Award
from Helen Buttery and
MCG Editor-In-Chief Sandy Franks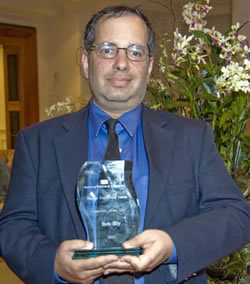 Bob Bly with His
Copywriter of the Year Award
"I pride myself in making complex concepts easy to understand. But Bob Bly does more than that. He makes them fun to learn too! He is a master...one of the true master copywriters of our industry. He has more depth and breath of experience than almost any six-figure or seven-figure copywriter I know."
– Michael Masterson
With too many controls to count in his 20+ year career, Bob is the master of the offer … loading his letters with irresistible proof … capturing Big Ideas … and communicating in a down-to-earth and winning style. He specializes in business-to-business, high-tech, and industrial copywriting and is considered one of the top direct marketing consultants working today.
He's widely admired and respected throughout the industry …
"Thanks for all. You are just a pleasure to work with – my top choice copywriter. I always learn so much when we do stuff as a team."
– Lori Haller, Shadow Oak Studio
"Bob Bly is one of the true gurus in direct-response copywriting."
– Gary North, Remnant Review
"You are a genius! I rarely love copy this much from the get-go. You hit it on the head!"
– Sara Pond, Nightingale-Conant
… and is always the top-rated speaker at our Bootcamps.
Bob is one of the most successful … most prolific … most generous copywriters working today … in addition to being the author of over 70 books including the direct marketing classic, The Copywriter's Handbook. His long-last blockbuster control for Novell Software was featured in the January 2007 issue of Monthly Copywriting Genius.