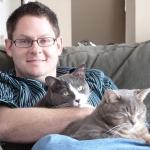 Andrew Jobes

Peterborough, Ontario
Copywriter
Web/Internet
I am a freelance writer and editor specializing in compelling web copy that keeps viewers reading and develops the trust that potential clients are seeking.
My approach is to listen to your needs and then offer professional and timely service that is sure to exceed them.
I have worked for the government for 8 years, so I can write in a range of styles for a variety of products, from web copy to briefing notes, policy to technical reports, correspondence to presentations.
I am an ecologist by training, and I am excellent at turning complex scientific ideas into interesting, easy-to-understand copy for general consumption.
I also offer proofreading and copy-, stylistic-, and structural-editing services.
I have a certificate in Creative Writing from Trent University and technical publications in peer-reviewed scientific journals.