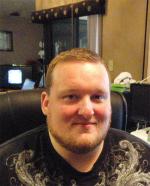 Brandon Ellis

Delray Beach, FL
Copywriter, Desktop Marketer
B-to-B, Financial, Self-Help, Web/Internet
Professional Experience
Agora Affiliate IFII (Copy Writer): Aug 2011 – Aug 2012
IFII specializes in financial education, through services, courses and their free daily e-letter. My job was to create sales copy, in the form of long form sales letters, email series, landing pages, and space ads to sell our products.
Including…
- Two six-figure campaigns in September and October 2011 that sold readers on educational courses with full-fledged product launch style campaigns.
- Successful phone campaign in December 2011, which offered our buyers list the opportunity for a discount near Christmas, plus a bonus discount through a coupon. The sales department was very happy with the campaign.
- A educational based "hand raise" series, that offered readers five educational emails—got them interested in the subject and then prompted them with a buying opportunity.
Karmic Bliss (Web Designer and Copy Writer): Apr 2010 – Aug 2011
In 2010 I started a business with Karen McMenemy that specialized in web design, social media marketing, copy services and SEO work. We used every tool we had to drive leads through different mediums, to ultimately get more customers through the door. My work varied from graphics work to light html coding to creating copy to implementing social media campaigns.
Including helping... Boca Raton Chiropractor Jane Groman generate more clients by implementing changes to her website, a simple SEO campaign with article marketing, a Google local page and creating her own blog.
- Margaret Ann Lembo to develop her personal brand. We created three websites, craft her email newsletter format, and improve her social media channels. Helping grow her brand, visibility and foot traffic to her store.
- Food science recruiting company Opus International direct more job searchers to their site. With Opus we created social media portals, a blog to help distribute their job listings, and implemented changes in their SEO tactics. Opus saw their best calendar year yet.
Agora Affiliate Sovereign Society (Copy Writer): Jan 2008 – Apr 2010
Sovereign Society is an Investment research company, with an offshore focus that offers investment research services, books and newsletters to customers. My job consisted of writing sales copy dedicated to selling products to their house file, or affiliate lists.
For example…
- I worked on a sales letter for a book that went out the second last weekend in April 2010 with two blasts and brought in 352 orders for over $22,000.
- I worked on PPC campaigns. Three of which have generated more than 12,000 email opt-ins. With one campaign bringing in 9,000 opt-ins at a 16% conversion rate. My smaller campaigns, converted between 8-10% and to this point have brought in just below a thousand conversions a piece.
- I also built a video conversion page that PPC opt-ins see immediately after signing up. This cold PPC traffic converted at about 3-4%.
Karmic Bliss (Web Designer & Content Writer): Jan 2006 - Dec 2007
This early incarnation of Karmic Bliss was a web design company. Along with site design, we also offer clients help with content creation and SEO. Creating strong sales messages, and an ideal keyword "range", that—through extensive research—would give them the best chance to connect with their target market.
For example…
- We helped Lighthouse Point Psychologist, Dr Andrea Corn, design a website that would offer her a chance to attract more patients. With not only a design that matched her personality, but also housed all her articles, and media appearances. Plus featured a blog that allowed her to share her insights with clients or prospective clients.
- We helped Delray Beach nail salon, LA Pro Nails create a simple site for themselves, to help attract new customers. The design was elegant, and matched the atmosphere there salon tried to convey. Plus offered free coupons to incentivize visitors to go to LA Pro Nails.