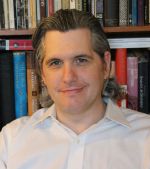 Kevin Dicamillo

Haledon, NJ
Copywriter
Christian
www.ncregister.com/blog/dicamillo
Kevin Di Camillo is a veteran editor and writer, having edited over 120 books including best-sellers by James Martin, SJ, Richard Rohr, and Samuel Rodriguez. He currently is an editorial advisor to The Pope Francis Resource Library for Crossroad/Herder and Herder. In addition he writes for "The BBC of the Publishing Industry" PublishingPerspectives.com, and weekly for The National Catholic Register.
He holds degrees from Notre Dame, Niagara, and was Doctoral Fellow at St. John's University, with additional education at Harvard.
From AMERICA Magazine he won the 1992 Foley Poetry Prize and in 1993 the Twin Elms Writers' Center International Haiku Award.
His work has appeared in DAEDAUS: THE JOURNAL OF THE AMERICAN ACADEMY OF ARTS AND SCIENCES, PUBLISHING RESEARCH QUARTERLY, AMERICA, COLUMBIA, JAMES JOYCE QUARTERLY, THE ANTIGONISH REVIEW, THE NATIONAL POETRY REVIEW, OPIUM, THE PRIEST, and PRAIRIE FIRE, among other journals. He is the former poetry editor for TRAFFIC EAST.