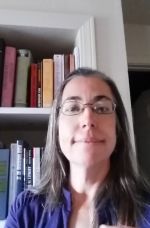 Diane Fanucchi

Arroyo Grande, CA
Copywriter
Catalog, Health, Web/Internet
Decades in the disciplined art of poetry have taught me to say a lot in a few words, with style.
My experience writing poetry (and prose about poetry) that is accessible and appealing even to reluctant poetry readers helps me write marketing content that engages a variety of readers.
I favor copy that is interesting to read and respectful of prospects, like me, who hate to be sold. I also believe in linguistic excellence, down to the details. I "care about commas."
One of my specialties is catalog copy/product description, because, like poetry, it is condensed; savors detail; and allows me to cover varied topics. Since I love reading catalogs, they're a natural choice for me.
As a prolific journal writer, I'm a born blogger.
My interests include natural/holistic health; menopause; sleep; massage; aging in place; wine (I live in the "New Napa"); psychology; and life/technology balance.
I am deadline conscious and a careful editor.