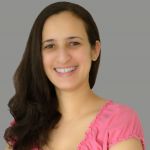 Daniela Llanos-Lee

Guelph, Ontario
Copywriter
B-to-B, Web/Internet
Daniela Llanos is a Professional Mechanical Engineer with over ten years experience doing HVAC and Plumbing design.
As a writer, she uses this experience to craft content and marketing copy for companies in the industry, combining her understanding of heavily technical concepts with an ability to simplify and communicate to a wide range of audiences.
Her innate thirst for knowledge and passion for writing are the driving forces behind Engineered Copywriting, her writing services company specializing in white papers, case studies, articles and website copy.