Meet AWAI-Trained Writer: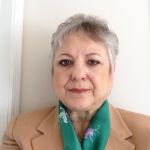 Professional Background:
AWAI-Trained Direct Response Copywriter; B2B, Emails, Graphic Design, Brochures, Newsletters, Direct Response, Copywriting, especially in Animal feed and health. Currently AWAI learner; retired after 17 years as Administrative Assistant for my church; Secretary for 3 years for High School vice-principle; owned and operated a 150 seat restaurant for 13 years (grew up in same business, bought it from my parents). Some college in Bookkeeping I, Computer Science, Office Management, word-processing; 3.94 gpa.