Meet AWAI-Trained Writer: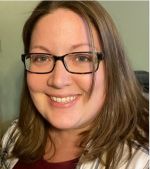 Audrey McKinney
| | |
| --- | --- |
| Location: | Evansville, IN |
| Professions: | Copywriter |
| Specialties: | Health, Web/Internet |
Professional Background:
From a young age, I was fascinated by food.
I learned to cook and bake, and even how to decorate cakes. I loved food advertisements, cookbooks, and cooking shows.
In college, I studied nutrition and business communications, where I gained a ton of knowledge about health, nutrition, culinary, marketing, and so much more.
That's where I fell in love with writing. Writing college reports helped me find my confidence. I was never an athlete or had any physical talents. But I could write!
In my career, I have worked in various avenues of the food industry. From food service and restaurants, to gourmet catering, to grocery management. I learned the business they don't teach you in college!
So, when I discovered AWAI, it was my chance to learn how to put all my passions together in a way that works for current business practices.
I am eager to work with you and help you bring new life to your content. I hope you will reach out to learn more about how I can help you today.