Say "Goodbye"
to Writing Sales Letters
Corporate "Escapee" stumbles across
an easier, lucrative alternative (and now earns
up to $1,000 per hour writing copy …)
Read on to discover:
How this former cubicle slave now earns up to $1,000 per hour as a copywriter without writing a single sales letter (and how you can get started doing the same thing in just 8 hours.)
Why tens of thousands of websites desperately need your services and will happily write you a big check without flinching – once you know this top online copywriter's system.
How you can get your first client almost immediately and start making money before you even finish learning all the secrets to writing for this niche!
(Hint: It's not writing sales letters, writing for B2B,
writing Web copy or even catalog copy.)
From the Desk of Rebecca Matter, AWAI Director of Web Marketing …
Dear Reader,
Jay White had a problem.
He was about to throw off the shackles of corporate bondage and start a new career as a freelance copywriter. In fact, he had already given two weeks' notice …
But he had ZERO clients – and not a glimmer of hope for coming across one.
Recognizing his dilemma, Jay scraped up what little savings he had and flew out to a copywriting seminar in San Francisco.
He was having breakfast an hour before the start of the seminar when he was interrupted.
"Mind if we join you?"
Jay looked up from his croissant to see a slim, dark haired gentlemen, dressed all in black, and his young son standing at his table with their breakfast trays.
"Of course not," Jay said, not knowing what lay in store for him. "Please be my guest."
And then it happened.
As a result of that chance encounter, Jay stumbled across what is without a doubt …
The Easiest, Most Lucrative Copywriting Niche
on the Entire INTERNET!
Jay's life has never been the same.
Today, he easily makes six figures a year working from his home. What's more, the top Internet marketers (household names you'd recognize instantly) have his number on speed dial …
Why?
He rakes in millions in profits for them. But here's the thing …
Jay rarely writes a sales letter. It's just not his cup of tea. To him, writing sales letters is a painful, slow process.
He's much happier with the kind of copy he writes now. It pays just as well. And for Jay, it's a heck of a lot more fun.
I can relate.
I try to avoid writing sales letters whenever I can. Staring at a blank screen and pulling my hair out over what to say next is just plain hard work for me. It's one of the reasons I made the decision to focus on Web marketing instead of traditional direct mail.
In fact, the only time I'll bring myself to write a sales letter is when I come across something that I truly feel has the potential to change someone's career – and life – for the better.
And that's the case with the niche I want to tell you about today.
Virtually every website on the Internet needs this kind of copy written. As famed Internet marketer and Google Adwords guru Perry Marshall says, "A website without [this kind of copy] is like a head without a body."
It's that important.
What's more, writing this kind of copy is something anyone can do. If you follow directions … you can do it … And be well on your way to landing one happy client after another.
Once you learn this skill, you'll even have a shot at landing AWAI as your very first client. (More on that in just a bit.)
Can You Tell a Simple Story?
Ever since you were a kid, chances are you've loved hearing a great story, right?
And, chances are, you've loved telling one too …
Maybe it was telling your mom that your brother had just done something "naughty" … or a juicy tidbit about what you saw your teacher do after school. Or even a story about the weird weekend you had.
And that's exactly what Jay does now.
Let me explain …
The kind of copy Jay writes isn't at all "salesy." It's short, quick copy that's quite the opposite.
That's because the goal of his copy isn't to persuade a prospect to buy. It's designed to establish and build a trusting relationship … and, in the process, get the prospect to visit his client's website (or read a specific offer).
So how does he do it?
He simply tells a little story.
Much like talking to a good friend over dinner and telling him about your day … about somebody you unexpectedly ran into at the grocery store … or your two-year-old daughter's silly antics.
That's it.
Writing for this niche really is that simple. And the pay?
Well, let's just say Jay's on track to earn a solid six-figure income again this year … with just two clients.
The Perfect Alternative to Writing Long Sales Letters
It's not B2B, Website Copy, or Even Catalog Copy
This niche is unknown by 99% of copywriters …
Yet it's a virtual goldmine for those who specialize in it. And if you don't like writing sales letters, it's the perfect alternative … although you still need to know the fundamentals of writing good copy.
Here's why:
Writing a sales letter can be very time-intensive.
Researching … coming up with the big idea … writing a good headline and lead … crafting an airtight sales argument … proving every claim … creating urgency … designing a great offer … adding a persuasive close.
For many, this can take several weeks – or more – of time dedicated to nothing but the job at hand. And it can be mentally and physically exhausting.
But the kind of copy this niche requires is nothing like that. The time spent writing is A LOT less. You could easily knock out an entire project in as little as two afternoons – going at a very relaxed pace.
Plus, the pay can be just as good as it is for writing a sales letter.
So … What is this niche?
It's writing autoresponder copy – a series of 3, 5, or 7 short emails that are automatically sent to a new prospect who has just opted-in to your client's email list.
You've probably gotten emails like these yourself.
Let's say you're surfing the Web and come across a landing page for something you're interested in. The page offers a free report that catches your eye. But there's a catch. In exchange for the report, you've got to submit your email address: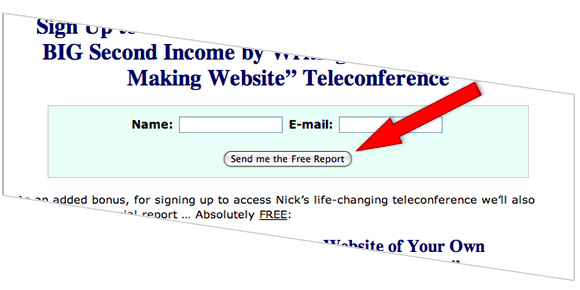 So you submit your email address. And once you do, you start receiving brief emails from someone associated with the site … all aimed at establishing a relationship with you and getting you to visit the site's offer page (usually a long sales letter).
And here's the thing …
Thousands of websites are HUNGRY for autoresponder copy. They need someone to write an email autoresponder series for every product they launch … every new email list they create … and every new affiliate offer they want to promote.
And if they like what they see from you, they'll keep coming back …
"He is a master!"

Jay White is a specialist in writing the email autoresponder series, at which he is a master.

The reason most online marketers don't use the autoresponder series more is the cost and time required to produce it – there are simply too many other priorities (like writing your landing page or info product) that take precedence.

But anytime you allow a visitor to register on a page without serving him an autoresponder series (and we all do it), you are leaving money on the table.

Now, with Jay's formula, you can learn to write your own autoresponder emails, enabling you to increase conversions, upsells, and cross-sells – for your own sites or your clients.

Bob Bly, "America's Top Copywriter"
Up to $1,000 Per Hour for Writing Copy
"Desperate for Writers"

"[Autoresponder copy] is a lucrative niche that is desperate for the type of writers trained in your method. Thanks for the excellent content Jay – I am inspired!"

-Julie Herckenrath,
Professional Copywriter
You can make an awesome living just by writing autoresponder copy and nothing else.
For example, Jay charges $500 per email. He recommends that his clients have at least 7 emails in an autoresponder series.
It might take him two mornings, writing about two emails per hour, to get the job done – with a round of golf in the afternoons. That's $3,500 in just two days … or up to $1,000 for every hour spent writing copy!
And get this. Jay doesn't consider himself a fast copywriter. He likes taking it easy, going at a leisurely pace.
So instead of sweating bullets, trying to figure out what comes next (like he would when writing a sales letter), he simply plugs along … writing an email or two followed by some "play time."
Before he knows it, he's done.
He's "the Best in the World" …
and Now He Wants to Share His Proven Formula With You
"Copy that blows their minds!"

"Talk about excited! Thanks to Jay I've already produced autoresponder copy for clients that blows their minds!"

Dot Pecson
It was just 3 short years ago that Jay was approached by that slim, dark haired gentleman at his breakfast table… otherwise known as self-made multimillionaire and legendary Internet marketer Alex Mandossian.
If it wasn't for him, chances are Jay would've never discovered this incredible niche.
Today, Alex says he's "the best autoresponder copywriter in the world."
What's more high-profile Internet marketers like Rich Schefren, Jeff Walker, and Derek Gehl keep his number on speed dial.
He's that good.
Now you might think Jay's meteoric rise to success was because of some special talent he has.
But the truth is, Jay has a secret.
He's developed a proprietary formula. It's what he uses for virtually every single autoresponder email he writes. It's also what's been responsible for helping him earn up to $1,000 per hour.
And here's the thing …
If you simply follow Jay's "plug 'n' play" formula, you'll have everything you need to create autoresponder copy that ROCKS … the kind clients will gladly pay you big bucks for, over and over.
"Jay can walk the walk."

"Not all hot-hand writers can teach, but Jay can walk the walk and talk/teach, too … with enthusiasm, clarity, and grace."

Curtis Tuck
Success Is Easy Once You Know
His "Paint by Numbers" Approach
Mastering the skill of writing autoresponder copy is easy – if you know Jay's formula.
The good news is, he's revealing his formula in his latest program, Autoresponder Apprentice: How to Become a Successful Copywriter Without Writing Sales Letters.
In it, he takes you by the hand …
"2 emails at $290 each."

"Hi Jay,

Things starting to warm up on the [autoresponder copy] front – recently got a client …
2 emails at $290 each."

Mark McClure
He shows you how each piece of his formula works, step by step. Think of it as a "paint-by-numbers" approach to writing top-notch autoresponder copy.
"Step 1, do this. Step 2 do that. Step 3 …" You get the idea. It's that easy.
The program is divided into 8 audio modules that you can easily download and listen to on your computer … in your car … on your iPod …during your workout. … wherever and whenever it's convenient for you.
As soon as you start the audio, Jay will be at your side, talking you through every step of his formula … until you're a bona fide email autoresponder copywriter.
Here's just a small sample of what Jay will be sharing with you:
How to craft autoresponder emails that'll have clients chomping at the bit to hire you … and keep you busy for months to come.
How to get your "head right" before you write a single email. (This is Jay's personal "secret weapon." It's what lets him write an email in as little as 15 minutes – with rarely any editing needed afterward!)
The 3 most important questions you need to ask yourself before writing the first word of autoresponder copy.
How to write the most crucial part of any autoresponder series. (There's no way you can succeed as an autoresponder copywriter without knowing this.)
Why you already have everything you need to write top-notch autoresponder copy … and how to tap into a "mother lode" of endless winning ideas!
Why "writing like a girl" is a VERY good thing … and how to balance it with the one critical element almost ALL other autoresponder copywriters miss. (This is what separates Jay from the rest of the competition and has made him the best in the world. And in audio module 1, you'll know exactly what it is.)
A can't-miss "stock" opener that you can legally STEAL … and that's guaranteed to get your reader's attention 90% of the time.
How to build trust with your prospects … and evoke powerful emotions that compel them to click on the links YOU want them to. (Remember, the more clicks your emails get, the happier your clients will be … and the more they'll be willing to pay you.)
The secret to pushing your prospect's "hot buttons" – without "selling."
The BIGGEST mistake most Web marketers make and how to fix it. Knowing just this one thing will make you seem like a true pro and marketing genius to your clients … especially when they see the instant improvement in results.
And much, MUCH MORE!
Jay has left no stone unturned. You're getting 8 hard-hitting modules filled to the brim with specific techniques and exercises that'll have you ready to hit the big leagues as soon as you're done.
"Take your writing skills to the next level."

"I'd recommend this program to anyone wanting to improve their broadcast and autoresponder emails. Even if you're already an expert copywriter, Jay can take your email writing skills to the next level."

Perry Droast
No matter what client you want to go after, you'll have the confidence – and the skill – to know that you can write autoresponder copy that produces results.
But that's not all …
Jay's committed to making sure you have everything you need to succeed.
That's why he's dedicated an entire module to getting clients. He's going to take you by the hand and show you what it takes to land loyal, high-paying clients in this niche. Plus, he'll tell you how much you should charge when you're starting out, and what clients will expect of you.
No question, you're getting a complete, soup-to-nuts guide to making it big as an autoresponder copywriter.
As someone who is constantly learning and improving, I've taken my fair share of copywriting-related training. Some you just sort of muddle through because you need the info. Then there are the rare few that you actually enjoy. That's Jay's Autoresponder Apprentice. I liked the audio-based format and especially appreciated the examples that he critiqued after every module. I loved his approach so much that I'm officially adding autoresponder and email copywriting to my lineup of services. After using Jay's techniques on just one email I sent to a particular list, it ended up being the second-highest pulling email ever. Pretty impressive! Thanks, Jay! You've got a real winner here.

Karon Thackston
www.MarketingWords.com
"But Wait … There's More!"
In addition to Jay's proprietary autoresponder copy formula, you'll receive a few extra "goodies" that'll help you master this skill in no time flat.
For starters, you'll get:
BONUS #1: Desktop Cheat Sheet and Personal Resources Sheet
The Desktop Cheat Sheet is probably one of Jay's most prized tools – a condensed version of the most important parts of his formula.
Keep it by your side whenever you're writing for a client. It'll guide you through all the steps … plus remind you of important points you MUST include in your autoresponder copy.
No question, this is a major timesaver. No need to go back to the audios in search of a specific technique. Just whip out the Desktop Cheat Sheet and you're good to go.
You'll also get Jay's Personal Resources Sheet. It will give you an inside look at the process Jay uses on a daily basis to crank out emails in record time … so you'll be able to write autoresponder copy even faster, with less effort.
But Jay's not stopping there. You're also going to get …
BONUS #2 – Exclusive "Over My Shoulder" Autoresponder Copy Training Videos
Watch and learn as Jay critiques and creates email copy … then recreate his methods with your own projects!
These videos (originally titled "Monday Morning Makeovers") were part of Jay's members-only Email Copy Made Easy program …
But for a limited time, Jay is giving you access to these ultra-powerful training tools.
You'll be looking over his shoulder as he reveals his entire process … you'll listen as he "thinks out loud" about word selection and what selling approach to use … and you'll learn his most closely held secrets to writing email copy that drives sales.
Many Email Copy Made Easy customers commented that this was their favorite part of the program – and that they learned a TON just from these videos alone. In fact, one man suggested that Jay package these and sell them as a stand-alone product for hundreds of dollars more!
But because we want to make it as easy as possible for you to succeed in the autoresponder niche, we're including them in Autoresponder Apprentice: How to Become a Successful Copywriter Without Writing Sales Letters – for now. (Can't promise they'll always be there, because Jay has mentioned several times that the "stand-alone product" idea is getting more and more attractive every day … )
BONUS # 3 – 30/60/90 Day Success Plan
Jay is committed to your success as an autoresponder copywriter so he's created a step-by-step plan to help launch your autoresponder copywriting career on the right foot. The plan is broken down into 30 day, 60 day, and 90 day segments. Each week features tips, tactics and strategies to accelerate your copywriting success and propel you to making a hefty full-time income as an autoresponder copywriter.
Bonus #4 – Exclusive Access to Jay's Online Community
When Jay says he's committed to your success, he means it. That's why as soon as you become an Autoresponder member, you'll also get exclusive access to Jay's online community.
Here you can ask Jay anything at all and he'll get back with you within 48 hours. Feel free to discuss the business, any sticking points you might have, or just pop in to say "hi!"
Plus, you'll get to connect with other program members who you can bounce ideas off of.
This is like having the ultimate "mastermind" group that'll help you achieve your goals faster than you've ever imagined.
BONUS # 5 – Access to Jay White's Webinar Library
Receive instant access to all of Jay White's webinars, including "Main Street Money Machines: How to Reap Heaps of Cash From Local Clients Using Your Autoresponder Copywriting Skills" … "Instant Transformation: How To Turn So-So Email Copy Into A Sizzling Hot Autoresponder Message In Just 10 Minutes" …and his most recent webinar, "The Fortune Formula: How to Secure An Autoresponder Copywriting Client In the Next 30 Days"!
Plus, since Autoresponder Apprentice is one of AWAI's "living products," you'll get access to any future webinars completely free of charge – for life!
"The best copywriting coach I've ever seen."

"Jay White is the best copywriting coach I've ever seen. Unlike others who teach copywriting, he doesn't throw a bunch of information at you to make sense of by yourself. He guides you through autoresponder copywriting step by step. He explains what is effective and why, and highlights common errors."

Melody Brooks
There's no doubt in my mind that, with Jay in your corner, you'll be hard-pressed NOT to become a great autoresponder copywriter. Which is why …
I May Hire You Right Away …
(Hopefully, Before My Competition Does!)
Autoresponder copy is a crucial element of any serious Web business.
AWAI is no exception.
I've got a lot of projects in the hopper – and after you go through Jay's program, I know you'll be able to write far better autoresponder copy for them than most other autoresponder copywriters out there.
So I'd love to have a chance to hire you before my competition snatches you up. (And believe me, they'll try.)
So here's what I'd like you to do:
As part of the program, you'll have the opportunity to work on a "live" spec assignment for AWAI.
There are a number of products you can choose from.
You'll have access to a recorded briefing by me on each one, including assignment guidelines, in the members-only section of our website.
As Jay leads you through every easy-to-follow step of his program, apply your new-found knowledge to the spec assignment you've chosen.
Once you've completed it, send it to my special email address (which you'll receive after you've downloaded the program).
I'll review it with our online marketing team. If we like what we see, expect a phone call – and a check in your name! Do a good job, and it could be the start of a very profitable relationship for both of us.
Goodbye Frustration. Hello Opportunity.
Just think … writing autoresponder copy could be the door that leads you and your career to the fast track to success.
It was for Jay.
He thought he was going to be a freelance copywriter focused on writing long sales letters. Instead, he stumbled on this niche – and hasn't looked back since.
If you're the kind of copywriter who gets frustrated trying to write long sales letters, autoresponder copy could be your ticket to the best of both worlds: writing short, fun copy while earning a very high income.
And if you enjoy the challenge of writing long sales letters, no problem. Just add this skill to your tool belt and start charging a heck of a lot more per project. Offering to include an autoresponder series of 5-7 emails along with the sales letter can easily put 30% … 40% … even 50% more profit in your pocket with very little effort.
This niche is only growing, which means there'll always be a huge demand for skilled writers. What's more, the majority of copywriters out there have NO IDEA this niche exists – leaving it wide open for you.
And if you're already studying AWAI's Accelerated Program for Six-Figure Copywriting, you've got a great head start. You're learning the fundamentals of writing good copy – which is a MUST … even if you decide to focus on writing only short, autoresponder copy.
When I asked Jay how much we should charge for Autoresponder Apprentice How to Become a Successful Copywriter Without Writing Sales Letters, he suggested $997.
After all, he's giving you everything you need to start on the path to earning up to $1,000 per hour. One or two projects could easily cover your investment – and more.
Plus, a small group of copywriters recently paid Jay $997 for this same coaching – and came away with an entirely new career.
But although I agreed with Jay's logic, I wanted to make this program affordable for anyone who is serious about transforming their career.
So, after a little cajoling, Jay agreed to offer it to you for just $497.
Not much when you consider you can be earning $100-$250 per email right out of the gate. Write one series of 7 autoresponder emails at that rate and that's a quick $700-$1,750 in your pocket.
But it gets better …
As soon as your order is processed, you'll get access to the online member's page. Here, you can download all 8 modules, along with the transcripts of the sessions, Jay's Desktop Cheat Sheet, and his Personal Resources Sheet.
Once you've downloaded everything, feel free to put the audio modules on your iPod or on CD so you can get started right away, no matter where you are.
Enter This Lucrative Niche
Without Risking a Penny
This opportunity is HUGE.
I know it. Jay knows it.
And so do all the Web businesses out there that desperately need autoresponder copy written ASAP.
It may be just the thing you've been waiting for to launch your copywriting career into overdrive.
And, without a doubt, Jay's program is simply the best way to get you there.
In fact, I'm so certain that this program has the potential to transform your career that I'll let you try it out, on my dime.
Get the program.
Take a full 3 months to do this.
If, by then, you feel you aren't on your way to success, simply give Barb, Pat, or Debbie a call and let them know. You'll receive a prompt and courteous refund of every penny you paid.
How Soon Will You Experience YOUR Success Story?
It's no secret that I don't like writing sales letters.
That's why I've focused my energies on AWAI's Web Division. I like the short, quick, fast-paced copy it requires.
And you may feel the same way.
But whether you love writing sales letters or hate it, writing autoresponder copy presents a unique opportunity.
You can choose to add it to your copywriting services, and instantly boost your income by as much as 50%.
Or you can say goodbye to writing long sales letters and focus solely on being an autoresponder copywriter.
Jay chose to specialize in autoresponder copy – and it's paid off big time for him. In fact, he'll soon be turning down projects to concentrate solely on teaching his method and working with just a few select (and VERY high-profile) clients.
I can't think of any other niche where you have the potential to earn up to $1,000 in a single hour for writing something so short and simple.
"My first high-end client."

Hey Jay,

Just want to thank you … I got my deposit from [my new client] (a MAJOR GURU) a couple of days ago and am working hard on several [autoresponders] for him and want to make a good impression. He's my first high-end client so I hope it can be a long-term situation.

I owe it to you. Thanks!

Anita Ashland
What's more, you don't need many clients. Land two or three and you could be busy for months on end.
Best of all … writing email autoresponder copy is INFINITELY easier than trying to write an entire 8-, 10-, or 12-page sales letter.
Instead of agonizing over a bullet point or a subhead … you can quickly and easily crank out a few emails in the morning, then spend the rest of your day doing what you REALLY want to do.
Without a doubt, this is a great niche to write for. And one that will just keep growing.
As more Web businesses go online … they'll need good autoresponder copy.
So what are you waiting for?
There's nothing to lose. Jay will be by your side, every step of the way. If you apply yourself and take action, you can't help but succeed.
And when you do, please send me an email telling me about it.
Get your copy of Autoresponder Apprentice: How to Become a Successful Copywriter Without Writing Sales Letters today.
Can't wait to hear YOUR success story!


Rebecca Matter
Director of Online Marketing, AWAI
P.S. Don't forget. You could land your first paid assignment even before you've finished the program. And I'm dead serious when I say I'm desperate for this type of copy. Quite frankly, I'd love to have a few "go to" autoresponder writers to give a steady stream of work to. Will you be one of them?
---
©2011 American Writers & Artists Inc.