Inside AWAI

The best value deal we offer all year … your goals and mine … tricks for staying focused from AWAI's 2010 $10K Challenge winner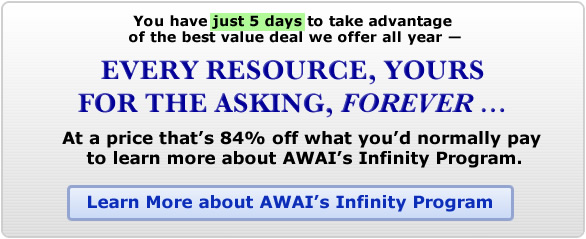 You won't find many businesses offering this deal …

Where you pay one low price, one time - and then you're entitled to everything and anything that business creates, from that day forward.

Yet, that's exactly what the Infinity Program is.

For a price that's a fraction of what you normally pay, you can build a complete library of every resource we offer - including the 22 hot and timely programs we introduced in 2009 and 2010.

All you have to do to get them (or any of the 114 - and counting - programs we offer) is call or click … and they're yours.

Here's what Pete Savage had to say after taking advantage of this offer:

"A few years ago, I purchased the AWAI Infinity Program, and I'm glad I did. Yes, it's great that you get to access any AWAI program ever published, but what I've found even more valuable is being able to 'go shopping' for new programs as they're released, with no additional charges. Perfect example - when AWAI released Nick Usborne's program, How to Write Money Making Websites … in a couple of clicks, I had access to all that new knowledge without paying a new penny."

And Lucy Culpepper is just as thrilled that she took advantage of this deal when she did:

"The best thing about the Infinity membership is that once you have made the one time joining fee, that's it. You don't have to think again about spending any more money on training programs. You really can let your imagination run wild with learning possibilities, and I have; since 2008 I have requested 22 programs and every single one has been incredible!

"Here are the products that have directly helped me make money already:

"1. The Ultimate Travel Writer's Program. Since 2008 I have had several articles published.
"2. How to Write Your Own Money Making Website. I launched www.learntomeditate.com after completing the course and online
training.
"3. Autoresponder Apprentice. I wrote a 15 email long sequence about holistic dog care to wake up a client's database.

My goal for 2011 is to launch myself as an Internet Researcher with the help of the Internet Researcher Program; yet another program from my infinity
membership."

To learn more about all the benefits of this extraordinary deal, click here.

Just remember, we rarely make this offer - and the deadline is Tuesday.

I don't know about you, but I can't wait for the clock to strike midnight tomorrow night.

We have big plans for you and for AWAI in 2011 … and I'm chomping at the bit to get started.

And, judging from the goals you've posted on AWAI's 2011 Goal Wall … you have big plans, too.

Julia Borgini's goal for 2011 is to secure at least one B2B client by March 31, 2011.

Steve R.'s goal is $10,000/month in copywriting income, and to spend a month in Ecuador next summer with his wife and kids.

Staci M . is going to transition from being someone else's full-time employee to being fully self-employed by using her writing, desktop publishing, and PR skills, in addition to creating an income-generating website. Says Staci: "I'm facing 2011 with more excitement and enthusiasm than I have any new year in the last decade or more!"

And my goal? … 100 AWAI members added to the Wall of Fame in 2011. You're going to have to help me with this one … but I promise I'll do my part!

There are lots more goals posted on the Goal Wall. Close to 400. You can read them here . They're inspiring.

If you haven't yet posted yours, you still can. Just click here .

All of us at AWAI are prepared to do what we can to help you achieve your goal next year.

In fact, Rebecca and I will be checking in with everyone who's posted a goal on the Wall … sending you ideas we come across that we think will help you … offering our best advice for keeping you focused and on track.

In the meantime, I'd like to share with you some good advice on staying focused from AWAI's 2010 $10K Challenge winner, Roy Furr:

The Power of Focus Is Mission-Critical in Your Success

Here are some tricks I've compiled - starting in college as I began work on my spare-time entrepreneurial adventures - that I think will help you focus and achieve your goals.

Have a big reason why. Without a reason for achieving it, a goal is meaningless and won't keep you focused. Yet, with a big reason driving your success, focus comes easy. In college, I wanted to get done and get out. In business, I have personal and family reasons for increasing my income and creating autopilot streams of income that give me time and flexibility to enjoy life.

Make sure your goal is big, specific, and broken down into actionable steps. If a goal is abstract and hard to put your finger on, you can't and won't focus on achieving it. With actionable steps and a specific end in sight, you know where you're going and can stay on track. College is easy because the goal is graduation and the steps are on a syllabus. In business, I've set a specific financial goal with a deadline date, and have had to create the steps for myself based on proven income-generating models like AWAI's Self-Publishing program.

Find a source of greater accountability than yourself. Maybe you have a mastermind group that can hold you accountable to your action steps and accomplishing your goal. Maybe you have a friend or family member. Find someone who's there to support you in your quest, and ask them to be an accountability partner in focusing on and accomplishing your goal. I forced this in college by getting to know my professors. In business, I'm forming friendships and alliances with peers who will hold me to doing what I say I'm going to do.

Get up an hour earlier every day and devote that time to completing a step toward your goal. If you focus on your goal early, you have the rest of the day to do everything else. Waiting until there's time often leads to there never being time. So try setting your alarm an hour early and making a habit of moving one step closer to your goal before doing anything else with your day. This habit will get you far further than you might imagine. I didn't learn this in college, but ever since I started doing it a couple of years back I've been able to accomplish amazing things in my spare time.

Reward yourself for the little things - like finishing each actionable step, not just completing the goal. Getting to a goal is as much about the journey as the destination. Reward yourself every step of the way to stay motivated, because that motivation will keep you focused to the end. All I can say is I'm addicted to Amazon.com!

You're going to notice some definite benefits as you apply these tactics:

Success will come easier and more consistently.
Your goals will become easier and easier to achieve.
Working on your goals will bring you more enjoyment.
You'll be able to do more of what you want.
You'll have more of what you want in your life.

From all of us at AWAI, best wishes for a happy and healthy 2011!
---

As Executive Director of AWAI, Katie Yeakle has been helping people live the writer's life since 1997.
"AWAI is built on a big promise … that we can teach you a new skill that can lead to increased income … independence from the 9-to-5 grind … and the freedom to live and work where you choose.
"All of us at AWAI stand behind that promise. In fact, that's how we measure our success – by how many people we help reinvent their lives.
"Follow our proven advice, and you can be among the many successes we're so proud of."