The Most Useful Copywriting "Secret"
You will ever come across
In his new book How to Create Irresistible Offers: The Easiest Way on Earth to Make Your Marketing Generate More Leads, Orders, and Sales, and Sales, Bob Bly teaches you how you can improve the response rate of your promotions anywhere from 10 percent to as much as 900 percent, just by creating and testing different offers.
By the time you've read the book, you'll know exactly how to craft strong offers that make more money for you and your clients. You'll learn: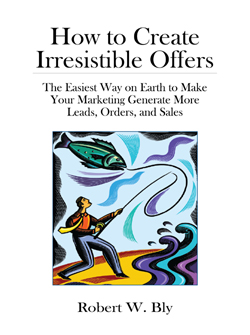 The four offers to use when you want to bring in a flood of new sales leads.
The zero-sales-pressure way to get a prospect to fill out an order form.
When to ask for a paid-up order instead of just a sales lead.
When asking your prospect to say "no" to your offer can get you the sale.
The only time to ask a target customer to wait before ordering.
The most common mistake in a lead-generating offer.
How to combine different kinds of offers for maximum sales.
Six times when you should use a soft "pay-later" offer.
Six more times when you're better off asking for the order outright.
How to double the response of an ad without changing a word of copy.
The one offer that stops people cold when looking for mail to throw away.
Why it's a BIG mistake to think "free" offers no longer work.
The "silver bullet" section every white paper should include.
Five sample formulas for giving strong titles to your free reports.
And so much more!
How to Create Irresistible Offers: The Easiest Way on Earth to Make Your Marketing Generate More Leads, Orders, and Sales: $24.95
For More Information, click here …