Why This Short Email Could Be
YOUR "One-Way Ticket"
To Living The Writer's Life …
From: Jedd Canty <j*********@******.com>
Date: Thursday, June 25, 2015 9:41 AM
To: Clayton Makepeace <c**********@*******.com>
Subject: A favor…
Clayton,
I need your help.
Like I mentioned in Atlanta, Money Morning has been growing aggressively, but to maintain this we have to bring some more really talented writers on board. And nobody is better at grooming the next generation of marketers than you.
So please send me any prospects you think are ready to help us create some truly innovative promos.
I really appreciate it.
Jedd
Money Morning
---
Dear Reader,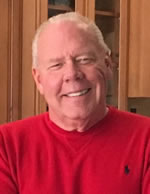 My name is Clayton Makepeace, and I want to help you live the Writer's Life as fast as possible.
In just a minute, I'll tell you how I plan on doing that.
First, I want to tell you about the email above and why it's GREAT news for you as a copywriter. And, why it could be your one-way ticket to living the Writer's Life.
Jedd Canty and his team at Money Morning are some of the sharpest marketers and copywriters around.
And, as you can see from the email, Jedd is practically begging me to send him writers.
Jedd's not the only one … his competitors are too.
Heck; I'm also starving for good writers to help my own clients grow their businesses!
The reason is simple: Great sales copy is by far the scarcest commodity there is when it comes to quickly growing and scaling a direct-response business.
And that's why, if you know what you're doing, you can write your own ticket.
Unfortunately, even if I wanted to, I couldn't just pass on your name to Jedd or potential clients like him willy-nilly.
You need to have the skills and training under your belt.
So I'm going to help you get ready.
That's why - for the first time in over a year - I'm making my Quick-Start Copywriting System available.
"I've seldom seen the art and science of copywriting so thoroughly deconstructed and reconstructed in such an insightful and useful way.
"If you want to know what works in copy today and how to do it yourself, you need this program."
— David Deutsch
Million-Dollar Copywriter
With the Quick-Start Copywriting System, it's like having me by your side, guiding you every step of the way.
You'll be learning the same secrets that I've taught my Copy Cubs. And, you'll have everything you need to achieve rock-star status in this industry and work with clients like Jedd who are more than serious about paying you big money.
Even if long sales letters aren't your cup of tea, the secrets you'll learn apply to ANY kind of commercial writing. The results of your landing page copy, emails, B2B copy, and more — are bound to improve.
That means you'll have happy clients no matter what niche or industry you choose to write for. And having happy clients means finally being able to live the life YOU want.
It Took Me A Lifetime
To Collect These Response-Boosting Gems …
Now They're YOURS For The Taking
I've been in this business 43 years.
"The Quick-Start Copywriting System isn't just good. It's by far the quickest, easiest way to go from amateur to pro I've ever seen. Absolutely indispensable to anyone who's serious about exploding a business.
"Honestly — I've seen dozens of copywriting courses over the years … but I've never seen anything this comprehensive or this easy to use! I can personally see the Quick-Start Copywriting System adding many hundreds-of-thousands of dollars to my bottom line — probably millions — a year from now, or even next month!
"Should you spend a few hundred bucks for something with the proven power to generate millions in sales? And not just this year, but for the rest of your career? Sounds like a no-brainer if you ask me!
"My advice: If you're serious about success … leaving your competitors in the dust … and banking more money faster … GET THIS SYSTEM NOW!"
— Rich Schefren,
StrategicProfits.com
Over that time, I've uncovered dozens of little tips and tricks that make writing irresistible dominant resident emotion copy a cinch.
And in my Quick-Start Copywriting System, I've included every tip … every secret … and every technique I know for writing a big winner.
I've even "reverse engineered" winning promotions by many of the best copywriters to have ever lived — and then put each and every single one of those insights into this proven system.
You won't find another single resource on the planet packed with more response-boosting, income-multiplying secrets anywhere else.
Here's a just a SMALL sample of what you'll discover:
How to start your projects off with a BANG! Do this one simple thing and 75% of your work is already done for you — and you're many times more likely to succeed. (This is the place where most writers cut corners, so you're going to be miles ahead of your competition!)
The ONE PLACE where even the world's best copywriters often struggle — and how to dramatically reduce the likelihood you'll ever suffer from this profit-killing problem …
How to create a perfectly organized, crystal-clear advertisement — as easy as 1-2-3!
The invisible "A-B-C" process virtually every "A"-list copywriter uses to annihilate prospect's objections. Makes buying your product seem like the most sensible thing he could ever do …
Eight secrets for making ANY part of your copy more fascinating and fun to read …
Six powerful headline maxims — used by nearly all of the world's top writers — that multiplies your odds of crafting a winning headline by 13 times or more.
And much, MUCH MORE!
Make Every Minute You
Spend At Your Desk More Profitable
With the Quick-Start Copywriting System by your side, you'll be much more profitable every time you sit down to write!
"I have never come across a clearer, more complete, and detailed explanation of how to write amazing copy.
"The Quick-Start Copywriting System provides an incredibly comprehensive step-by-step process that takes you by the hand and walks you through EVERYTHING you need to know to create your own bank-account-stuffing copy.
"There are hundreds of examples of sales letters, ads, and other copy by top copywriters just to make things positively crystal clear. There's absolutely no room for doubt on how to produce response-boosting copy after going through this program.
"If I don't earn at least 100 times what I paid for this system in the next few years — I'll have no one to blame but myself."
— Adam Kreitman
Take a look:
Need to find out exactly which EMOTIONS are going to make your prospect buy? You'll discover a simple series of questions that will help you pinpoint exactly what your prospect is feeling right now!
If your product isn't selling like you think it should be … your OFFER may be the culprit. Fortunately, the simple 5H1W formula I use can turn that around in a matter of minutes!
Not sure which BENEFITS to include in your emails, your sales letters, or product launch? Not to worry. My proprietary "benefits" chart shows you a laser-accurate way to hone in on the benefits your prospect is sure to respond to!
Believe it or not, you might only be a few PROOF ELEMENTS away from a big winner. I show you the proof elements every piece of copy must have — plus a simple technique I used to increase response on a promotion by 1,300%!
First few paragraphs of copy stumping you? Just pick any one of the 24 proven "lead starters." These are surefire ways to start your copy off with a bang, more quickly and easily than you've ever done before.
Split-testing one headline against another can give you a huge edge in your online promotions. When combined with the dozens of quick, easy headline writing secrets you'll discover throughout this ground-breaking program — you could be one split-test away from a massive breakthrough!
Copy feel dull, boring, or slow? I give you 11 powerful ways to inject more speed and excitement into your writing.
Sometimes it only takes one killer BULLET to get someone to buy an information product. You get 21 proven formulas for writing the world's best. This information has become legendary among "A"-list copywriters!
Having trouble asking for the sale? Not anymore. You'll master my uniquely powerful process for sealing the deal. This is the same process that caused copywriting legend Gary Bencivenga to call me "A Master Closer in Print." Why? Because I've used it to close nearly $1.5 billion in sales during my career.
Whatever your challenge is ... whatever part of your copy and advertising you want to improve ... you'll be doing so more quickly and more easily than ever before.
I'm not just saying that either ...
Are You A "Million-Dollar" Writer In Waiting?
These really ARE the secrets that make copywriters – and their clients – rich.
I've taught these secrets to copywriter Carline Anglade-Cole. You've probably heard of her. She's now a millionaire and a top copywriter in our industry.
I've taught these secrets to Parris Lampropoulos. He too is a "million-dollar" copywriter.
Here's what Parris says about it:
"Clayton Makepeace is more than just a great copywriter. He's the originator of response-boosting techniques that are used by many of the top pros.
I had the great fortune of apprenticing with Clayton early in my career, and the lessons he taught me have earned me millions of dollars."
With these secrets, I helped Phillips International carve out what is today the natural-health publishing industry. Along the way, I helped the company rake in huge profits.
Tom Phillips, the President and Chairman says this:
"Clayton Makepeace not only created one of the most successful promotional packages for Phillips Publishing, he helped us launch an entire health company!
His promotional launch package for Health & Healing mailed 90 million pieces over three years and generated hundreds of thousands of new subscribers."
I could go on, and on. But I think you get the point. What I teach is practical, actionable advice that can transform your financial life and make your clients wealthier.
But don't just take my word for it.
Here's what other folks, from all walks of life, have experienced when they put my material to the test:
Landed me thousands of dollars.
"I use e-mail marketing to feed the marketing funnel of my one-man sub-contracting painting service …
" … Using Clayton's techniques has landed me thousands of dollars in painting contracts. Plus it has given me the FREEDOM and flexibility to pursue all my copywriting aspirations and goals."
— Dave M., Canada
Increased our profits.
" … [Clayton's teachings] have made me re-think my strategies, and I have re-written several ads and altered my website. I have passed this on to my consultants, which has increased our business and in turn increased our profits."
— Jody D., Ontario, Canada
My income has DOUBLED.
"Clayton, thanks to you I'm literally making DOUBLE the amount of money I was making before as a freelance copywriter … and I will break the Six-Figure mark by the end of the year!
"Plus … Thanks to what I've learned from you, I was able to put together an awesome promotion for a teleseminar for my client that raked in $334,410.00 in revenue … just off ONE CALL! (And that's just to a tiny house list of less than 9,200 people!) My client thinks I'm a GENIUS! And I'm just getting started … thank you!"
— Anthony T.
I have hundreds of testimonials like these. And it's because what I teach WORKS.
That's why I can confidently say that, with my Quick-Start Copywriting System, you'll have …
Everything You Need To
Write Winning Promotions
As I mentioned earlier, going through my Quick-Start Copywriting System is the next best thing to being personally mentored by me.
By the time you're done, you'll have the confidence you need to approach clients and ask for what you're worth. You'll have the peace of mind, knowing you have the skill to make a difference in their business.
And, you'll have the satisfaction and fulfillment of being in control of your life.
Simply put, you're getting virtually everything you need to write "A"-level copy.
For starters …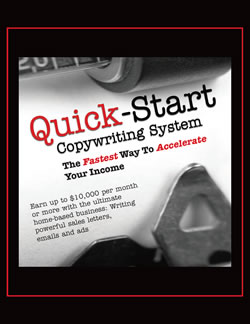 The Quick-Start Copywriting System is MASSIVE – You get 43 years' worth of my best-kept secrets!
Not to worry. You get walked through everything in a foolproof series of steps, where you'll discover all the insights, tips, and strategies that will turn you from an ordinary copywriter into a superstar.
It SHOWS you how to do what the very best PROS do.
You'll never be left guessing about how to use or apply these explosive, moneymaking techniques. Instead, you'll see examples of the principles in action in real-life copy examples that mailed and went on to become record-breaking controls.
You'll never be overwhelmed — because you can use my system to suit your own unique needs.
Whether you're a future copywriting star who wants to follow my own A-Z process for creating a blockbuster promotion … or you're a super-busy freelancer already …
… The Quick-Start Copywriting System is designed to effortlessly give you the breakthroughs you need.
You get easy-to-use Action Step worksheets in each chapter.
With as many tips and secrets I've packed onto each and every page of this system, the process of implementation can sometimes be daunting. So I made sure to take care of that for you!
At the end of each chapter, you have a quick summary of the key points in the process … specific actions you can take to apply the process to whatever you're writing now … plus, you get the easiest and best ways to transition into the next section of your promotion.
You get the most complete, most instructional, direct-response glossary available today.
It's priceless if you've ever been confused by terminology other marketers use.
Also, this glossary is not filled with mere definitions — Each term comes with a full explanation (almost its own mini-course) so you understand it immediately and can use it whenever necessary.
PLUS — You get $1,214 in valuable response-boosting "goodies" Free!
In addition to the 23 chapters of response-boosting dynamite … in addition to all the "learning accelerators" sure to multiply the rate at which you experience actual, measureable results — you'll also be getting separate audio and video components with the Quick-Start Copywriting System — absolutely FREE …
You Get SIX "Getting Started:
A Lesson With The Masters" Audio Interviews Featuring Five legendary Copywriters
— A $474 Value, FREE!
Here you'll listen in as today's most successful copywriters reveal their secrets for creating competition-crushing promotions that turn little companies into massive ones … and ordinary copywriters into legends:
Audio Interview #1 — Clayton Makepeace on establishing quality relationships with your clients: How to make sure there's enough chemistry (and why you should leave when there's not) … the secret to avoiding "losing" situations way before you ever get involved in one … and more …
Audio Interview #2 — Clayton Makepeace on mind-blowing productivity: You'll discover how to avoid procrastination (and how to make it "productive" when you do procrastinate) … the simple secret to staying motivated all the time … why your "breaks" may be the most important part of your writing process … and so much more …
"The insights I've already gained from the first two interviews will be worth thousands and thousands of dollars to me with my very next promotion or copy rewrite. And I don't consider myself a novice, so that says a whole heck of a lot about the quality of the content.
"It's not just the way the material has been presented that makes this product so valuable. It's the quality of the information. Again, I've been studying copywriting since I hopped on the Net — and I've already learned so many new tidbits that will take my copy to a new level.
"So, one more time … KUDOS!"
— Todd Brown
Audio Interview #3 — John Carlton's secrets for storytelling that sells: The "Marketing Rebel" whose hard-hitting copy has exploded the sales and profits of countless entrepreneurs — and spawned a whole generation of Internet marketers who rip off his copy — tells you exactly how he does it!
Audio Interview #4 — The legendary Jim Rutz on how to unleash the creative genius inside you: Jim commands a $100,000 flat fee for every new promotion he writes. Once you hear this interview, you'll know why!
Audio Interview #5 — David Deustch on creating irresistible curiosity and insatiable desire: The "A"-list copywriter and creativity expert who has had as many as six red-hot controls for Boardroom at one time comes clean!
Audio Interview #6 — Brad Petersen on the dumbest blunders marketers make: The "No BS" copywriter I have partnered with dozens of times reveals how you can avoid today's most common response-killers!
If we were to sell these individually, AWAI would charge at least $79 for each of these one-hour plus interviews — you get all six — a $474 value in all — FREE with your copy of the Quick-Start Copywriting System!
You Get Three Eye-Opening
Video Training Sessions
— A $297 Value, FREE!
What could be better than hearing Master Copywriters as they tell you the secrets to writing gangbuster copy? How about having them show you right on your computer screen!
Video #1 — Copy Autopsy … with Clayton Makepeace: You'll learn how a Master Copywriter performs post-mortems on both winning and losing promotions … identifying what worked and what didn't … and what must be done to turn a lukewarm promotion into a big winner!
Video #2 — Secrets of Winning Graphic Design … with Clayton Makepeace: You'll discover why lousy design equals lousy credibility … the #1 purpose of all design, both online and off … and scores of techniques for maximizing the attention-getting power and readability of every promotion you create!
Video #3 — How to Crawl Inside Your Prospect's Brain … with Clayton Makepeace and John Carlton: Not one, but TWO of the world's leading writers reveal their secrets for instinctively knowing what must be said to grab your prospect's attention — causing him to devour your sales copy and compelling him to order NOW … not tomorrow!
I have often charged $99 for a single, one-hour online training session. You get all three of these videos — a $297 value — FREE with your copy of the Quick-Start Copywriting System!
But that's not all, because I wanted to make sure you have absolutely everything you need to take your writing to the next level — and really kick your income into high gear by landing choice clients who are eager to hire you.
You Get My HUGE (244 pages!)
Swipe Files of the Copywriting Superstars
A $197 Value, Free!
Once you've completed my system, these powerful bonuses will take you even further — giving you even more "A"-level secrets and tactics you can use to immediately rev up the power and intensity of your copy …
Want to see how other copywriters frame a headline … create a world-class eyebrow and deck … or craft the first few all-important lines of body copy?
Would it help you to see how million-dollar copywriters use these secrets to raise intrigue to a fever pitch … intensify the value of every benefit they offer … and make the price seem like a steal?
How about the secrets they use to close the deal and get the money flowing in like a tsunami right NOW — today?
Swipe Files of the Copywriting Superstars is replete with full-color scans of winning promotions from "A"-list writers like Parris Lampropoulos, Carline Anglade-Cole, Kent Komae, and Brad Petersen. 244 pages of control-busting copy in all!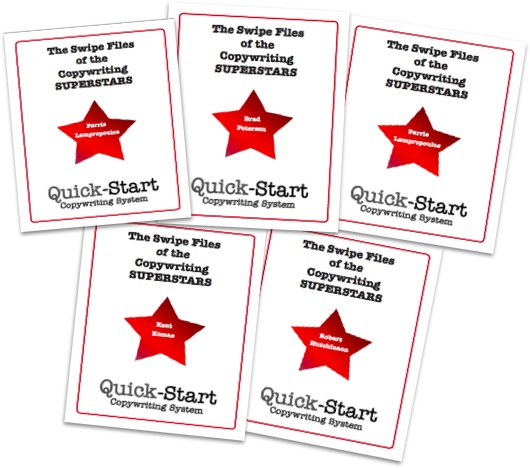 You'll understand the secrets to writing powerful, response-boosting copy on a deeper level than ever before.
In the past, I have offered other swipe files for $197 — but Swipe Files of the Copywriting Superstars is yours FREE when you order today!
You'll Also Receive TWO
Additional Bonus Gifts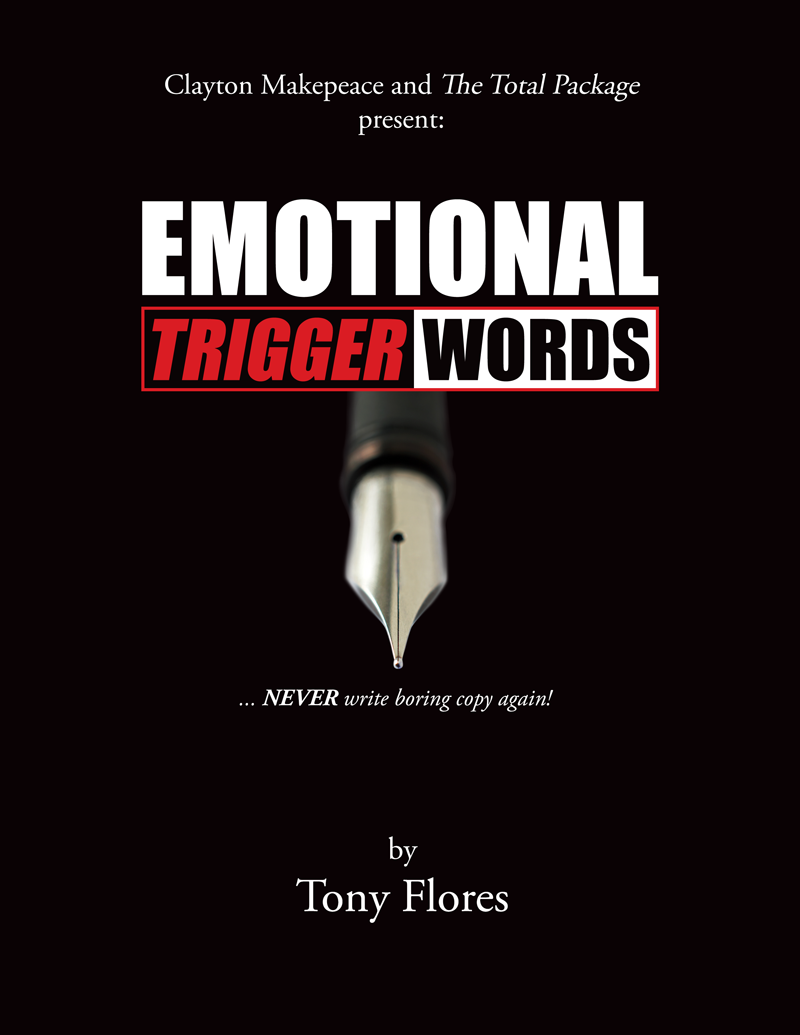 Bonus Gift #1 — You get my industry-famous, Emotional Trigger Words, that automatically cranks up the temperature and intensifies the selling power of every promotion you ever write — a $147 value, FREE!
Have you ever struggled to infuse your headlines and sales copy with the emotion and enthusiasm that'll drive your prospects crazy for your product or service?
If so, those days are over.
Emotional Trigger Words is your step-by-step guide to applying what I swear is my most unfair advantage: The ability to tap into my prospects' dominant resident emotions each time I write.
You get an astounding 1,336 of the most powerful and persuasive words and phrases ever written — straight from the pages of the best controls by the best writers.
To develop this masterpiece of emotion, my team and I spent nearly a year scanning a huge archive of winning promotions — carefully picking out the words and sentences top writers consistently use to trigger emotions in their readers.
Then, we categorized those words according to the emotions they "trigger." Which means if you want to stimulate your prospect's anger, just flip to the "anger section" … find the word you need … and PRESTO … your copy has just become more ALIVE!
Also, each word comes with a sample sentence, so you see exactly how the top writer used it in his own copy. This is like your own "swipe file" of emotional words and killer sentences — just modify them for your own copy and you're off to the races!
Plus, we did this with dozens of dominant emotions — all the ones you need to write more emotional, more responsive copy.
It's a complete mini-course on writing high-energy copy that grabs the attention of your prospect and moves them along the path you want them to take.
Emotional Trigger Words used to be listed on my old blog, "The Total Package" for $147. But it's yours FREE when you order your copy of the Quick-Start Copywriting System today!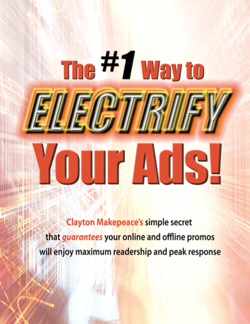 Bonus Gift #2 — You get my 40-page reference The #1 Way to Electrify Your Ads revealing the simple secret that guarantees maximum readership and peak response — a $99 value, FREE!
This is your secret weapon to applying one of my most closely-guarded, masters-level skills to every piece of copy you ever write.
If you look closely at my hottest, most successful promotions in the financial market, you'll find TONS of colloquial expressions peppered throughout my copy.
Phrases like stacking the deck … lightning fast … have your cake and eat it too … taken to the cleaners … a king's ransom … like money in the bank … worth its weight in gold … and many more.
These phrases are powerful ways to infuse your writing with personality … quickly ramp up its visceral impact … and make it far more interesting and fun to read — all without breaking a sweat!
The result: You'll keep your prospect glued to your every word and following the slippery slope you've laid out for them … straight to the order form and the sale.
This one skill is something that normally takes many years — sometimes even decades — to master. And now you'll be able to master it in a matter of weeks or months.
The #1 Way to Electrify Your Ads would sell at $99 if made available on its own. But you get it absolutely FREE when you order your copy of the Quick-Start Copywriting System today!
Kick Your Income Into High Gear
It's time for YOU to live your version of the writer life.
The opportunity is there, waiting for you.
There are dozens – maybe even hundreds – of potential clients out there who NEED you. They want to give you money. They want to write you big royalty checks.
The only problem? They need you to be "ready." To have the right skills under your belt.
That's exactly what my Quick-Start Copywriting System is going to give you.
Remember, you get:
My personal, time-tested system for crafting bigger winners, more often (a $1,497 value) — You get 23 chapters packed with over four decades of my best-kept tips, insights, and secrets. You get examples of each technique in real-world promotions … Action Steps worksheets … detailed analysis of my past promotions … and so much more. This used to sell on my "Total Package" Blog for $1,497.
The six-part Getting Started: A Lesson with the Masters audio series (a $474 value, Free!) —You get amazing copywriting insights from million-dollar copywriters like Jim Rutz … John Carlton … David Deutsch and Brad Petersen … PLUS, two exciting interviews I did that will empower you to create enjoyable, highly-profitable relationships with clients — and maximize both the work time and play time you experience as a freelance writer.
Three eye-opening one-hour-plus Video Training Sessions (a $297 value, Free!) — My Copy Autopsy … Secrets of Winning Graphic Design with me … and How to Crawl Inside Your Prospect's Brain with me and John Carlton.
Swipe Files of the Copywriting Superstars (a $197 value, Free!) — You get 244 pages of some of the greatest copy ever written by some of my most successful former students — like Parris Lampropoulos, Carline Anglade-Cole, Kent Komae, Bob Hutchinson, and Brad Petersen.
The ground-breaking, 60-page Emotional Trigger Words (a $147 value, Free!) — The ONLY resource available for putting one of my most explosive secrets to work for you in every promotion you ever write.
The eye-opening, 40-page reference The #1 Way To Electrify Your Ads (a $99 value, Free!) —This incredible guide is your secret weapon for infusing your copy with so much personality and visceral impact your prospect will never be able to put it down.
"When I read my copy and say 'this sounds like something Clayton would write' — I know I have a winner!
"Clayton Makepeace is my copy hero. I've seen his copy triple and even quadruple response. I had the privilege of being his Copy Cub and he encouraged me to give freelancing a shot.
"So when I sit by my pool or treat my family to luxurious vacations and great gifts, I honestly say in my heart, 'Thanks Clayton!'"
— Carline Anglade-Cole
Million-Dollar Copywriter
In all, that's $2,711 worth of world-class copywriting secrets that can kick your income into high gear. Just think: In a few weeks' time, you could be writing more effective copy … breaking sales records for your clients … and be well on your way to creating your dream lifestyle.
And that point, you'd be ready for me to send you to someone like Jedd – or many of the other publishers and clients who regularly ask me if I know of any good writers I can send their way.
Even better: Everything is available online, for digital download. That means you can access this system from anywhere in the world you may be, so long as you have an Internet connection.
Plus, you can go at your own pace, logging in and using the materials whenever is most convenient for you.
The Quick-Start Copywriting System sells for just $1,497.
Consider, just ONE of the dozens of response-boosting secrets you'll master could easily help you earn back your investment in the Quick-Start Copywriting System.
Use more than one secret, and you could make a very lucrative career for yourself.
"I was BLOWN AWAY by all the copywriting training presented. I honestly don't know if I can put into words the impact it's had on me. This is an exceptional program and nothing else has even come close!"
— Larry Mekus
After all, these are the secrets that have turned ordinary folks (my "Copy Cubs") into industry legends.
Many who now earn six and seven figures.
If that's the kind of income you'd like to have, my system can help you get there.
And even if you don't want to go out and conquer the world … and would be happy with a little "extra" cash at the end of each month … this system can help you do it too.
Order your copy of the Quick-Start Copywriting System today by clicking the button below.
Backed By AWAI's Rock-Solid
100% Money-Back Guarantee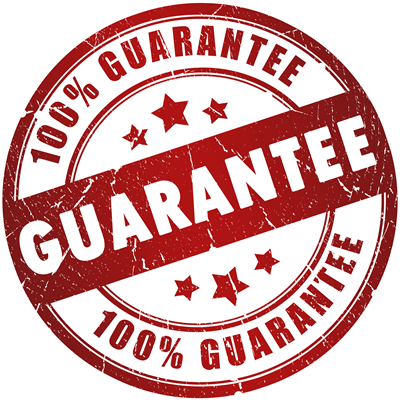 What are you waiting for?
Grab your copy of my Quick-Start Copywriting System today.
Go through all of the materials. Learn my system inside-out. Start applying it in your projects for clients, or use it to start landing your dream clients.
If after 90 days, you still don't feel you can benefit from the secrets, shortcuts, templates, and formulas that I packed in, just give AWAI Member Services a call. You'll receive a prompt and courteous refund.
I really don't think that'll be the case, however. Once you see just how much I've done to OVER-DELIVER, I think you'll be delighted and want to keep this as your "secret weapon."
Clients will wonder how you're able to deliver such top-notch copy, every single time!
I sincerely hope the skills you'll develop with my Quick-Start Copywriting System will put you on the fast track to finally tasting the freedom … the lifestyle … that this amazing career can give you.
To your success,
Clayton Makepeace

P.S. Ever struggled to judge the quality of your copy? Those days are GONE! Place your order and you'll receive the time-tested QwikCrit Template (the process I personally developed to measure the strength of a promotion).
This process makes it easy for you to measure the quality of your own copy, or simply hand it over to someone else so they can critique it for you. My past students have happily paid as a much as $750 for just this process alone!
Think of it as insurance against writing weak copy. Now you'll be able to tell how well you've done … instantly identify any weak spots and shore them up BEFORE they have the chance to be seen by your client.
P.P.S. Hang on! If you grab your copy of my Quick-Start Copywriting System right now, you'll also get detailed, page-by-page analysis of two of my most successful promotions.
Just so there can be no confusion about the step-by-step process revealed in the program, you get walked through TWO of my most successful promotions.
And you see, page-by-page EXACTLY how I used the same process you learn in the system to create these blockbusters!
RESULT: You can "model" my proven approach in your own writing assignments — and personally experience the explosion in response that these tested techniques invariably produce.